It is amazing how your hair changes both in texture and style as you grow. When I was young my hair was almost straight with a little wave but at that age it pretty much just needed a good brush and I was ready to go.
When I got into middle school (I think 6th grade) I got a perm. I don't know why but I ended up keeping a perm until way out of high school. I didn't care for my hair naturally and loved the big curly hair. When I met my husband I still had that 80's hair style with big bangs and long curly hair. As you can see so did the rest of my family.
After I met my husband I stopped getting a perm and started letting my hair grow. I even let my bangs grow out which I thought I would never do . I never felt I looked good without bangs but now I can't imagine ever having them again. Now I wear my hair in a couple of styles either long straight (which means I took a blow dryer to it) or long and curly (which means I took a curly iron to it).
The bad thing about styling my hair like this is often I have to deal with frizz. It means I can't just blow dry my hair and run. I often use a serum or light product in my hair to keep the frizz away. I'm always looking for a new product to try and recently heard about a line of TRESemme products called Keratin Smooth.
"Keratin Smooth- Don't let unruly frizz get the better of you. Use the Keratin Smooth collection to get smooth, more manageable hair for up to 48 hours*. So get ready to say so-long to frizz with the latest salon innovation!"
There are three great products that I would love to try. I usually alternate brands with my shampoo and conditioner because I feel my hair gets use to a product.
TRESemme Keratin Serum
Achieve sleek, polished hair with TRESemmé Keratin Infusing Smoothing Serum. The formula, infused with keratin, which helps smooth away frizz for softer, more manageable hair. Part of the Keratin Smooth collection, this serum helps transform hair from root to tip, providing smooth style and frizz control that lasts up to 48 hours. Keratin Infusing Serum is safe to use on color-treated hair.
TRESemme Keratin Shampoo
Enjoy sleek, touchable hair with TRESemmé Keratin Infusing Shampoo. This low-sulfate formula (compared to TRESemmé Smooth & Silky Shampoo) leaves hair manageable. Follow with Keratin Infusing Conditioner to get smooth, manageable hair for up to 48 hours (versus non-conditioning shampoo). Try the entire Keratin Smooth collection for smooth and beautiful results.
TRESemme Keratin Conditioner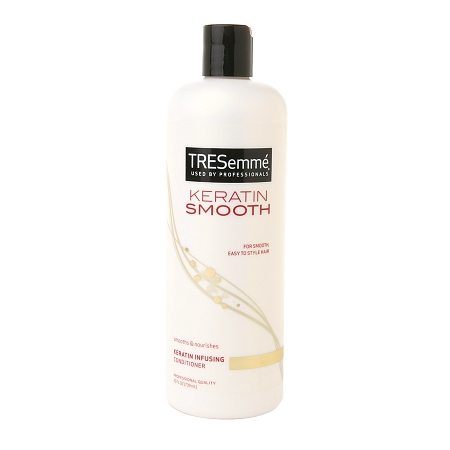 Tame frizz and get the lustrous hair you desire with TRESemmé Keratin Infusing Conditioner. This salon-quality conditioner is formulated to leave hair sleek and easy to style. For best results, use with Keratin Infusing Shampoo to get smooth, manageable hair for up to 48 hours (versus non-conditioning shampoo). Try the entire Keratin Smooth collection for smoother and more beautiful hair.
I would love to try these products on my next shampoo and conditioner purchase. The products I just bought are also infused with keratin and I have loved the look of my hair when I use them. All of these great TRESemme products are available at your local Walgreens. The advantage to purchasing them at Walgreens is you can earn rewards on your purchase. In fact just this past week if you purchased two of these products you could earn 2000 points! It takes 5000 points to earn a $5 reward so 2000 is a great start to the path to savings and rewards.
Do you have a favorite brand of shampoo and conditioner or other hair products?
This post is sponsored by Lunchbox. All opinions are my own.