Kids will have fun with this educational handwriting iPhone and iPad App which is currently featured in the Best New Apps section in iTunes.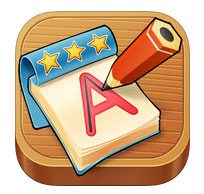 In the past couple years the schools have begun to eliminate cursive writing from the curriculum. Many non-parents are surprised to hear this change in our education system. In fact, my thirteen year old son when asked to sign his name signs in print. He admits to me that he knows how to read "some" cursive writing but can not write it. My daughter has taken it upon herself with extra credit from her teacher to learn both how to write and read cursive. This is currently that stage we are at, at home when we were introduced to a new educational handwriting app called iTrace. iTrace app helps children ages 3 and up learning handwriting, both non-cursive and cursive.
Honey was excited to help me test out this app since it his her personal mission to read and write cursive well. So for our review we focused on the cursive however the cursive is something you can turn off if your child is first learning basic writing skills. Another feature I like, since one of my children is left-handed, is the ability to turn on left-handed orientation.
iTrace Handwriting App
There is minimal setup to this app, and it is optional. Once the app was downloaded I simply added my daughters name and was able to select a photo. I thought this was a fun touch, I'm all about the photos.
I decided to go ahead and take the tutorial to see all what the app had to offer. It has quite a lot of features that are both educational and fun. As a parent there are tips and guides to helping your child perform the correct actions to learn how to write.
iTrace App Parents Zone
It is suggested that your child start in the "Practice" mode. What is great about this mode is that it will learn your child's progress and adjust accordingly. It will start out with what is considered easier letters to write such as "L", "I", and "T" and then as your child gets better it will add additional letters. As a parent or adult you can always check on the history and progress of your child. Simply by selecting "History" you will have access to their records and you can also add additional users which is great if you have more than one child that is using the app. Each child can have their own login and therefore the app will be designed for them and their progress.
There is a manual mode where your child can concentrate on one letter or number until they feel comfortable with their progress. Once your child feels comfortable with writing all the letters they can move on to the "words" mode and begin working on learning how to write whole words. Most kids love to write their name and I think this is a great place to start. Since Honey knows how to write we decided to jump in to writing her name first. She was able to select what color marker she wanted to use and trace each letter to create her name.
The end result…
Once your child is comfortable writing their name they can move on to "words". iTrace comes with over 500 words, but you can add your own words to the app and it will intermingle them with the current words. This is a great app not only to work on at home with your children but it is also a great tool for teachers and educators.
Apple featured the App for preschoolers and it has been downloaded over 20,000 times including by dozens of schools. We received exceptional feedback from many parents whose kids learned handwriting using it (4.5 stars average rating).
With the ability to see the history a teacher or parent can pinpoint any problem areas the child is having.
Also since not all schools and teachers teach the same iTrace has recognized this and adjusted accordingly. By clicking the settings button you can switch between learning styles. There are times when my children will come home with homework and though I know how to figure out the answer their method to figuring it out is new, a perfect example is the Common Core that has been a hot topic these days.
Video of Teacher Interaction
iTrace School Testimonials from Michael Bogorad on Vimeo.
For additional help iTrace gives you the option to great worksheets. My daughter loves worksheets and I often print out fun math problems for her to do so it is great to have this option available for work outside of the iPad or iPhone (though I highly recommend this app be used with an iPad).
Once my daughter finished writing her name I left her to play with the app on her own. She came back to me to show me how the "Practice" mode worked. A letter appeared that she traced and upon three times of tracing the letter she received a "gift". The gift will begin with the letter the child is tracing. Then there is a fun "hidden object" puzzle where they can find their new gift. The same thing happens in "words" mode however the puzzle appears after having practiced 5 words.
Another option is for your child to select a "theme" and write words that are offered about the theme. As each word is written the scene before them becomes animated adding additional objects.
When my daughter was through I tested the app out myself and was very pleased with one aspect that I think is very important with all writing. One that you can not get form writing on paper. The app is designed to show the child "how" to write the letter not just trace it. This is usually very important when writing cursive as we all know there is a "flow" to writing cursive. If the child traces the letter but not in the right order (as the app is showing them) they will need to trace it again.
The only thing I would love to see as an additional feature and maybe it is there with more use is for the words in cursive to connect. I think it is important that in addition to learning how to write each letter and word is learning how in cursive you rarely take your pencil off the paper when writing a word and I believe the transition from letter to letter is important as well.
Overall we think this is a great app to help kids learn handwriting in both cursive and non-cursive. Though I did not showcase it here children can also learn how to write their numbers as well. The educational iTrace app for iPhone and iPad currently sells for $3.99 but there is also a free version you can test out before you purchase.
I was compensated for my time to review this app. All opinions are my own.