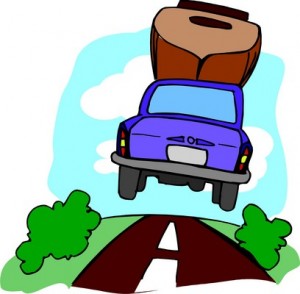 One thing I have found out about myself in the past year is I enjoy traveling much more then I ever thought. In fact I use to wonder what all the fuss was about traveling here and there. After our trip to LA for the Biggest Loser Finale, my recent trip to Pensacola for Brandcation 2012, and my amazing Real Steel LA trip I found that new places and experiences are exciting!
However one thing that these three trips have in common…I didn't pay for them. I won one, was sponsored for one, and invited to another. With a family of five you can imagine how expensive traveling would be. In fact this July my aunt is throwing a 90th birthday party from my grandfather who honestly looks like he is about 70 in Michigan. I really would love to go, maybe if I had an Expedia voucher (as you can find here)  or some free miles my trip would be affordable. The cost to send five of us to Michigan is well over $1500. In fact just flying from South Florida to North was over $5oo.
So how can you travel on a budget?
Stay Close to Home: This of course would cut out on travel expenses, maybe a hotel with a nice swimming pool and play area like our stay at the Hilton Orlando. Or maybe take a close camping trip where you don't have to pay for airfare or a hotel.

 

Online Research: If you do plan on visiting some where further away research where you are going, the attractions in the area, try to find discount passes. A great place to find out of the way places and deals is by checking out traveling blogs.

 

Set a Budget: Set a budget and stick with it, give yourself a little cushion for extras but decide a head of time what you plan to spend and stick to it.

 

Be Flexible: If you can be flexible with your vacation time you may be able to get better deals during off peak seasons or traveling by plane on weekdays instead of weekends.

 

Stock Up: When you are on vacation you want to splurge and have fun but don't do so out of necessity do so out of pleasure. For example there is no need to eat all three meals out every day. Find a hotel with a free breakfast, or bring your own breakfast protein bars, trail mix, fruit, etc. are great breakfast foods. Bring your own drinks and snacks instead of pay $3 at the vending machine.
When I plan a family vacation I spend a lot of time find the best rates on everything I want to do, this way I know I'm getting the most for my money. I once purchased an Orland Escape pass on Ebay and stayed in an Orlando hotel outside of Disney fro $89 total for all three nights. If you have been to Orlando then you know that is an awesome deal. I purchased Disney tickets 4 days for $99. Due to the 4 day tickets we made the whole package into two separate vacations.
I'm not an international traveler I've only visited Canada a couple times without the use of an Air Canada coupon it was just a road trip over the bridge when I lived in Michigan. My family and I use to drive over for Danny's pizza which a friend of mine told me was no longer a pizza joint. However I'm sure the same travel tips apply overseas. Research and budget and you will be on your way to a no stress family vacation!
If your looking for a great way to stay in budget check out Coupon Codes where you can save a lot of money. While their check out there travel category.