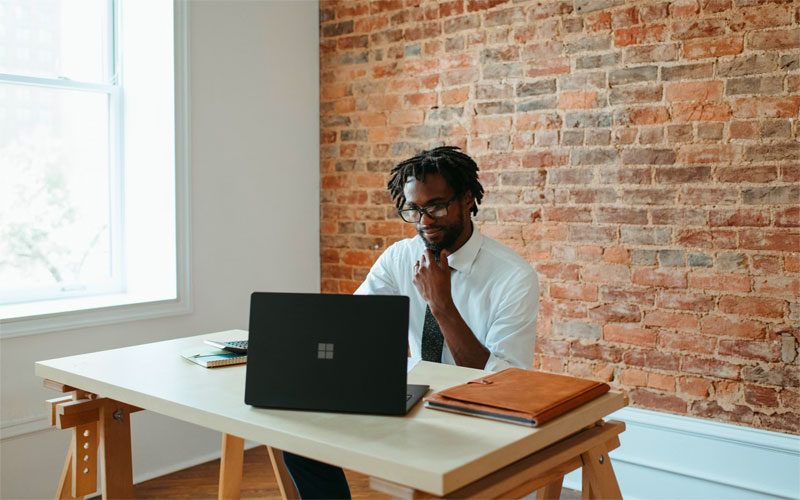 Embarking on the journey of starting your own business after years of working for someone else can be a thrilling and rewarding experience. It paves the way for new challenges, opportunities, and a sense of fulfillment derived from being your own boss, and what's better than that?
But to successfully navigate this often long and challenging transition, you must meticulously plan, prioritize time management, and be ready to learn continuously along the way. 
10 Steps to Starting Your Own Business if You Work Full-Time
If you take the time to follow these strategies and maintain an unyielding dedication, you'll set yourself up for an exciting phase of personal and professional growth as an entrepreneur.
1. Evaluate Your Idea and Passion
Assessing the potential of your business idea and understanding your passion for it are critical steps in starting a successful venture. Thoroughly research the market to ensure there's demand for your product or service before investing time, money, and energy into it. 
Simultaneously, reflect on the level of dedication you're willing to commit while working full-time. Remember, running a business requires passion and countless hours spent cultivating success. 
2. Develop a Business Plan
Crafting a comprehensive business plan is an essential step when starting your own venture, as it will act as a roadmap guiding your path to success. By clearly outlining your vision, mission, target market, and competitors, you'll remain focused on achieving well-defined objectives. 
Moreover, having a solid business plan can help you attract potential investors, allow you to pursue a loan, and assist in making critical decisions throughout the growth of the company.
3. Prioritize Time Management
Effectively managing your time is essential when starting a business alongside a full-time job. Do your best to juggle both responsibilities by creating strict schedules, allocating specific hours to your new business venture, and incorporating short breaks for relaxation and rejuvenation. 
Learn to optimize your productivity during these focused periods by avoiding distractions and honing multitasking skills. Finally, find an organizational system that suits you best.
4. Create a Logo for Your Business
Crafting an eye-catching logo plays a crucial role in forming your brand identity and making a lasting impression on potential customers. Seek inspiration from competitors and industry trends to establish the essence of your brand, then collaborate with a designer or utilize design tools. 
A well-designed logo should be memorable, versatile, scalable, and appropriate for your specific market segment. Remember that this visual representation becomes the face of your company.
5. Conduct Market Research
Thorough market research is vital for understanding your target audience, assessing competitors, and identifying opportunities within your industry. Begin by gaining insights into customers' preferences and pain points, as this information will help tailor products or services. 
Investigate the successes and shortcomings of rival businesses to determine areas where you can differentiate or excel. Always keep an eye on market trends to stay ahead of the curve. 
6. Build an Online Presence
Start by building your online presence with a user-friendly, aesthetically appealing website that showcases your products or services and communicates your brand message. Be sure to create social media profiles on popular platforms that attract your brand's target audience. 
By intelligently utilizing digital channels, especially new ones like TikTok, you can engage with potential clients worldwide and drive sales while positioning your brand as an industry leader.
7. Network With Like-Minded Individuals
Building connections with other professionals in your industry can prove invaluable when starting a business. Networking events, conferences, and online platforms such as LinkedIn provide opportunities to meet individuals who share your entrepreneurial spirit. 
Engaging in meaningful conversations and exchanging ideas can lead to you gaining insider knowledge, identifying collaboration opportunities, or even finding potential clients.
8. Seek Funding Options if Needed
Depending on the nature and scale of your business, obtaining additional funds may be necessary to kickstart operations. Explore various financing options suitable for your unique needs, from crowdfunding campaigns to traditional loans from banks or credit unions. For those businesses that are minority-owned, there are unique options available including small business loans for minorities.
Alternatively, you could seek angel investors or engage in partnerships with established businesses willing to invest in your venture, but this route is often tricky to navigate without help. 
9. Recognize When It's Time to Transition to Full-Time
As your business grows, you may reach a point when it's necessary to shift your focus wholly onto entrepreneurship. Pay close attention to the signs that could indicate this change is needed, such as steady revenue, consistent workload, or specific business milestones. 
If feasible, discuss your plans with your current employer in order to make the transition as smooth as possible. This ensures that all professional commitments are appropriately fulfilled. 
10. Celebrate Milestones and Learn From Failure
As an entrepreneur, your journey will be marked with successes and challenges alike. For this reason, it's essential to recognize and celebrate every milestone achieved, no matter how big or small, as it will boost your morale and reinforce your vision for your new business. 
Similarly, when faced with setbacks, don't get discouraged. Instead, try to approach these challenges as learning experiences from which you can gather valuable lessons.