See updates below
Now I lay me down to sleep, I talk to God, and ask for His guidance and blessings throughout the night.d…just let me get to sleep, stay asleep, and wake up refreshed! Isn't that what we all wish for as we climb into bed, pull the covers up, and lay our head upon our pillow? I know each and every night I hope that tonight will be the night that I get a great night's sleep. However often the scenario goes more like this…
Get in bed, pull the covers up and lay my head upon my pillow
Lights dancing on the walls from the TV in the corner
The sports anchor passionately reporting on the day's sports
Next to me, my husband begins to drift off to sleep and slightly begins to snore
Wait! He wakes up to put on his CPAP machine, covering the snoring with a heavy Darth Vader like breathing
Now how is a girl supposed to get a good night's sleep through all that? Do not fear because I'm here to tell you exactly how!
Bose® noise-masking sleepbuds™
Ready to purchase? Just click this image and may your dreams be plentiful!
Aren't they beautiful? Who could imagine that two simple little pieces of technology genius and a smartphone could provide you with a good night's sleep. Do not confuse these Bose® noise-masking sleepbuds™ found at Amazon with your average everyday music listening device. You do not listen to music with these sleepbuds™, because as the name suggests, they are for sleeping. The Bose® noise-masking sleepbuds™ deliver soothing sounds to help you fall asleep and stay asleep, masking the noise around you (like that Darth Vader breathing and sports anchor). They do not cancel the noise and thankfully there are settings you can adjust so that if you do need to hear, say your baby, you can. The app will even tell you when it feels the sound might be higher than you want.
The Bose® noise-masking sleepbuds™ are easy to use and comfortable to wear, even if you are a side sleeper like me. Simply download the app that is compatible with your device and it will walk you through the steps of setting up your sleepbuds™. I chuckled when I was asked to name my new nighttime sleeping buddies, thoughts of "Snoreless", "My BFF", and "Sports Not" came to mind. If you can't think of a name you can let the app create one for you, such as Snorlax or Forty Winks (I guess they had the same sense of humor as me.) I gave mine my own Nickname "Mom's Peace".
Once the sleepbuds are ready to use there are a few settings you will want to decide on to create your best sleeping experience. One of them is what type of sound you prefer to listen to. The app has several sounds to chose from such as Rustling Leaves, Cascading Water, Altitude, and many more. Pick the sound that appeals to you most, for me, it is the sounds of waves crashing on the beach, "Swells". Bose® is always working to bring you the best experience with more features and soothing sounds to come through future updates.
Next, you will want to adjust your sleep timer. This is how long you want the soothing noise-masking sounds to play. You may want them to play all night, 4 hours, an hour, or even 30 minutes as you drift off to sleep. Whatever length is going to give you the optimal sleeping situation is what you will want to select. I personally found that all night did not work for me. After I drift off to sleep, and the timer on the TV has gone off I'm good, it is just getting to sleep where I have trouble. So I set mine for about 1 1/2 hours. What I really love about the sleepbuds™ is the ability to set an alarm. I was using my phone as an alarm previously and it is set rather low because I'm a light sleeper. I was worried about the sleepbuds™ in I might miss my alarm, however, Bose® already thought of that for me (great minds think alike). You can set an alarm for a specific time, specific days (say Monday through Friday), and chose the sound you want to awake to. The great thing is only YOU awake to it, no annoying alarm to wake your partner or other members of your household.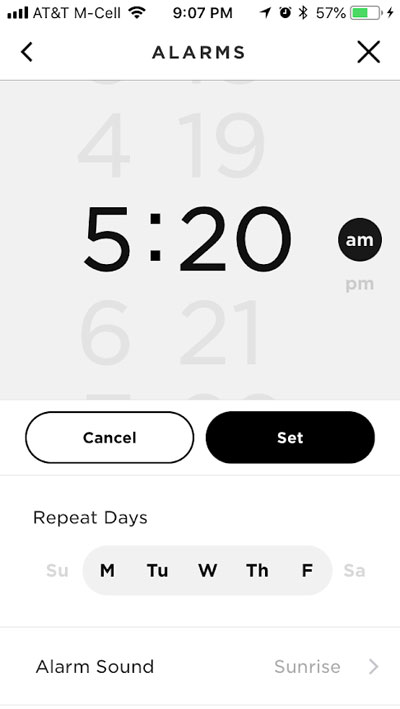 Don't let the stylish sliver carrying case fool you, it is not your average carrying case. The case actually doubles as a way to charge your sleepbuds™. You can get up to 16 hours of use off of a single charge. (The technology used in the sleepbuds™ is the same technology used in hearing aids, so the batteries are safe to be worn.) Once you are done with your sleepbuds™ for the day simply place them into the carrying case where they will begin to charge. The case is able to provide one full charge without being plugged in. I keep the case on my nightstand so when I get up in the morning I put the sleepbuds in the case and begin my morning routine. I do try to make sure that both lights for each ear are lit up when I put the sleepbuds™ in so I know that each one is being charged.
My what big ears you have!
All the better to hear you with my dear
— Little Red Riding Hood
No matter if your ears are big, small, or average, the Bose® noise-masking sleepbuds™ are sure to be a perfect fit with the exchangeable ear pieces to fit any size ear. Did I mention they are comfortable too? Seriously I can't even feel them when they are in!
Now that I have my Bose® noise-masking sleepbuds™ that I purchased at Best Buy, my bedtime routine is complete. I have everything I need for a good night's sleep and I wanted to share a few tips so that you too can get a good night's sleep.
Tips for a Good Night's Sleep
Retire your electronics at least an hour before you go to bed
Opt instead for a good relaxing book
Take a warm bath and use soothing scents and bath bombs like lavender
Combine those two and read your relaxing book in your relaxing bath
Keep your room cool, possibly use a ceiling fan if you have one
If your partner likes to keep the TV on invest in a sleeping mask (they are reasonably priced)
Purchase Bose® noise-masking sleepbuds™ at Best Buy or BestBuy.com and soothe yourself to sleep while masking the noise around you.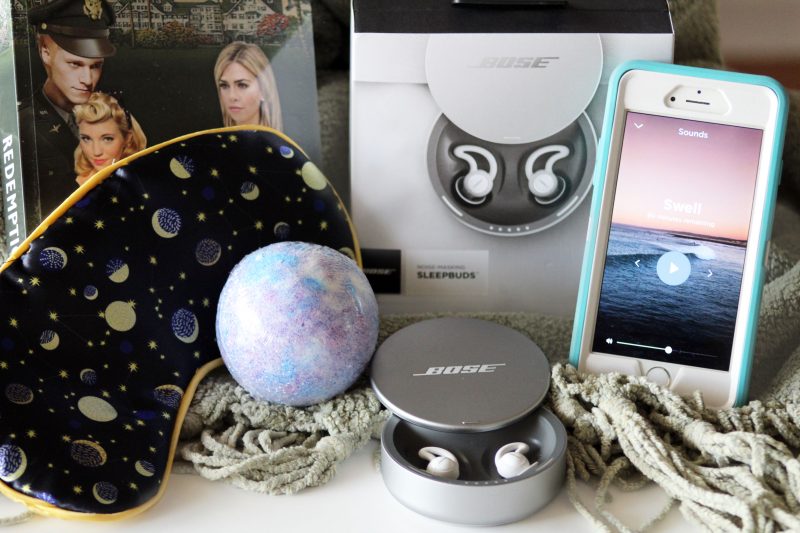 If you are wondering where you too can purchase the Bose® noise-masking sleepbuds™ they can be found in the Health & Wellness isle or Headphones & Speakers isle shown below at your nearest Best Buy or at BestBuy.com.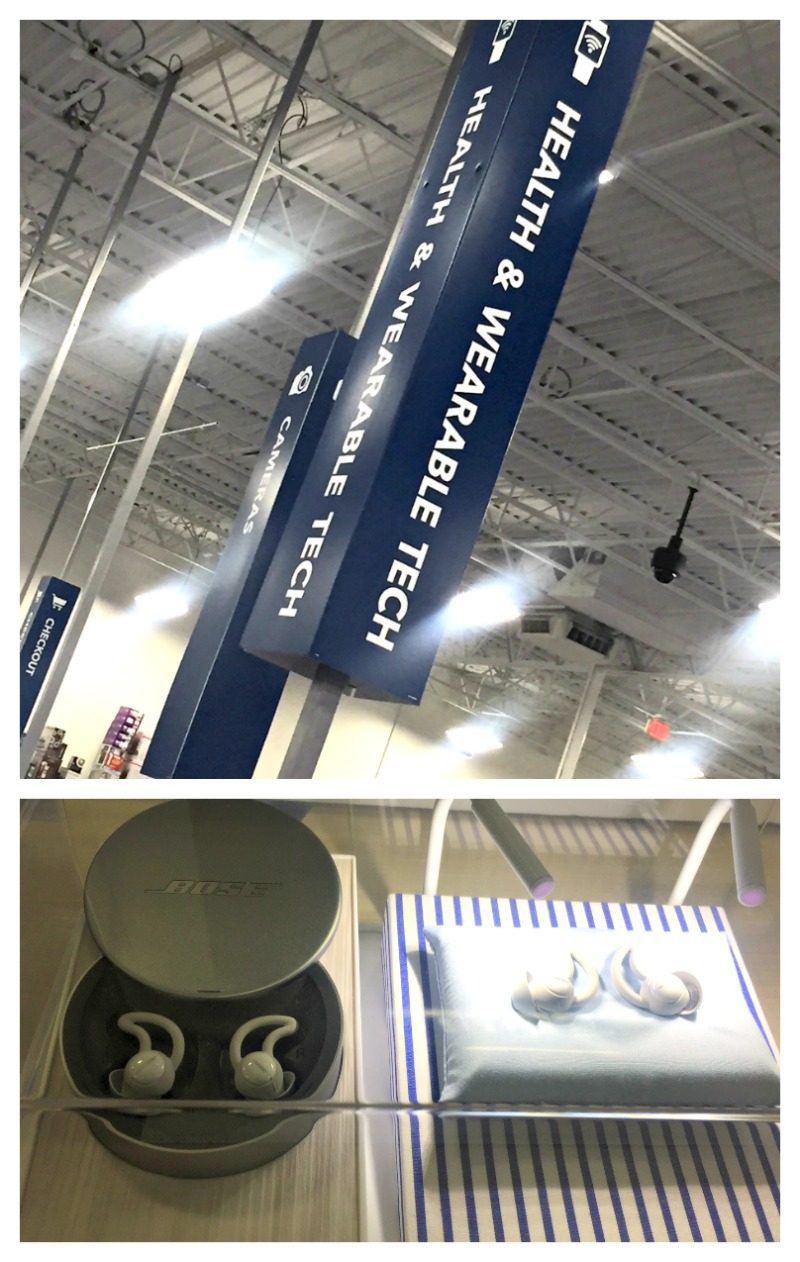 Update 11/19/18
It has been over a month now and I have been using my sleepbuds every night. I set them for 1 1/2 hour and fall asleep almost instantly. I do remove them at some point in the night and then put them back in the case when I wake up. I absolutely love these, a perfect solution to sleeping with a partner that doesn't like sound machines or anything other than the TV to get them to sleep. In addition, I just heard that the Sound Library has come out with some great new sounds I can't wait to try. I have my eye on "Shore Line" or "Boardwalk". Which sounds look relaxing to you?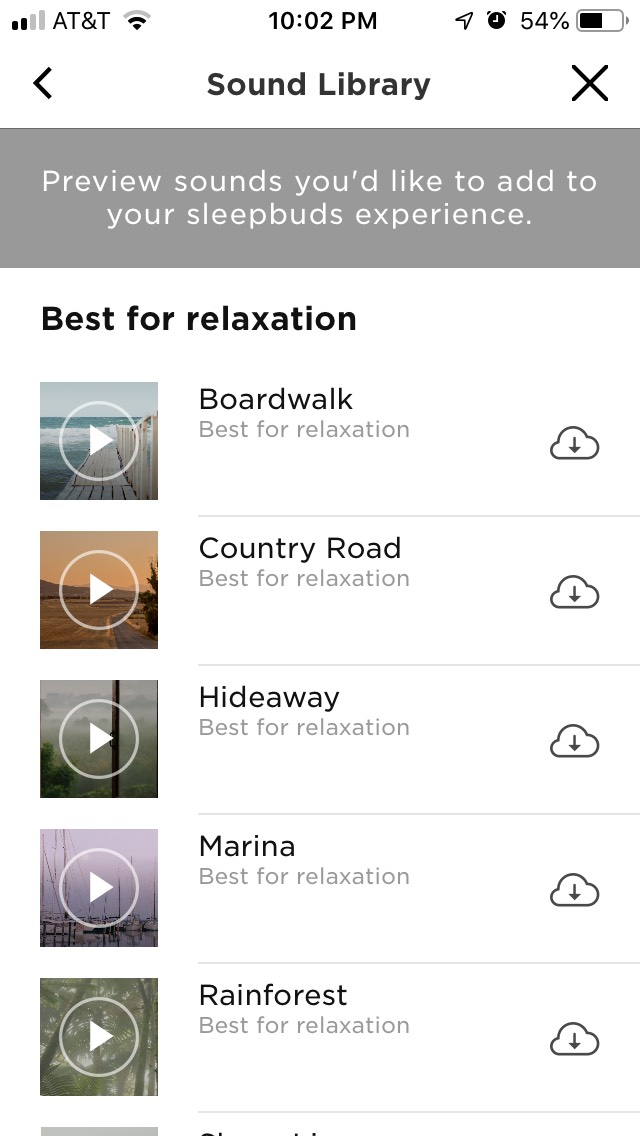 Update 11/20/20
I year after writing this post, the Bose Sleepbuds were discontinued due to some technical issues they were having with the design. At that time all customers were offered a refund or a replacement. My earbuds after a year's use was experiencing one of those issues, one of the sleepbuds would only charge to 55%. I opted for the replacement because I LOVE MY SLEEPBUDS!
Fast forward another year, still using these guys. The sleepbuds contain a small (and I mean small) metal piece that helps the sleepbud connect to the charger. That small piece of metal came off on one of my earbuds so it will no longer charge. I reached out to customer service and without any hesitation, they are sending me a NEW pair of sleepbuds because Bose has redesigned them and come out with the new Sleepbuds II. Look for a new post to come in the next month or so on the new and improved model!