I've seen this project over many blogs so I couldn't even link you back to where I originally saw it. I loved the look and thought it would be a great project for Honey and I. If you are going to try this project at home I encourage you to read my tips below it might help you a little in the creation of your own Melted Crayon Art project.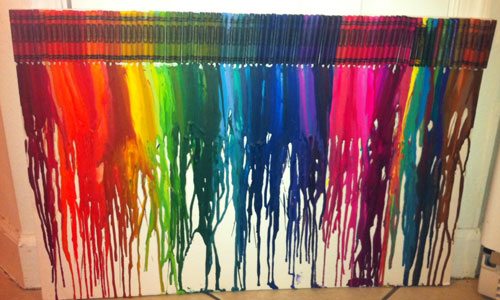 Supplies:
Thick poster board or canvas
Glue gun
Box of crayons (size depends on size of board)
Garbage bag or drop cloth
Hair dryer
Instructions:
While your glue gun heats up. Begin by putting the crayons in the order you would like to place them on your board. We decided to go with a rainbow like order with some odds and ends at the end of the board.
Once they are in order you will then begin to glue each crayon to the board. Decide how you want them to look, we decided to have the "Crayola" symbol facing outwards. Use a good amount of glue to get them fastened to the board. However be careful when placing the crayons on the board they will stick easily and dry quickly.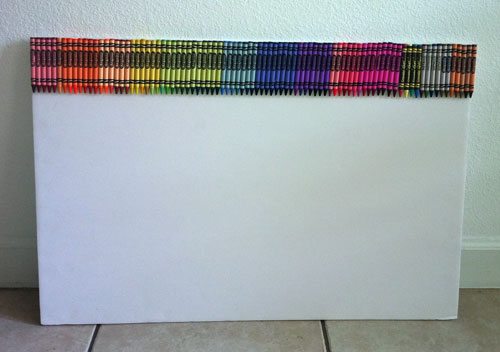 Lay down a drop cloth or garbage bag under your poster board so the crayon will not drip on the floor. You will also want to be careful where you are doing this if you put it against a wall know that you may get melted crayon on your wall.
Once you are set up you will put your blow dryer on high heat. It is better to start off at medium power versus high power (see my tips below). Begin heating the crayons one color at a time.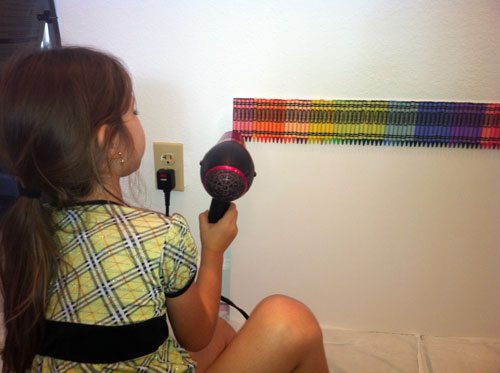 As the crayons begin to melt (in a matter of minutes) the wax will begin to run down the board, it is important that the heat be directed at the middle of the crayon and not the tips (again see tips below)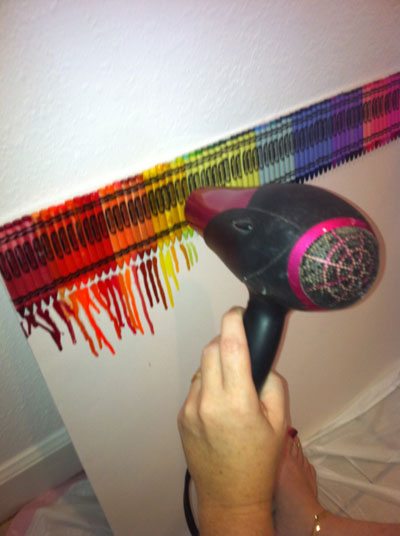 Just continue to melt the crayons until you are satisfied with the results. For us our goal was to melt each crayon so that the tips were no longer showing.
Tips:
There were a few things I learned as we did this project and wanted to pass on should you chose to do this project yourself.
Use a good amount of glue, we had a few crayons fall off after we finished the project
Keep a small tilt in your board, if it is straight the wax will fall directly down and miss the top of the board
It is better too keep the dryer on medium power until you get a hang of things. At higher power the wax tends to fly across the board at times instead of directly down.
Make sure you are doing this in a place that is easy to clean up. We ended up with wax on the wall and floor
Once the wax starts melting if you would like it to run down to the end of the board you may need to help it with the hair dryer by blowing the wax down the board.
If you end up with big clumps of wax because it dried before it ran down the board just heat it up again and watch it drizzle down.
The hardest part is the ends of the board due to the wax falling off the sides so take special care in these areas
The project took about an hour to an hour and half, a little longer then I had anticipated. However it was fun and the results are beautiful. Of course I'm a sucker for rainbows. I just think it is an inexpensive project to do with your child.