Note: This establishment is now closed, see below for similar types of services.
Last month after a day at the beach with her grandmother my daughter and mother came home with an idea of what they were going to do for my daughter's birthday. My mother had recently attended a wine and art class with her girlfriends and was telling my daughter about it. I must live under a rock because I had no idea such a thing existed. My mother showed me the painting she did and I was impressed and intrigued. My daughter decided for her birthday present she wanted to go to a class with my mother and me. I was in 100% as I have always enjoyed drawing and painting since I was a child. We decided to go to Vino Van Gogh in Delray Beach.
We browsed the calendar to pick out a painting we were interested in. It just so happened my daughter picked the painting that was on her birthday. Little did we know it was one of the hardest paintings on their calendar. We didn't care we were going and excited. For reference here is the painting that we selected to do.
Cloudy with a Chance of Rainbows
As the day approached my oldest son wanted to join us and spend the day with his sister on his birthday, yeah you can say awwww…he really is that sweet! We arrived and picked our seats. The staff had everything ready for us, our palette of colors, brushes, and a blank canvas. So the goal is to go from this blank canvas to the fun painting pictured above with the help of the instructor.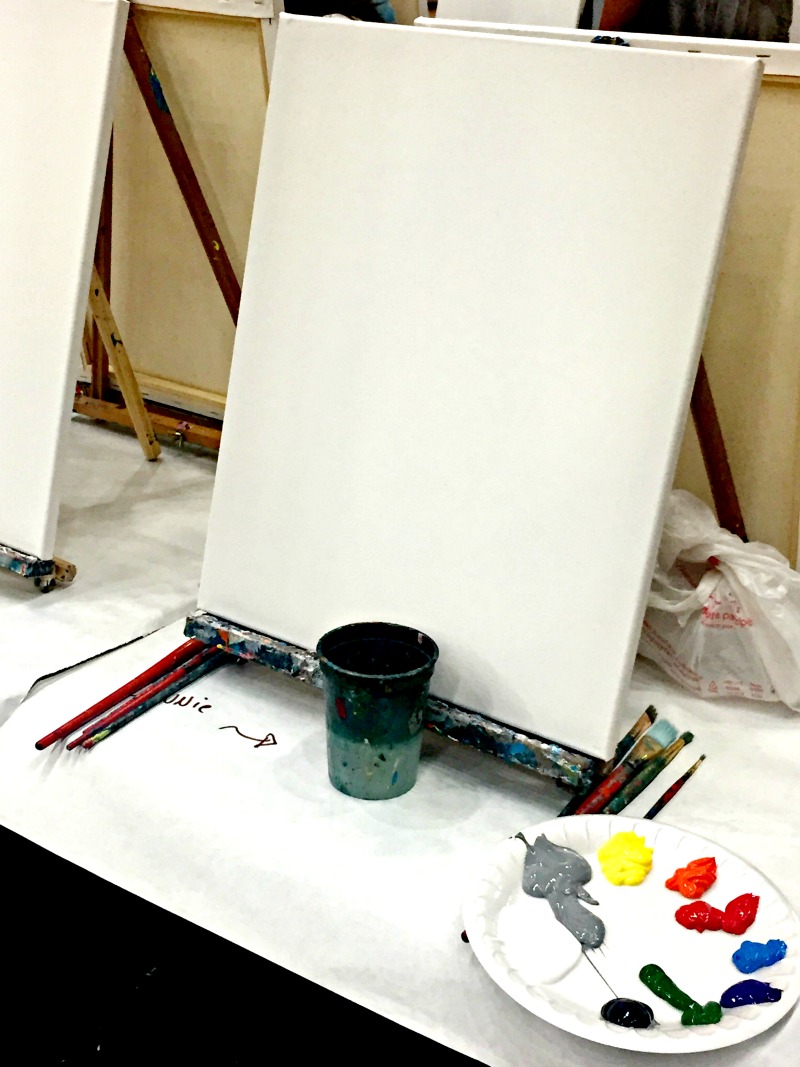 While these classes are advertised as wine and painting my daughter and I did not participate, for obvious reasons, for my daughter at least. It doesn't matter whether you think you can paint or not the class is fun and with a little instructions anyone can paint a picture. The staff at Vino Van Gogh was so fun and probably one of my favorite aspects. The atmosphere was electric with music pumping, and an instructor full of energy and fun all around.
If you have never been to one of these classes basically what will happen is your instructor will take you through each step of the painting. For example, with the one here after we painted our background we drew shapes with white paint to start working on our giraffe.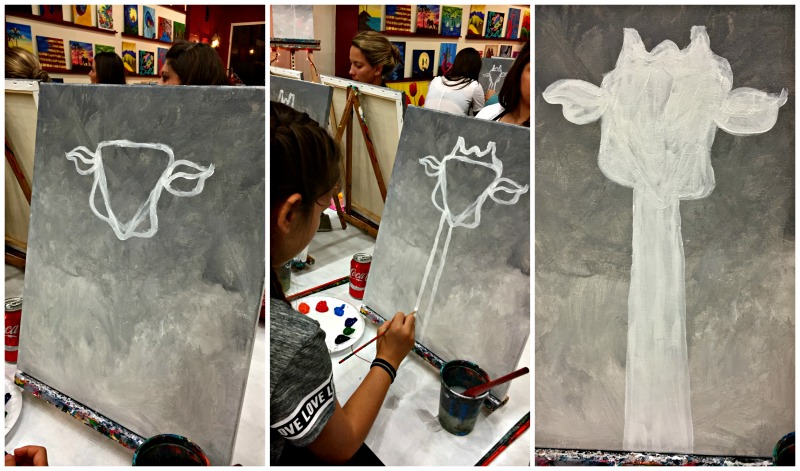 As you can see we started with a triangle and added ears, cheeks, and a neck. As you are working on your painting the instructor will walk around to see if anyone has any questions or needs any help. If you make a mistake the instructor can help you cover it up or fix it. You can work at your own pace but do need to make sure you watch the instructor as she/he explains how to get the effect, shape, or color you need to paint.
Process Photos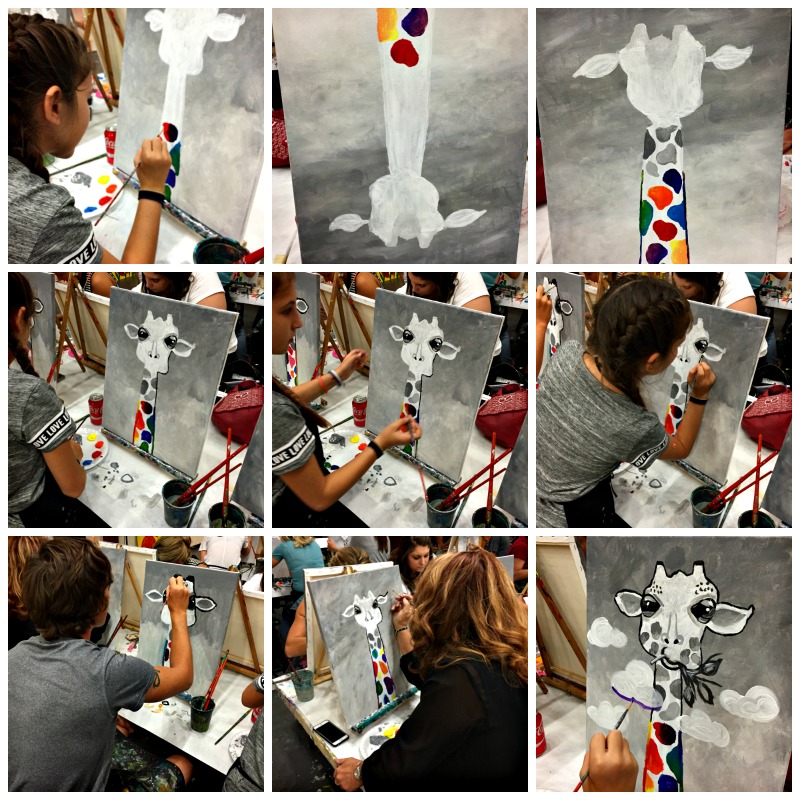 We had such an amazing time! So much so that I promised my daughter we would start going to a class once a month. My only fault was I could have worked on my painting for another hour (and I had already spent 2 1/2 hours on it). I loved the class so much that when it came time to give my husband some Christmas ideas I asked for an easel and paints so I could start painting at home! This was a great birthday present for my daughter and I highly recommend Vino Van Gogh if you are looking for a wine and art class that is fun!
Finished Paintings
As you can see we all did a great job! Everyone, the staff included, thought my daughter, who is only eleven, did such a wonderful job. Honey has decided to make one of her walls in her room her art wall and is hanging up all the paintings that we do.
Thank you to Vino Van Gogh for making my daughter's birthday a memorable one!
We loved Vino Van Gogh, it was our favorite painting class. I can not vouch for these establishments below but am listing a couple I found in the Palm Beach County area: