I am not a structured person. I do not plan ahead (very often). Why is this relevant? When it comes to dinner and my family asks, "What's for dinner?" I think about all the frozen meat in the freezer. The meat that I didn't take out ahead of time to defrost so we could have a nice home cooked meal. I was just introduced to a wonderful product with one feature that I absolutely love, it cooks your frozen food. Yes I said you can skip the defrosting and throw your meat right on the grill. This product is the T-fal OptiGrill.
When I was asked if I wanted to review this revolutionary product I was excited. Not only does it cook frozen food but it takes the guessing out of how long you should cook something. It is the closest thing to the Jetson's futuristic machine that spit out food cooked and ready to eat.
T-fal OptiGrill Features
Cooks evenly on both sides
Cooks from frozen
Automatically senses thickness and regulates temperature
Dishwasher-safe, removable grill plates are easy to clean
Fat drips into extra-large tray for healthier eating
Simple to use with guaranteed results every time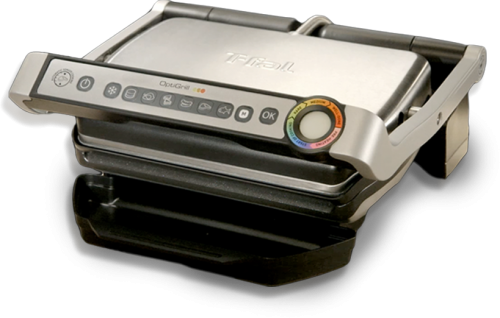 I've used my OptiGrill a few times and just love it. My husband will often take grilled chicken to work each day for lunch. I often have a hard time not over or under cooking the chicken. The OptiGrill took the guess work out. I simply put the chicken breast on the grill and selected chicken. The dial on the right side will let you know what phase it is in, rare, medium, well done with a beep at each phase. With the chicken you should cook it to well done.
The chicken came out just perfect! It was not tough or over cooked and it was cooked thoroughly. This is going to come in very handy when it comes to preparing lunches. My next test was to cook a frozen item. I decided to try a frozen steak. When selecting a frozen item make sure you click the snowflake to let the OptiGrill know the meat is frozen. I made my selections and decided I wanted my steak medium.

The steak came out a little more medium rare than medium. I think it could have cooked a little longer. I'm not going to say that a steak on the OptiGrill has the same "on the grill" flavor as a gas or charcoal grill. If that is how you like your steak I think your going to have to stick to cooking it that way. I do like the convenience of the OptiGrill and how it tells me when my food is ready. The clean up is easy and the time factor is a huge feature for me because I never have enough time in the day. I can set the meat on the grill and go about cooking side dishes and not worry about checking the meat, or if I put the grill up to high or too low.
Get Perfect Results with OptiGrill
Only the T-fal OptiGrill has special sensors that automatically determine the thickness of your food and grill with precision at the ideal temperature for that unique cut of meat.

The precision grilling technology also monitors the temperature of your food as it cooks. The Cooking Level Indicator will indicate when it has reached your ideal temperature: Yellow for Rare; Orange for Medium; Red for Well Done.
The non-stick grilling plates disconnect from the OptiGrill and can be put in the dishwasher for easy cleaning. In addition to the plates the drip pan is extra-large and will collect all the drippings as your meat cooks. I love the 6 different programs:
Six OptiGrill Programs
Burger
Chicken
Sandwich & Panini
Sausage & Pork
Red Meat
Fish & Seafood
Or, select Manual for grilling vegetables, fruits or creating your own recipe
We definitely recommend the T-fal OptiGrill for indoor grilling. The precision grilling technology is awesome and makes grilling a piece of cake!