When we step into a forest, what catches our eyes first? Perhaps the majestic trees reaching for the skies. But, much like a dinner table adorned with an attention-grabbing flower centerpiece, there are hidden elements in a forest that, though subtle, bring life and beauty to the entire scene. These table decor ideas will add subtle touches to your dining table.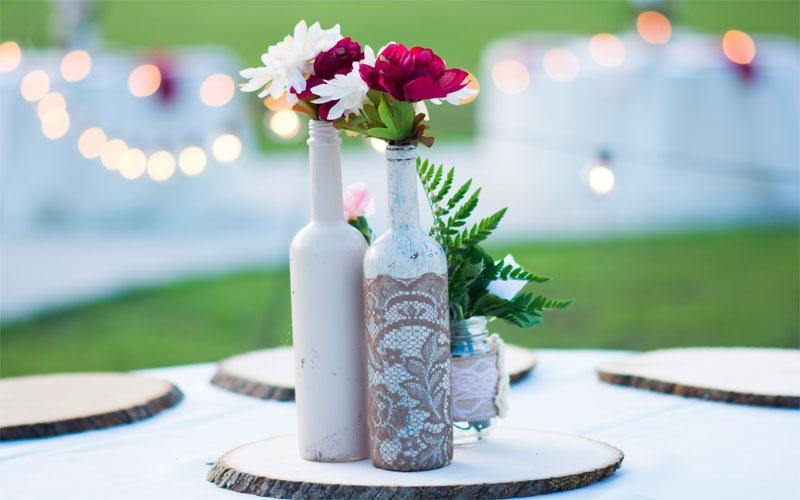 The Understory: Place Cards as the Subtle Groundcover
In the forest, understory plants play a crucial role. They aren't as prominent as the towering trees, but their presence gives depth and texture to the landscape. Similarly, simple handwritten place cards may seem minor in the grand scheme of table setting, but their personal touch echoes the understory's subtle beauty. When guests see their names thoughtfully scripted, it's a gentle nod to their importance. Just as we might delight in spotting a rare fern in the woods, your guests will appreciate this detail, recognizing the depth of your hospitality.
Canopies and Cascading Houseplants: Creating Vertical Drama
Imagine walking through a terrain and being suddenly greeted by a waterfall, cascading down, dripping life and vitality onto everything it touches. Now, bring this cascade onto your dinner table. Instead of water, think of houseplants. A cascading centerpiece made of houseplants offers vertical visual interest. The spill of greenery, perhaps punctuated by the occasional bloom, offers a refreshing contrast to the usually horizontal layout of plates and cutlery. It bridges the gap between the culinary and the natural, blending the lines and offering an immersive experience.
The Forest Floor: Texture and Variety in Table Settings
Just as a forest floor is not merely dirt but a mosaic of moss, leaves, flowers, and tiny organisms, your table setting can be a tapestry of textures and colors. Think of innovative materials for your tablecloth, such as raw linen or even woven grass. Use mismatched plates or vintage cutlery to introduce an element of surprise. Each item tells its own story, and together they create a narrative of warmth, charm, and creativity.
Bioluminescence: Introducing Ambient Lighting
Deep in certain forests, a magical phenomenon can be witnessed – bioluminescence. Tiny organisms emit light, creating an ethereal glow on the forest floor. Inspired by this, think beyond the typical candle or lamp. Use fairy lights in clear jars or under translucent tablecloths. Place luminescent stones or glow-in-the-dark paints on centerpiece bases. This soft, ambient lighting can recreate the magic of a bioluminescent forest, making your meal not just a culinary delight but a visual spectacle.
The Symphony of Sounds: Engaging All Senses
Forests aren't just about visuals; the chirping of birds, the rustle of leaves, and the distant murmur of a stream create a soundscape. As a less explored table décor idea, consider sound. Play nature sounds in the background, or use wind chimes and bells as part of your décor. Let your table setting be a multisensory experience, ensuring that the meal remains etched in the memories of your guests.
Conclusion: Crafting a Tabletop Ecosystem
Just as a forest is an ecosystem where each element, no matter how small, plays its part, a well-decorated table is more than the sum of its parts. From the subtle nod of acknowledgment with place cards to the drama of cascading houseplants and the charm of ambient lighting, each element contributes to an experience. So, the next time you set your table, think of the forest, and let its timeless beauty guide your creative journey. We hope these table decor ideas inspired you to create a calming and beautiful dinner setting.