When we moved into our new home a year ago I knew immediately that there were some changes to the kitchen I had to wait to make and others I could make more quickly. One of those immediate changes was replacing the appliances. When we moved in the first thing we did was move the refrigerator to the garage and put our own stainless steel refrigerator in its place. This left us with a black dishwasher, white stove, black microwave, and beige sink. Definitely not the look we were shooting for. After replacing our dishwasher with a new stainless steel dishwasher from Best Buy I put my sights on a new stove.
Samsung Dual Door Electric Range / Oven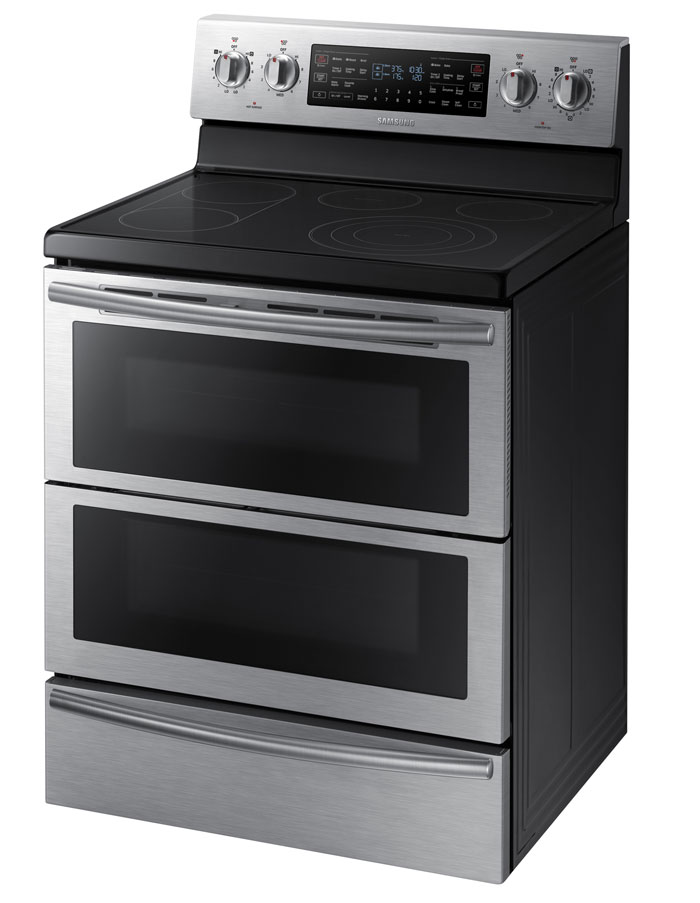 I was very excited when we were selected to review the new Samsung Dual Door Electric Range from Best Buy. Since a stainless steel oven is what I was saving all my gift cards for this was a nice surprise. Now I'm not often known for my cooking, in fact it is a family joke but that doesn't mean I can't appreciate a good oven. At first glance I thought the Samsung Dual Door Electric Range was beautiful and it really made a difference in how my kitchen looks.
Ok so it looks great but looking great isn't going to cook our food right? Well I can tell you it works as great as it looks. There are some awesome features that we love on the Samsung Dual Door Electric Range.
Samsung Dual Door Electric Range Features
Dual Door with Smart Divider: Opens either separately or as one door for versatile cooking options.
FlexDuo technology: Enables you to cook at 2 different temperatures at once.
5 cooktop elements: This is more than your average 4, and one of them has three rings to best fit your pot/pan size.
Warming center burner: Keeps sauces and side dishes hot until they're ready to be served.
Warming drawer: Offers 3 settings to accommodate different dishes.
Ceramic cooktop surface: Makes cleanup easy.
SteamQuick function: Releases steam to clean the oven in 20 minutes.
The most used featured it the dual door. Often my son uses the oven to warm up chicken nuggets, pizza, or to bake cookies. He usually only has one tray of food so being able to use the small upper portion of the oven is great. However having the ability to remove the plate and use the oven as a single oven is a must have when cooking large meals such as a Thanksgiving turkey or roast.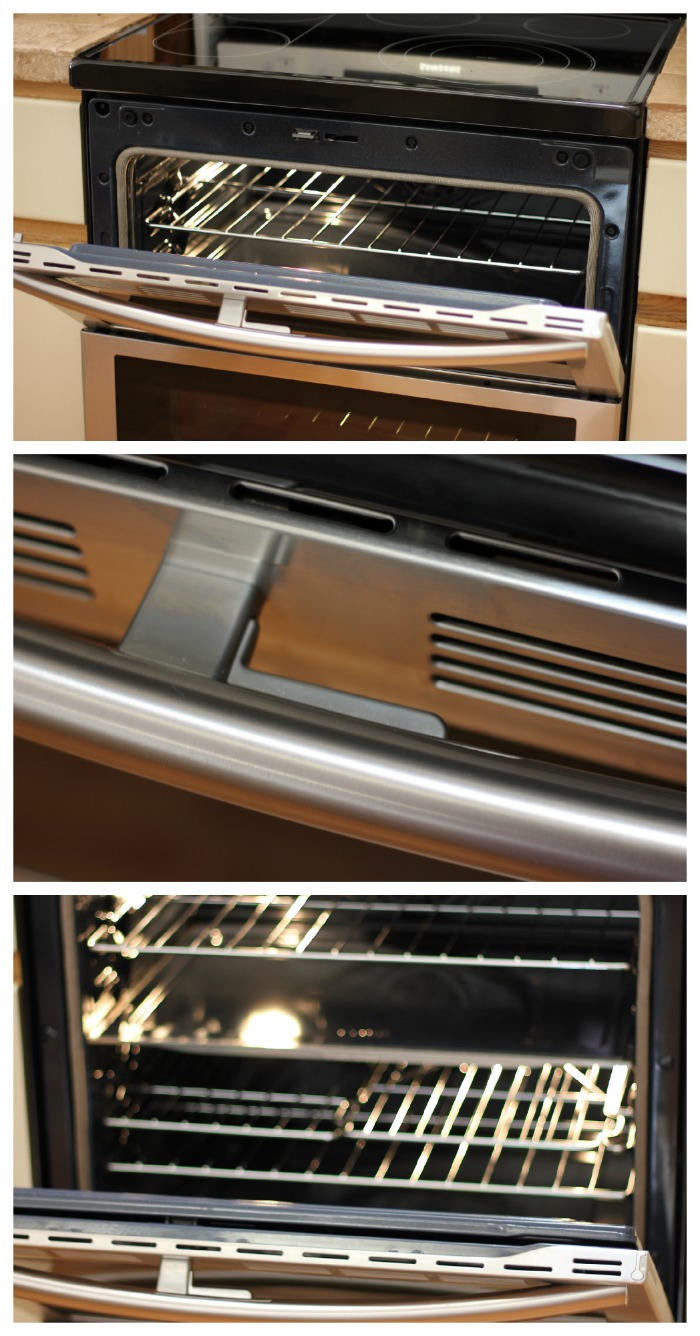 Another advantage to a dual oven is cooking multiple dishes at different temperatures. Half of cooking a meal is the timing. Trying to get everything cooked at the same time. With the dual oven feature you can cook one item in the top and another in the bottom at totally different temperatures. Even better when  you have cooked something and dinner is not quite ready to be served you can use the warming drawer.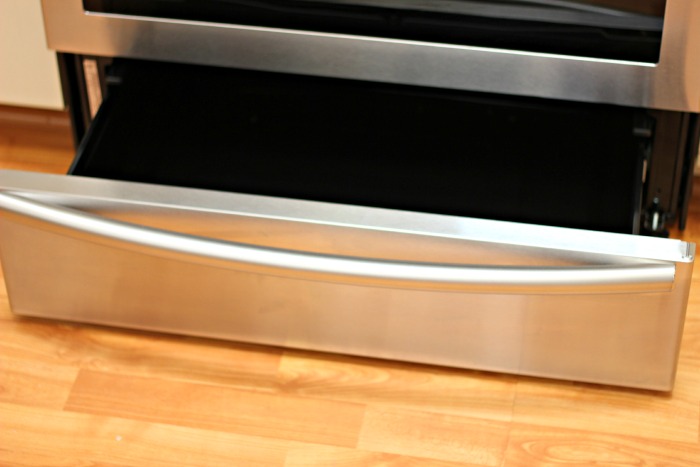 The partition in the middle of the oven can be removed to create a single oven. The partition is easily stored in a slot just above the warming drawer. The stove top also has a warmer for items that you have finished cooking but are not ready to serve. It is located directly in the center. A new feature that I had not used before is the convection baking.
Convection Baking
Convection baking uses a fan to circulate the oven's heat evenly and continuously within the oven.  This improved heat distribution allows for even cooking and excellent results using multiple racks at the same time. Foods cooked on a single oven rack will generally cook faster and more evenly with convection baking.
Having never used a convection oven I was unaware how much faster it cooks. My first use of the oven I over cooked my pizza just a bit. The Samsung Dual Door Electric Range has several different settings for baking.
Samsung Dual Door Electric Range Baking Options
Timed cooking:  set the timer to automatically turn off the oven.
Delay start: set the timer to automatically turn on the oven at a specific time.
Convection Bake
Convection Roast
Bake (without convection)
Broil
Keep warm
Favorite Cook Feature: you can record up to 3 different recipe settings
Slow Cook: cooks food more slowly at lower oven temperatures
Bread Proof: automatically provides the optimum temperature for the bread proof process.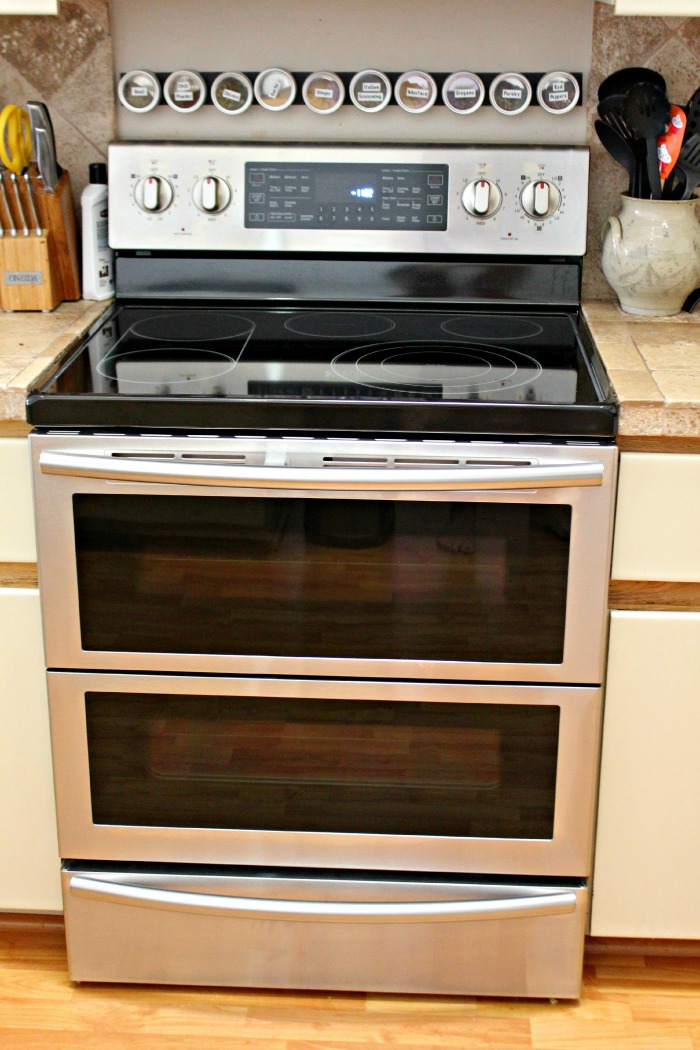 Overall we are very happy with our Samsung Dual Door Electric Range. The only thing we would change is to make the time on the display a little bigger and the timer beep a little louder. Other then that it works beautifully and is very flexible and can accommodate making large meals or small meals easily!