About 4 weeks ago I introduced you to a new beauty product line. I mentioned I would be doing a Meaningful Beauty Review. I've had almost 4 weeks to use the product and I'm ready to update you on my thoughts regarding the beauty line by Cindy Crawford.
There are usually a few things that I review that I have a hard time really knowing of the products work…vitamins and beauty products. With the Meaningful Beauty products I had no trouble finding a difference in my skin after just the first day. I honestly have never used a product on my skin that has left it feeling as refreshed and clean as the Meaningful Beauty did.
I love the feel of the cleanser, it goes on smooth and does it's job. There is no gritting feelings like some soaps and there is no suds or lather when you use it. It almost feels like a smooth light cream. I absolutely love the day time lotion. When I first put it on my skin does have a shine to it so I have to wait for it to dry before I apply my make up. However the smoothness of the lotion really helps my makeup gone on smooth and stay smooth during the day.
I also like that the eye cream doesn't bother my skin after application. In fact it feels no different then applying the lotion or cleanser. This is not the same feeling I get with other de-wrinkle creams. The whole process is quick and easy to maintain both day and night. There was no additional time needed, I simply replaced my previous cleansing products with the Meaningful Beauty line.
My mother, who received my meaningful gift, loves the Meaningful Beauty product line. In fact I believe she may now be a new longtime customer. Like me she could tell a difference in her skin after the first day. I tried to take a before and after photo for you but with the different lighting I'm not sure if you can really see or notice the difference in the photos. What I really notice the most using the system is how smooth my skin is. I just can't get over how smooth it feels!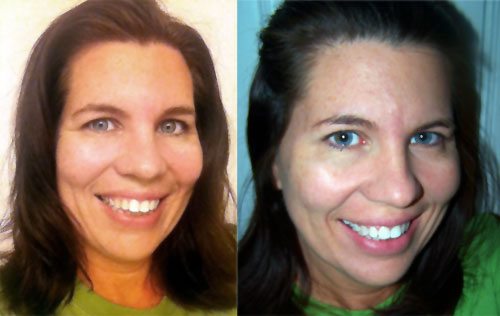 ---
Disclaimer: I wrote this review while participating in a test drive campaign by Mom Central Consulting on behalf Meaningful Beauty and received a 5-step treatment kit to facilitate my review, a second 5-step treatment kit to giveaway, and a promotional item to thank me for taking the time to participate.. You may read more of my disclosure here.
---