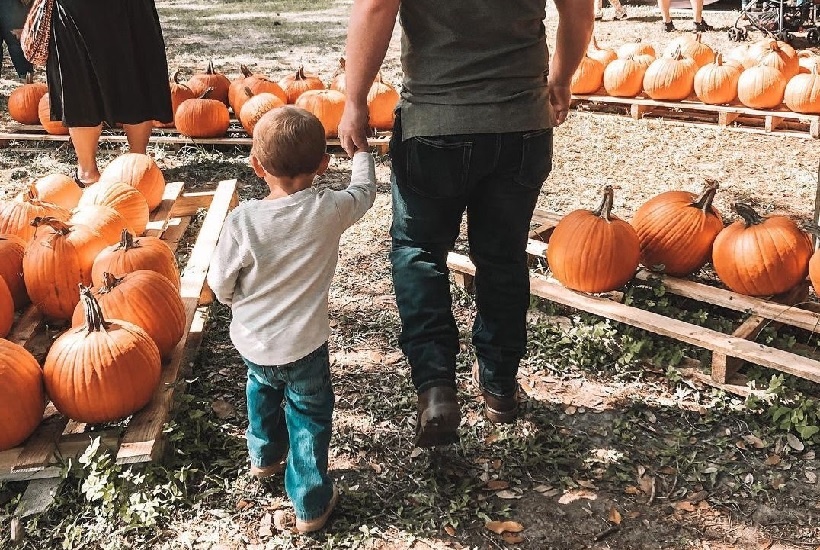 Fall in Love with Fall Festivities in Ocala/Marion County, Florida
Fall is here and it's the perfect time to be outdoors enjoying Ocala/Marion County. Everything from pumpkin patches to historical reenactments and arts festivals are returning to the area. Here are some of the fun events happening this fall. Join the fall festivities!
OKTOBERFEST AT WORLD EQUESTRIAN CENTER
The World Equestrian Center will be kicking off Fall with its annual Oktoberfest back-to-back weekends! On Saturday, September 30, and October 7, 2023, guests are welcome to attend the event packed with German fun from 11-5 p.m. in Exposition Center 1. Listen live to a German Band play polkas, waltzes, sing-a-longs, and more while you taste classic German food and drink. Some of the delicious food includes pretzels and beer cheese, apple strudel, bratwurst, and schnitzel! It is not a great Oktoberfest unless you have a beer garden and games. Tickets are available to purchase at the event or in advance for a discount. Click here for more information.
LEGENDS OF THE FORT
Take a guided lantern tour diving into the history of Fort King with tales of the past. The tours are about an hour long and with various start times in the evenings of October 8 and 9. Food trucks, vendors, games and live music will be on-site to enjoy before and after the tours. Purchase tickets here.
AUTUMN GIFT MARKET
The Junior League of Ocala is hosting its 27th Annual Autumn Gift Market at the Southeastern Livestock Pavilion Oct. 20-21. The festive event offers a great way to jump-start on holiday shopping and features food trucks, drinks, raffles, and more. Learn more about the event at Ocala.jil.org.
Two Rivers Music Festival
Where the Rainbow River and Withlacoochee River meet, Dunnellon is welcoming back the Two Rivers Music Festival and Food Truck Rally on Oct. 16! Grab a bite to eat, a drink and enjoy the music as it fills the evening air of quaint Dunnellon. The festival will be at Ernie Mills Park from 5-10 pm and is completely free, featuring music of many genres— rock, jazz, county, folk and more.
Ocala Arts Festival
The 54th Annual Ocala Arts Festival returns on Saturday, Oct. 23 and 24. Free and open to the public, festival-goers have many options to choose from, including browsing art from a variety of artists across the country and sampling food from local vendors. Kids will enjoy special hands-on activities and live performances will be taking place throughout Historic Downtown Ocala from 10 am–5 pm.
MCINTOSH 1890'S FESTIVAL
Travel back in time at the McIntosh 1890's Festival celebration held on Oct. 14, 2023, from 8 a.m. to 4 p.m. Discover the area's rich history while walking down tree-lined streets filled with unique vendors, music, face painting, and great food. McIntosh is located in northern Marion County, on Highway 441.
Visit McIntosh1890sfestival.com for more information about the event.
OCALA FOOD AND WINE FESTIVAL
The 3rd annual Ocala Food & Wine Festival at the World Equestrian Center is returning this fall for a weekend-long event! Join fellow foodies to enjoy live music, cooking demos, and an iron-chef-style competition. This event offers guests the opportunity to taste different food and drinks from dozens of local restaurants, wineries, breweries, and distilleries. The event takes place Nov. 3-5, 2023. To make it even better…there will be a celebrity chef hosting the event again this year. For more information or to purchase tickets, visit OcalaFoodAndWineFest.com.
Chili Cook-Off
It is not autumn without a bowl of hot chili and the community is serving up the best at the 42nd Annual Marion County Chili Cook Off! Spend the day at the Southeastern Livestock Pavilion sampling chili, listening to live music, tasting craft beer and voting for your favorite car at the newly added car show. The cook-off starts at 10 am on Nov. 4, 2023.
Ocali Country Days
For another step back in time, on the second weekend of November each year, Ocali Country Days festival revels in the history of the area at the Silver River Museum for a family-friendly time. November 12-13, celebrate the pioneer spirit with live music, various vendors and skilled craft activities from early settlers like blacksmithing, spinning, marking sugar cane syrup and more.
There are tons of fall festivities in Ocala/Marion County for the whole family to enjoy!