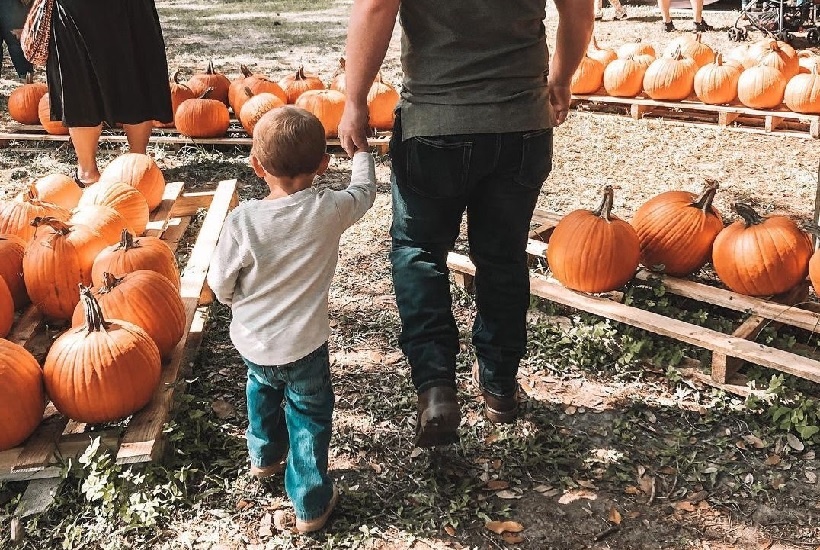 Fall in Love with Fall Festivities in Ocala/Marion County, Florida
Fall is here and it's the perfect time to be outdoors enjoying Ocala/Marion County. Everything from pumpkin patches to historical reenactments and arts festivals are returning to the area. Here are some of the fun events happening this fall. Join the fall festivities!
Pumpkin Patch and Fall Festival
Looking for a fun autumn weekend activity? Timberline Farm's Pumpkin Patch and Fall Festival have something for everyone. In addition to a fantastic corn maze experience, visitors can also enjoy carnival games, a pumpkin patch, pony rides, music, food, drink and so much more. Admission is $8 for adults and $6 for students. The Pumpkin Patch and Fall Festival are open Friday through Sunday, every weekend in October, at 3200 SE 115th Street in Belleview.
Two Rivers Music Festival
Where the Rainbow River and Withlacoochee River meet, Dunnellon is welcoming back the Two Rivers Music Festival and Food Truck Rally on Oct. 16! Grab a bite to eat, a drink, and enjoy the music as it fills the evening air of quaint Dunnellon. The festival will be at Ernie Mills Park from 5-10 pm and is completely free, featuring music of many genres— rock, jazz, county, folk, and more.
Ocala Arts Festival
The 54th Annual Ocala Arts Festival returns on Saturday, Oct. 23 and 24. Free and open to the public, festival-goers have many options to choose from, including browsing art from a variety of artists across the country and sampling food from local vendors. Kids will enjoy special hands-on activities and live performances will be taking place throughout Historic Downtown Ocala from 10 am–5 pm.
National Dog Show
For nine days, Golden Retrievers from across the country will be taking over the World Equestrian Center for the 2021 Mid-Florida Golden Retriever Club of America National Specialty. Watch the goldens perform agility trials, obedience and conformation tests, and more throughout the week, Oct. 22 – 30. If you can only make it to one day, the final day of the event, Saturday, Oct. 30, is a great pick with the Best of Breed show. For the full event schedule, visit https://2021.grcanational.com/schedule/
On Oct. 30, Harbison Farm Cattle & Produce will be hosting their annual Old Florida Cracker Show & Thanksgiving Festival. The festival will include a large craft show and activities for the kids, including a costume contest; southern BBQ, sweet corn, and more delicious food vendors; and to top it all off, a pie and cake contest! Admission is free! Harbison Farm is located at 4696 NE CR 329, Anthony, FL 32617.
McIntosh 1890's Festival
Travel back in time at the McIntosh 1890's Festival celebration held on Nov. 6 from 8 am to 4 pm. Discover the area's rich history while walking down tree-lined streets filled with unique vendors, music, face painting, and great food. McIntosh is located in northern Marion County, on Highway 441.
Civil War Reenactment / Ocklawaha River Raid
Spend a day at the beautiful Florida Horse Park for a dramatic reenactment of the Ocklawaha River Raid, the only battle of the Civil War that occurred in Marion County. The completely free event takes place Saturday and Sunday, Nov. 6-7, and is reenacted by the 7th Florida Infantry Regiment. The grounds are open all day for the event, with living history demonstrations, activities for the kids, and food throughout the weekend.
Chili Cook-Off
It's not autumn without a bowl of hot chili and the community is serving up the best at the 40th Annual Marion County Chili Cook-Off! Spend the day at the Southeastern Livestock Pavilion sampling chili, listening to live music, tasting craft beer, and voting for your favorite car at the newly added car show. The cook-off is from 10 am – 5 pm on Nov. 6.
Ocali Country Days
For another step back in time, on the second weekend of November each year, Ocali Country Days festival revels in the history of the area at the Silver River Museum for a family-friendly time. Nov. 13-14, celebrate the pioneer spirit with live music, various vendors, and skilled craft activities from early settlers like blacksmithing, spinning, marking sugar cane syrup, and more.
There are tons of fall festivities in Ocala/Marion County for the whole family to enjoy!