This past weekend my mother, daughter and I attended the Lakeworth Street Painting Festival. I consider my daughter and I artists. So we both appreciate viewing other artists work. In fact, I told her that we should spend this year working on our chalk drawings and enter next year for fun.
The Lake Worth Street Painting Festival claims bragging rights as the world's largest free festival of its kind. This award-winning 2-day event fills the downtown streets with more than 250 street paintings sponsored by businesses, organizations, families and individuals, covering more area than any other street painting festival. Artists converge to display their diverse talents on the asphalt – using only chalk. Street performers and Mainstage musical entertainment add to the atmosphere. Don't miss the Festival Food Courts and downtown restaurants, accommodating culinary tastes and thirsts as diverse as the artwork.
The talent we found at the street painting festival was amazing! I have always found that when artist use different mediums beyond drawing and painting the results are phenomenal. The other great feature about this larger than life street painting festival is the size. We walked up and down the street and noticed that each side street also had artists diligently working away at their master piece.
We went Sunday morning right after it opened at 10am. This was a great time when it comes to weather however the best time to go if you can handle the heat and grounds is at the very end so you can see all the drawings as they are finished. We took photos of the beautiful artwork while artist continue to work. So many paintings were not quite finished but it was still easy to recognize raw talent.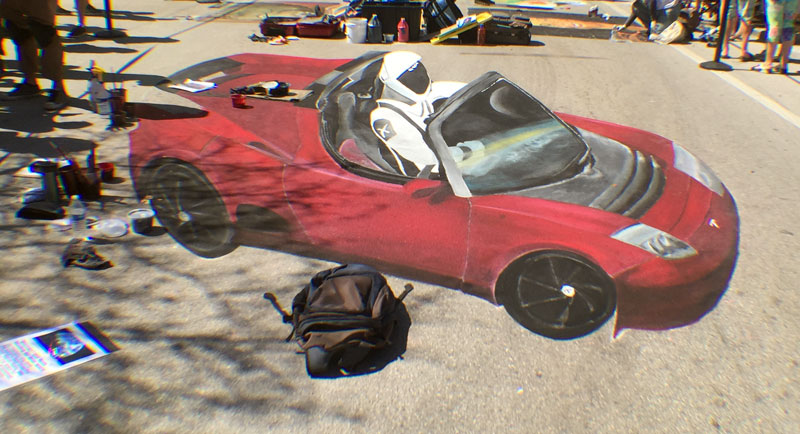 In addition to the featured artists working at the street painting festival there were many schools, younger artists, and art clubs who had their own section of the street to paint. It is nice to see that people took interest in young artist and their creations. One thing that my daughter and I noticed, well actually my daughter did, was that where we assumed they were using your average sidewalk chalk, that was not the case. Many of the artist used soft pastels or chalk pastels which is very different then the sidewalk chalk you purchase for your children.
We had a great time see the artist at work and getting in some much needed exercise. These photos here are just some that I was really impressed with. I have posted 50 + photos on my Facebook page if you would like to see some more of the beautiful artwork.