CLICK HERE FOR WHERE TO BUY THE OLD FORMULA
What?! Did Aussie Instant Freeze change their formula? The answer is a resounding "YES THEY DID". If you are a long-time user like me you are probably thinking, "WTF?" Is it really that different? The two formulas feel totally different going on, and afterwards. I originally thought there was a huge difference until I did a comparison test for the purpose of this article.
Side-by-side Comparison of Aussie Instant Freeze Formula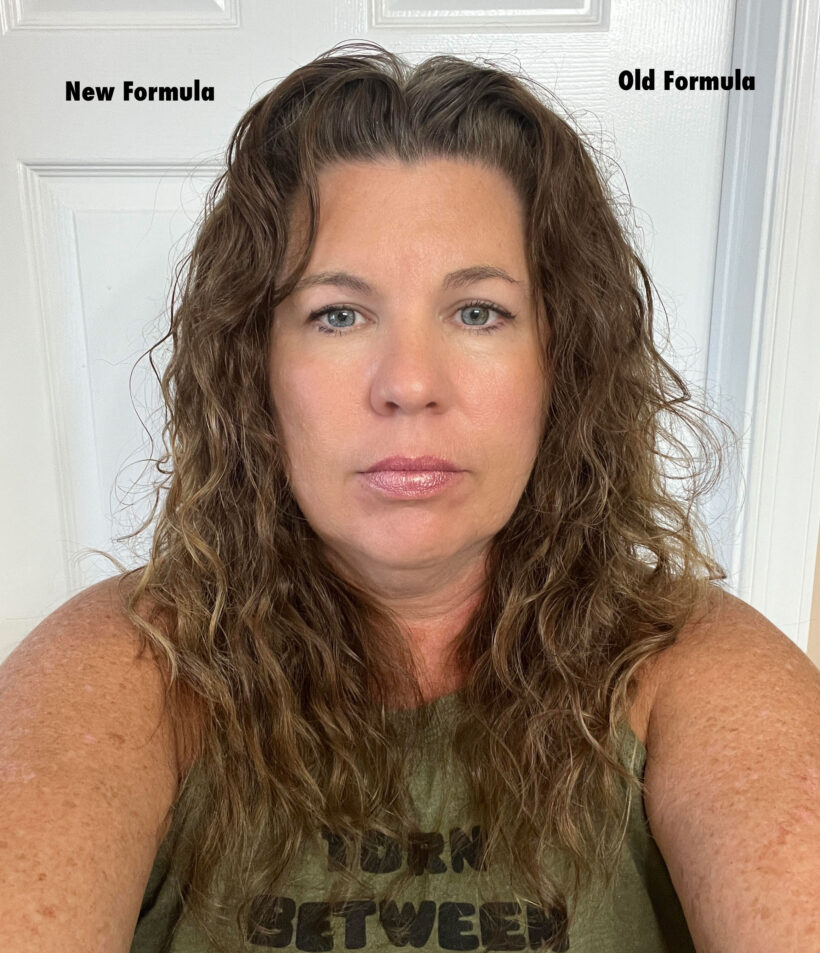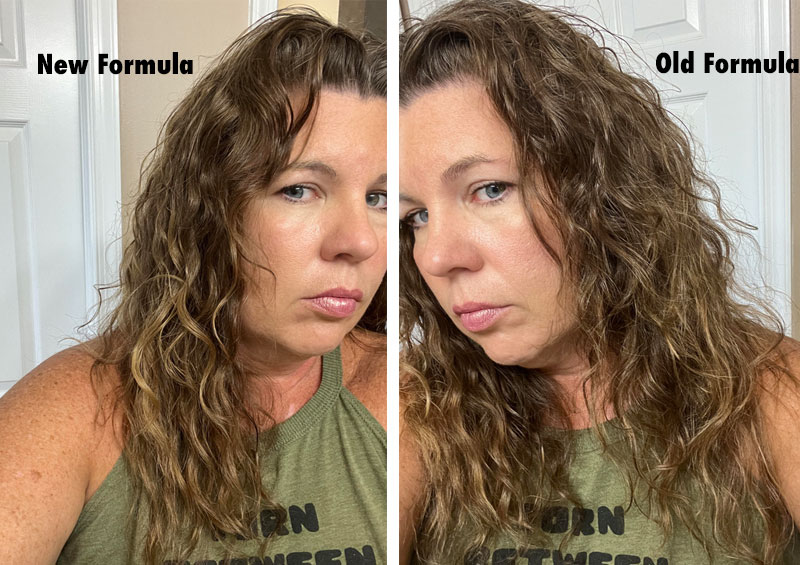 A quick explanation of how I use this product. After I shower squeeze as much water out of my hair as I can. I immediately spray it with Aussie Instant Freeze. I then put it up in a towel for 30 mins. I then take it out of the towel, spray it again, and let it air dry. The photo above is the result of using both formulas. I feel like the old formula looks a little messier. However, my concern is that the new formula will not last the day.
HOW TO Tell the difference in the Aussie Instant Freeze formulas
At first glance, you can see they have changed the look of the bottle. However, the bottle has changed over the years so the 100% foolproof way to know if you have a bottle of the old formula or a bottle of the new formula is to check the ingredients.
Aussie Instant Freeze old formula
ALCOHOL DENAT., HYDROFLUOROCARBON 152Z, WATER, ISOBUTANE, VA/CROTONATES/VINYL NEODECANOATE COPOLYMER, ACRYLATES/OCTYLACRYLAMDE COPOLYMER, ALOE BARBADENSIS LEAF EXTRACT, SIMMONDSIA CHINESIS (JOJOBA) SEED OIL, ECKLONIA RADIATA EXTRACT, FRAGRANCE, AMINOMETHYL PROPANOL, ETHYLHEXYL METHOXYCINNAMATE, AMMONIUM BENZOATE, POLYSORBATE 80, MIPA-BORATE, MEA-BORATE, DISILOXANE.
AUSSIE INSTANT FREEZE NEW FORMULA
WATER, DIMETHYL ETHER, ACRYLATES/HYDROXYESTERS ACRYLATES COPOLYMER, ACRYLATES COPOLYMER, POLYURETHANE-14, FRAGRANCE, AMP=ACRYLATES COPOLYMER, POTASSIUM HYDROXIDE, PHENOXYETHANOL, BENZYL ALCOHOL, CAPRYLYL GLYCOL, 1,2-HEXANEDIOL, DISODIUM EDTA, ETHYLHEXYLGYCERIN
So the easy way to tell is if the first ingredient in your bottle is water then it is the new formula.
Why did Aussie change the formula?
Since this product is an important part of my hair routine I reached out to Aussie to share my displeasure with the new formula and how it does not work at all, and that it is a different product and should not be called "Instant Freeze" any longer. Below is the response I received from Aussie. If you would like to also express your thoughts to Aussie please contact them here: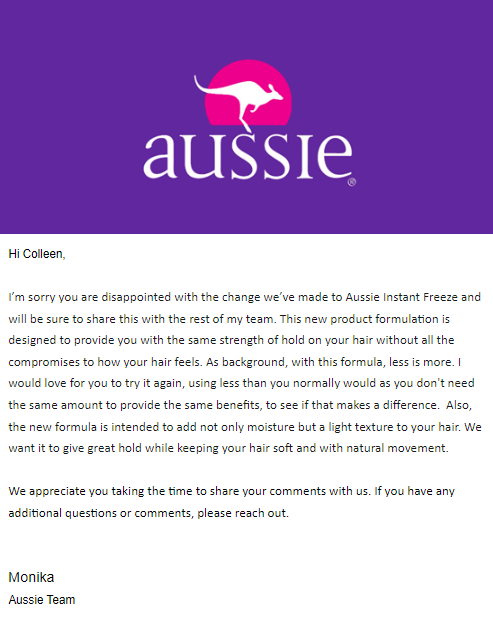 In addition to contacting Aussie, if this is important to you, I encourage you to leave reviews on the product where you can.
Where can I find the Old Formula?
I know this link will not be accurate forever but at the time of this posting, this seller on Amazon is still sending the old formula. I have purchased three of these (9 bottles) to try to stock up on the hold formula so I can continue to use it as long as possible. Good Luck, and hopefully Aussie will hear our pleas and go back to the old formula. Hey Coke did it so it could happen :)!