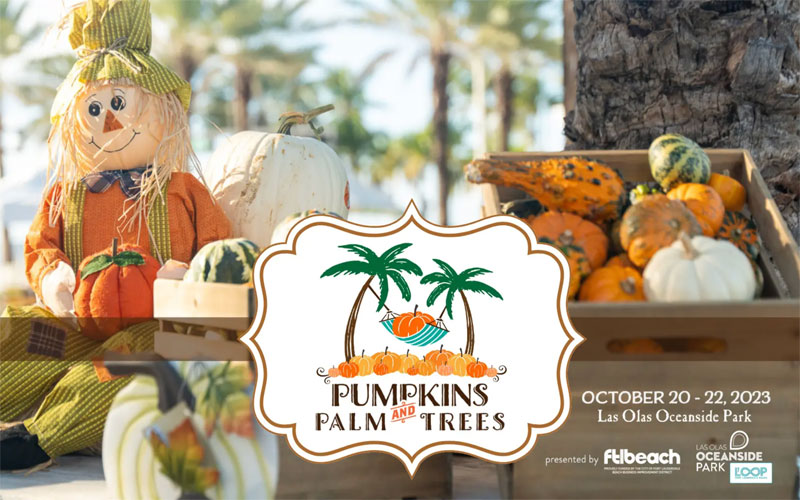 Pumpkins and Palm Trees
We may not have falling leaves, but we can still celebrate the season with Pumpkins & Palm Trees. Celebrate the harvest season on the Main Lawn at Las Olas Oceanside Park on Saturday, October 20-23 from 9 am – 4 pm.
The day will provide a bushel full of spooktacular fun and activities for the whole family to enjoy in celebration of Fall's arrival to Fort Lauderdale Beach.
FREE to the public courtesy of the Fort Lauderdale Beach Business Community, City of Fort Lauderdale BID, MyFTLB.com. Bring the whole family and enjoy the festivities.
schedule of activities
Friday, October 20 | Movies by Moonlight
Bring your lawn chairs, blankets, family, friends, and pup for our Halloween Edition of Movies by Moonlight on the Main Lawn at Las Olas Oceanside Park. Come Early to capture the moment and take home photos in Scooby-Doo's Mystery Machine Van,  Shop the People and Pet Vendors Marketplace, or grab a bite in our Food Court for a Dinner & a Movie experience under the stars.
FREE. Family and Pet friendly. Costumes encouraged.
Limited Chairs and Blankets are available to borrow.
Film: Happy Halloween, Scooby-Doo (Not Rated)
Scooby-Doo and Shaggy's favorite holiday is upon us! With fake monsters and candy galore – Halloween is heaven for these hungry foodies going door-to-door. But, this year, their sweet holiday turns sour when the neighborhood pumpkin patch is infected by toxic ooze, creating high-flying jack-o-lanterns, and a king-sized pumpkin leader squashing everything in its path. It's up to Scooby-Doo and the gang as they team up with their pals, Bill Nye The Science Guy, and Elvira Mistress of the Dark, to solve this mystery of gigantic proportions and save Crystal Cove!
5 pm – 10 pm: Marketplace Vendors
5 pm – 8 pm: Scooby Doo Mystery Machine Photo Booth
Movie begins at 7:30 pm (80-minute run time )
Saturday, October 21 | Happy HOWL-O-Ween at The MKT at Las Olas Oceanside Park
Take in breathtaking beach views and enjoy the ocean breeze while perusing an eclectic array of traditional market fare ranging from fresh produce and fruit to global flavors, made-to-order foods, and handmade and homemade items to wear and decorate your home.
9:00 AM – 4:00 PM
Sip, Shop, and Stroll Local Vendors, Makers, and Artisans
Fall & Halloween Themed Photo Stations
Pumpkin Lane, Pumpkin Patch
Live Music & Entertainment
Sunday, October 22 | 3rd annual Pumpkins & Palm Trees
Celebrate the harvest season under the sun and swaying palms at Las Olas Oceanside Park. The festive atmosphere and family-friendly event welcome everyone to enjoy tasty fall flavors, local vendors, live music, contests, and activities as we celebrate Fall's arrival, Florida-style.
9:30 AM – 11:00 AM | 3rd annual "Best Pie in GFL" Competition
The LOOP has once again teamed up with Fort Lauderdale Magazine to find the Best Pie in Greater Fort Lauderdale. Cheer on local professional and cottage industry bakers as they show off their pumpkin spice and everything nice, with the opportunity to win cash and prizes.
Judging Panel
Emcee: Miriam Tapia, Community Reporter – NBC6 / Telemundo
Deb Cay – Vice President, Fort Lauderdale Magazine
Sabrina Courtemanche – Executive Pastry Chef, Riverside Hotel
Alexis Frazier – Anchor, WPLG Local 10
Matt Meltzer – Writer, Thrillist Miami
Kristin Sanchez – Morning News & Traffic Anchor, NBC 6 Miami
Jesse Scott – Freelance Writer, Travel + Leisure, Thrillist, Condé Nast Traveler, New Times
10:00 AM – 3 PM
Sip, Shop, and Stroll Local Vendors, Makers, and Artisans
Pumpkin Lane, Pumpkin Patch ($)
Kids Arts & Crafts CORNer with Make & Take Crafts, while supplies last
1,600 sq ft. inflatable Corn Maze
Instagramable Photo Stations
Tabletop and Lawn Games
10:30 AM – 12:30 PM | Trick or Treat Trail
The Broward Center Spotlights will treat children ages 2 – 12 with both sweets and sweet tunes from popular theater productions.
Stick around for the band break at 1:15 when this talented group of aspiring talents takes to the stage for a spooktacular performance.
12:00 – 3 PM | Live Music: Joey Calderaio Band
South Florida's rising reggae star, Joey Calderaio, effortlessly blends rock, reggae, and pop influences, amassing 1.3 million Spotify streams. Collaborations with artists like Nathan Aurora, Howi Spangler, and more, further bolstered his recognition. Adept in songwriting, production, and live-looping, Joey re-released his debut "Moving Mountains (Deluxe Edition)" in 2021, offering diverse covers and dub mixes. He dazzles on stage both solo and with his skilled band, with recent highlights at Sunfest 2022 and Reggae Rise Up FL 2021. Noteworthy partnerships include Ky-Mani Marley and Tribal Seeds. His latest album, "Chasing Constellations," debuted in November 2022, cementing his musical journey.
11:30 AM – 2:30 PM | Fall Flavors Cooking Demonstrations
Details coming soon