Many years ago our vacuum cleaner was just not working well. I knew I needed to get a new one but honestly, I don't know a lot about vacuum cleaners. I asked around and many friends and family recommended a Dyson. Shortly after my husband and I were sent a Dyson vacuum to review. Now five years later even though our Dyson still works my husband has been itching to get a new one. I didn't mention that if you ask my husband about products we have reviewed and which is his favorite he will actually tell you it is our Dyson Vacuum Cleaner. Fast forward five years and we are reviewing another vacuum the Dyson Cinectic Big Ball + Animal Bagless Upright Vacuum.
Dyson Cinectic Big Ball + Animal Bagless Upright Vacuum
I did what any wonderful wife would do. I put the vacuum cleaner together and handed it over to my husband to properly review. Yes women my husband was excited to try out the new Dyson Cinectic Big Ball + Animal Vacuum (and yes I'm pretty lucky). The first thing I noticed was how long the cord was, and I was impressed. I hate vacuuming a room and not even being able to get across the room before you have to move the plug. In fact, today when my son was vacuuming he commented on the length of the cord as well. I also loved all the accessories that came with the vacuum.
Dyson Cinectic Big Ball + Animal Bagless Upright Vacuum Accessories
I'm going to have to spend some time getting to know these attachments and what each one does. I didn't see any information in the manual. However, one tool I did like was this nifty attachment which is perfect to get too high out of the reach shelves or fans!
Get High Out of Reach Places
Dyson Cinetic Big Ball Animal + Allergy
New Cinetic cyclones are smallest yet, so they can spin out the finest dust and dirt. They oscillate to dislodge any particles that would typically get stuck in a cyclone that small.
Cinetic cyclones allow for dust capture so small, that a filter becomes unnecessary. Thus, there are no dirty filters to wash, maintain or replace.
Tested and proven with 10 years' worth of dust. (Others claim "no loss of suction" by only testing one bin full of dust. Dyson used the equivalent of 10 years' worth, and Dyson Cinetic never lost suction.)
Cleaner head self-adjusts to seal in suction across carpets and hard floors.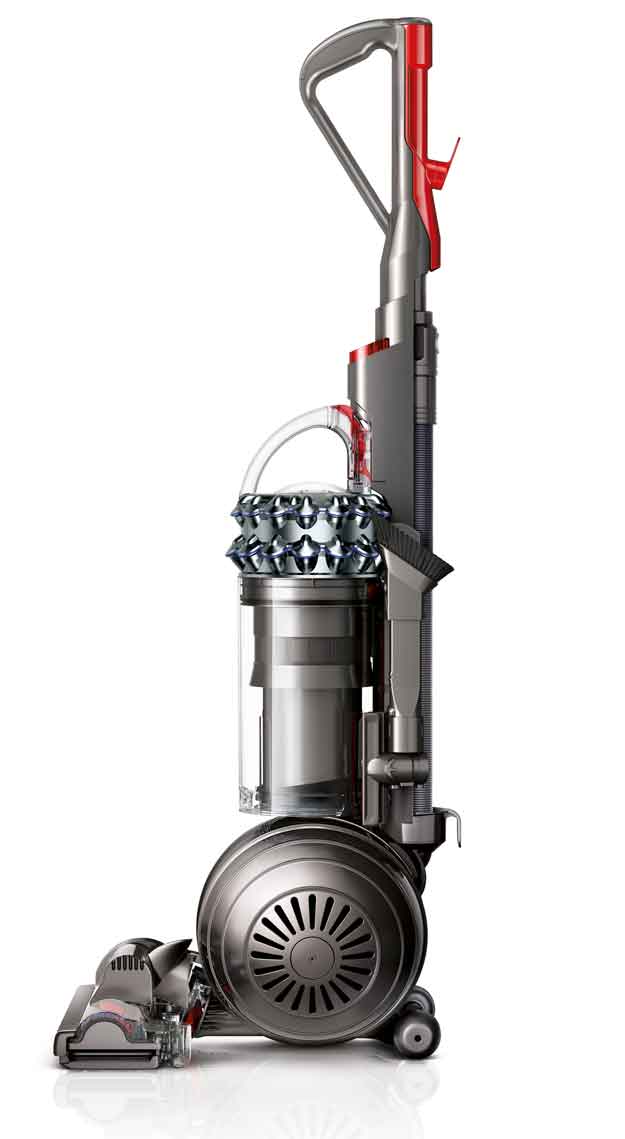 Due to the construction of the vacuum, it is easy to maneuver the Dyson Cinetac Big Ball around the room getting close to the baseboard and into the corners. My husband's (and son's) only complaint was the handle is a little flimsy making it just a tad bit harder to steer. This is definitely specific to this model as our previous model was made a little different. However, the difference is the extension is no longer connected to the handle which makes it a lot easier to use. The tubing stretches to pretty long lengths. I have 14-foot ceilings in my house and I had no problems reaching the very high ledges in the kitchen.
There is no arguing that this powerful vacuum is full of suction. Immediately the first thing you notice is how this vacuum picks up dirt. The vacuum is powerful when my husband tried to run it over our carpet (which
is actually stuck to the floor with a tacky carpet mat) it began to pick up the rug. We will definitely have to use a different vacuum to take care of the rug. Another feature I like, since my house is about 80% hardwood floors, is the ability to turn off the rotating brush so it doesn't ruin the floors.
After two Dyson vacuum cleaners, I just can't ever see myself using a different brand again. We 100% endorse this brand and its products as they have worked great, and long, and are of the utmost quality!