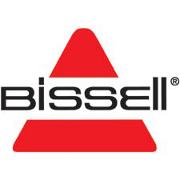 One of my least favorite chores do to around the house is mopping. It doesn't help that over 50% of the flooring of my home consists of tiled floors. One of the reasons it is my least favorite is in order to really get the floors sparkling clean you need to put in some good elbow work, and spend some extra time scrubbing. I've tried quick solutions like the Swifter  and other portable mopping systems but many times I feel like I'm just pushing dirt around, and still not getting a clean floor. Bissell has a new item on the market the Steam&Sweep™ Hard Floor Cleaner. It sounds perfect when it comes to mopping, no buckets, no mops to ring out, and no sweeping or vacuuming. Just grab and go!
Friday evening I decided to put together our mop and gave it a try. It was very easy to put together. Just pop together the three pieces and tighten two screws and you are ready to steam away those dirty floors.
It says you can sweep and mop at the same time which is one of the keys to saving time, and one of it's most appealing features.  However because I had a floor of scattered marshmallows due to a "how high can you throw a marshmallow and catch it in your mouth" competition between the boys I decided to go ahead do a quick sweep with my broom first.
With a few of the bigger items swept up I decided to work with the sweeper first before I added in the steam. I wanted to test out this feature on its own. I did notice that the vacuum on the sweep is not extremely powerful, and though there is a swivel head to help get those hard to reach corners I didn't feel it picked up enough dirt along my baseboards and in the corners as my vacuum would have. This is where a lot of my dirt likes to hang out.
With the sweeping done I decided it was time to sweep and steam at the same time. I thought it would be best to keep the sweeper running while doing the steaming in case a missed a few things. The first time you use the steam mop there is a knocking sound while the water begins to filter its way through the hose. This is normal and nothing to be alarmed about and stops once the water has made its way through the machine. I immediately noticed the steam emanating from the bottom of the Steam&Sweep™ .
As I slid the mop over the floor a small sheen slowly started to cover the floor over the places I had mopped. I was surprised to see the small patches of dirt lifting off the floor, with just a little steam. In addition to mopping the dirt from the floor, the instructions said that you could sanitize your floor by holding the mop over section of the floor for 15 seconds. When I was finally done with the mopping I turned over the machine to take off the mopping cloth and could not believe the amount of dirt on the cloth.
Here are some before and after shots. (not sure you can really tell much from the photos)

After using the Steam&Sweep mop my personal recommendation is this mop would be a great tool to add as a "in between" mopping. The sweep feature is definitely and added bonus but it did not pick up all of the dirt on the floor that was needed. I recommend vacuuming or sweeping first if you have more than just a little bit of dirt on your surface.
I do love using the steam versus any harsh chemicals. The room is left scent free which is a little nicer than the vinegar that I usual use when mopping my floors. However with the lack of chemicals comes a lack of shine. I do love when I'm finished mopping and my floors shine. The Steam&Sweep™ also did not pick up any of the more sticky or caked on dirt hard. In order to remove them I had to get out additional tools.
I do think it may be possible to get your floors really clean and then maintain them with the Steam&Sweep™ . There is no doubt it picked up a lot of dirt. I friend of mine that owns a similar product said that even after cleaning her floors with a mop she went back over it with the Steam&Sweep™ and still found dirt on the cloth. I would definitely recommend the Steam&Sweep™ over a Swifter or similar type portable mop. These mops in my opinion just pushed dirt around and I kept them around for quick spills and clean ups only.
For my purposes I will continue to mop using my normal mop once a month and the days and weeks in between I think the Steam&Sweep™ will be perfect. It is possible after an initial good clean that the Steam&Sweep™   may be all that I need. I still love that there is no need for mop buckets and floor cleaner. Also the mop cloths are machine washable, so maintenance is minimal and cost effective. The Steam&Sweep  comes with two cloths which is great because you can always have one as a backup. It is important that even though they are machine washable you should not use fabric softener as this tends to damage the cloth.
---
Disclaimer: I received the above product(s) at no cost to me by the company or representing PR agency. Opinions are my own and NOT influenced by monetary compensation. You may read more of my disclosure here.
---