Are you looking to rejuvenate your brain, pass the time and destress all while doing something fun?
Jigsaw puzzles are the perfect solution. Besides distracting you from any goings-on in your personal or work life, actually make for a complete brain exercise that can benefit you in many ways. So the short answer is yes, jigsaw puzzles really do help your brain.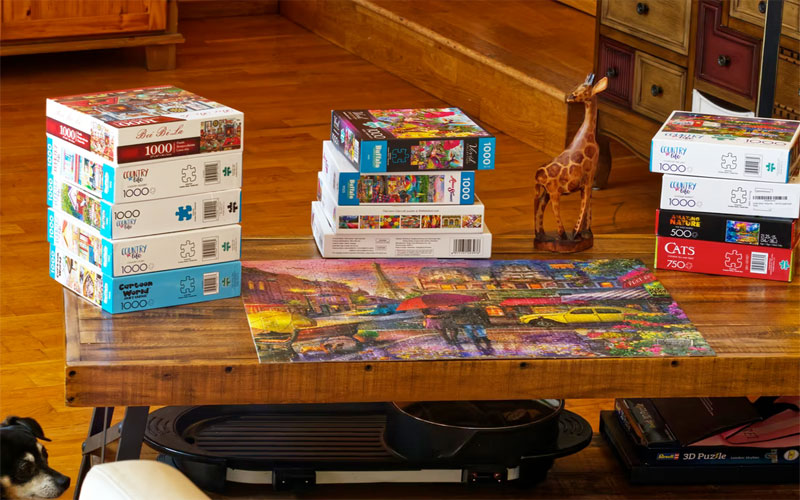 Below, we'll outline the top five ways that jigsaw puzzles can play a huge role in rejuvenating your brain cells and more.
The Top 5 Health Benefits of Doing A Jigsaw Puzzle
From helping children to Alzheimer's patients, studies have shown that putting a puzzle together does more than just keep you busy or distracted. Doing a puzzle goes far beyond just putting a beautiful picture together to enjoy the end results, and here's why:
Improves Short-Term Memory
Did you know that assembling puzzles reinforces the connections between your brain cells and even form new ones? Without even knowing we're doing it, we're remembering shapes, colors, sizes, and patterns of the puzzle pieces, hence, an improved memory even for patients who have brain damage or suffer from memory loss.
Improves Problem Solving
We all use problem-solving skills in our everyday lives, but doing a puzzle can help improve this skill even further because we're taking different approaches to solving it. The same can be said for doing crossword puzzles, word searches, or even a Rubik's cube. Plus, because piecing a puzzle together is trial and error, we're allowing ourselves to change our perspective and allow for more critical thinking and adapting to new solutions.
Like life, a jigsaw puzzle can be simple or complex. You can choose to play the basics or the advanced stage. As you play more complicated or advanced puzzles, you can improve your problem-solving skills. This experience will help you identify the different possible solutions to your problem until you're able to succeed.
Improves Productivity
With a jigsaw puzzle, you don't have to rush finishing it. The goal of the game is to complete the missing pieces by putting them in the right places. Players should learn how to appreciate the process. The process could be tedious, lengthy, and confusing. But at the end of the day, you'll be rewarded with the utmost satisfaction once you've completed the image.
We all have days where we yearn for increased productivity whether we're having trouble staying focused at work or on homework. That's also where a jigsaw puzzle can come into play. Not only can a jigsaw puzzle be a great stress reliever, but it can also help students or employees disconnect from their work and "reset" their brains and boost their mental speed If you're a business owner, opt into having things like puzzles or similar games in your break room/resting areas for your employees!
Improves Cognitive Function
Cognitive skills are the main functions of your brain. It's essentially what makes you think, learn, understand, listen, pay attention, and question things. If you are putting together a treatment plan for mild cognitive impairment, a lot of the items will focus on increasing cognitive skills to aid in recovery. Whether you're just taking a short break or end up spending a few hours puzzling, you'll be increasing cognitive function by understanding how the pieces fit together by testing the colors, shapes, and sizes, and developing different theories.
With memory training, you can improve your cognitive skills such as logical reasoning, problem-solving, and memorization. Cognitive skills also include mathematics and language skills. If one of these cognitive skills is weak, you may have problems grasping, using, and retaining information. Memory training, such as memory games and jigsaw puzzles, can help sharpen your cognitive skills to exercise the brain.
PUZZLES Improve Mood
Who doesn't want to be in a better mood? When doing a puzzle, you'll be able to decrease stress levels all while improving your adaptive skills and even lowering your heart rate and blood pressure. In turn, this will improve your physical health, too.
A jigsaw puzzle game helps divert your stressed mind into a productive and meaningful activity. For a moment, you forget about a hectic day and simply enjoy finding the missing pieces of the puzzle. Hence, it's not surprising for many business professionals to find playing puzzles a very relaxing activity after a stressful day.
Puzzles Are More Than Just A Way To Pass Time
Doing puzzles holds many benefits. They can enhance your ability to problem solve, adapt to new ideas, and even improve memory. Working on puzzles, even for just a few minutes per day, can also make a huge difference to your mood. Plus, it can be a great activity to complete as a team with your fellow employees, friends, or family.