I have often thought to myself I need to get a safe. Not so much because I think the things I want to put in a safe are valuable to others but more for protection. Things like birth certificate, social security cards, other records, and my SanDisk full of one of my most precious things…my photos. I'm sure you have been asked the question often, "What would you take with you if your home was on fire?" However what if you didn't have time? What if all you could do was get out and watch as your house burns, or maybe it is threatened by a flood.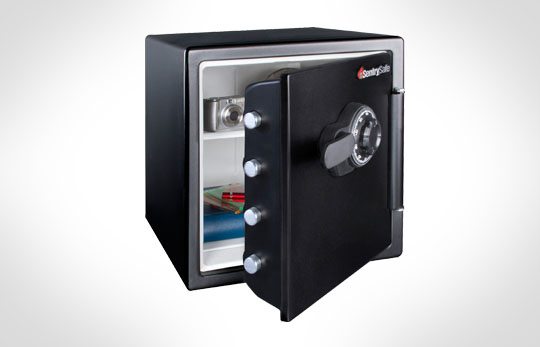 This is when having a safe would become important. Not just any safe but a fire and water proof safe like this Sentry Safe. You may have other reasons for needing a safe maybe you own a gun and need to lock it up from children but need easy access. You can get the piece of mind knowing it is locked up from tiny hands but you can get to it when needed.
The biggest benefit of this Sentry Safe is that it is fire and waterproof. This means fire or flood if everything is lost my safe will be waiting for me to empty it's important contents keeping it safe from the elements. It is also rather roomy to give you the space you need to store your valuables. With not only shelves but compartments on the door for extra storage.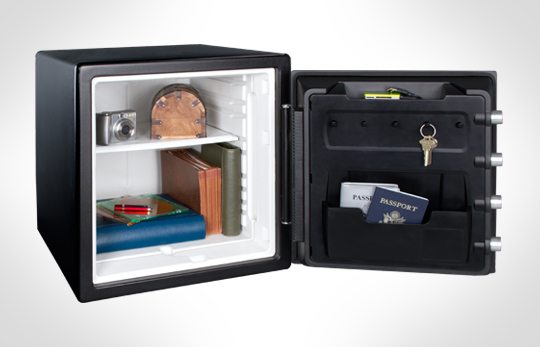 Features:
ETL verified 15 ft. Drop Test
ETL verified for 1 hour fire protection of CDs and DVDs up to 1700° F
ETL verified for water-resistance in up to 8″ of water for up to 24 hours
Lifetime after-fire replacement guarantee
Manufacturer's limited warranty
UL Classified 1-hour proven fire protection
ETL Verified to pass a 15 foot/4.5 meter drop test to ensure contents remain intact and locked upon impact
Mechanical combination lock
Multi-position shelf to enable easy organization
Key rack, door tray and door pocket for small, easy-to-misplace items
May be bolted to floor (hardware not included)
Color: Black
Now all that said you  might be asking, but what if I lose my combination? Turns out I am in that very boat. I haven't even filled my safe yet. I opened the very large box when it arrived and made sure it worked and moved it into the room to review it later. I'm not exactly sure what happened to the manual (with the lock combination) after that. I've looked everywhere. So I visited the Sentry Safe website fearing my safe was already of no use to me.
If you register your safe (which I had not) you are able to get your combination easily. So I would highly recommend the very first thing you do when you get your safe is to register it. You will need the model number, serial number, and combination. However even without registering my safe I am able to get the combination by providing a notarized form to the company. Yes this may be a hassle but they need to have on record WHO they give out the combination too. So I have already initiated this process so I can get the combination. As soon as I do you can be assured I will register my safe.
 Now that I have my own safe (and hopefully will be able to use it soon) I can't think of any reason why you wouldn't want one. Or shouldn't have one. I almost feel that this is a need and not a want. The last thing you want is to wish you had a safe after the fact!
---
Disclaimer: I received a Sentry Safe to review. All opinions are my own. You may read more of my disclosure here.
---