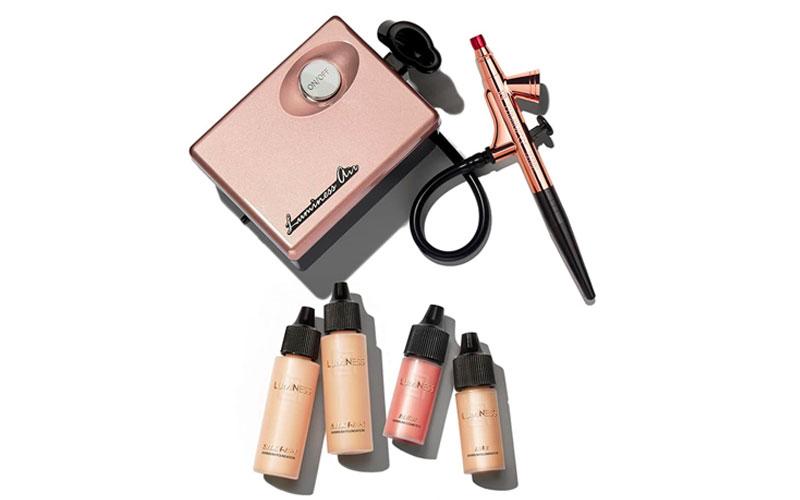 I'm one of those women who is never satisfied with her makeup. I never stay with one brand, style, or color of something for more than a couple of months. It seems as soon as I think I like something after a few months it just doesn't seem to cut the grade anymore. Lately, I've been having problems with my foundation. I thought I found one I liked and have been using it for a while but it seems around lunch time it has worn off. I've tried a few other brands and types but am still not satisfied.
Luminess Airbrush System Review
I was given the chance to review an airbrush system from Luminess this past week and finally got a quick second to actually try it out. What my main concerns were and what I was looking for the airbrush system to do that my normal foundation would not do was to cover up some discoloration and to last. I figured if I was going to test this thing why not test it on a day when I was going to be moving, running, and out in the sun for part of the day? Kind of like those stain remover commercials when they put everything imaginable on the nice clean white shirt and then see if the stain remover can get everything out at once.
What Was Included In the Airbrush System
My airbrush system included 4 different colors of foundation, primer, bronzer, glow, and blush. I also received an eye shadow kit along with my system. I was a little nervous that it was going to be too hard to apply and I was going to end up looking very blotchy and uneven. The truth is, it was actually very easy, the instructions on the video were dead on, and after a few minutes, I felt like a pro.
So my first concern or what I wanted from my system was to cover up some discoloration. I have a small amount of scarring with some red discoloration on both of my cheeks that becomes very noticeable when my summer tan starts to fade. Here is a before and after photo, from my first airbrush usage.
Photo Results of the Luminess Airbrush System
I was actually very happy with the result, no makeup is going to totally take away scarring but I think it did an awesome job of covering up the color and marks. Not to mention a little bit of blush and it all blends in very well.
What I did learn with the usage however is that it is not good to mix regular makeup with the airbrush. I tried to apply just a dab of blush over my already applied airbrush blush and I looked like Raggedy Ann with bright pink cheeks. One of the tips is to apply the blush before the foundation to give it a "glow within" look and I found that I really liked that method the best.
How Long Does it Take To Apply?
The first time I used the system it definitely was more time-consuming the applying making normally but I believe at least 50 percent or more of my time was based on the fact that I had never used an airbrush pen before in my life.
The second concern or what I was looking for from the system was how long the makeup would last. When I put makeup on in the morning I want to look good throughout the whole day not just the first couple of hours. As I mentioned we had a lot going on Saturday. I had a soccer game at 12:45 and a baseball game at 3:30 so we were out of the house and in and out of the car and sun from 12:15 until 6:00. In this area was MORE than impressed I was blown away by how I looked come 6-7 at night when I looked in the mirror. I looked exactly like I did in the morning when I put the makeup on. I was extremely impressed. Here is a photo taken around 2:30 in the afternoon before the second trip to the baseball game of me and Honey with my airbrush makeup on.
Photo After Using the Luminess Airbrush Makeup
I asked my mother-in-law what she thought and she said she really liked it. It looked very nice and natural. It was maybe just a bit heavy for me so when I tried it the next day it didn't go as heavy and I felt much more natural like I didn't have a painted face. Another thing to note is you really don't have to use too much blush, it tends to darken a little with time. I didn't have the best look with the eye shadow and only gave it one try on Saturday. Sunday I chose to just use my normal eye shadow because I was in a hurry but I don't see why with a little bit of practice it couldn't be perfected and just as easy to use as the foundation. I did not try the bronzer or the glow and opted only for the foundation during my first use.
I see no reason why you couldn't use the Luminess airbrush system every day for your makeup needs. You can not compete with makeup that stays in place all day. You only use a small amount of drops each time you apply so I'm curious to see how long a bottle of foundation will last. If you are interested in what others are saying about Luminess visit their site and check out some additional reviews.