Have I mentioned how hard it is to come back from a six day cruise and jump right back into reality? It isn't fun I can tell you that. In addition to not having to cook or clean a thing I really enjoyed the many entertainment options we had while on board the Carnival Breeze. Each night when we returned to our beds turned down and towel animals, we also returned to the "Fun Times". Each day you receive a newsletter that tells you what is going the next day. Every hour is mapped out with the amazing fun things that are going on. One of the kids favorites was the PunchLiner.
Punchliner on Carnival Breeze

One of the things I love about Carnival is they cater to both children and adults. The same holds true for the comedy show. The few nights I looked for the comedy show in my Fun Times I saw there were four shows. Two shows for family and two shows that were adult only. We ended up going to two different shows both of them family friendly. One with Brad Tassell and one with Rob Little. The were both good but we really enjoyed Rob Little. I love it when comedians can come up with material on the fly using the audience for material. I have no interest in being part of the material but it makes for a funny show!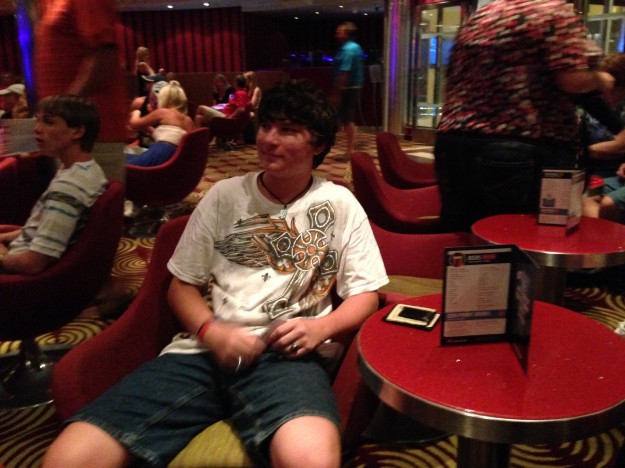 Hasbro Show
We also attended both episodes of the Hasbro show which was a live game show right there on the Carnival Breeze. Each episode plays two different games. My favorite game is a toss up between the Connect Four and Operation. At the beginning of the show members are selected from the audience to participate usually about 8-10 per show. If selected you have to answer a trivia question or play guesstures (like charades). I couldn't get any of the kids to get on stage. I tried to get on myself but wasn't selected.
Dive-In Movies
This is one of my favorite entertainment options. Unfortunately I never really got a chance to watch a movie. We all wanted to see Divergent one night at 10:30 but I think I was sleeping by 9:30. The kids did leave dinner early one night to watch "The Lego Movie". One of the reason I love it is when the sun goes down and the breeze is coming off of the ocean it is beautiful and the perfect atmosphere to relax in a lounge chair and watch a movie. I was also very impressed with how the sound reached everyone. You can hear it no matter where you sat.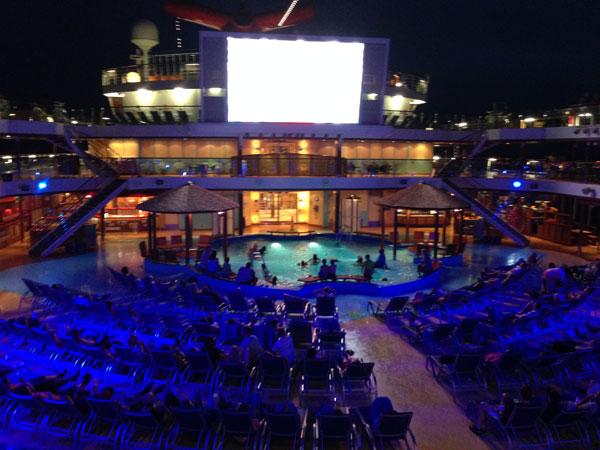 We also enjoyed a fun Latin dance show but no photos were allowed. There were many shows on board including music from the 70's, 80's and 90's. We often heard people trying their own luck at karaoke. We passed dance classes in the lobby and musicians playing in the bars. There really is no lack of entertainment while you are cruising. It helps that they have several shows more than once in case you miss it the first time.
We were a guest on the Carnival Breeze, however all opinions are our own.