Everyone who LOVES to clean their house raise their hand? Anyone? I don't see any hands…Ok my daughter is raising her hand but if I asked who likes to clean their room she would quickly put it down. I recently won a Kindle Paperwhite and totally love it. I already had a Kindle account for my iPad so when I got the Kindle all set up it showed me my previous purchases and had know idea I had purchased  "How to Clean Your House in Half the Time"
I guess at some point I must have decided I wanted to clean more efficiently, of course it only works if you open the book. So I set aside some time to read the book and pick up a few tips. I can't post them all after all that wouldn't be fair to the author so you will have to purchase the book to see what they have. However I will share a few
5 Tips To Clean More Efficiently
Clean Your Microwave: Put a bowl with a half a cup of water and half a cup of vinegar in the microwave for three minutes. This makes cleaning the inside a piece of cake!
Clean and Soak: Spray your areas and let them soak, your tub, shower, toilet bowl, counters, etc. while cleaning your mirrors and other areas. After everything has soaked then clean. Too many people spray and clean and don't let the product do the work it is suppose to do.
Grab your Supplies: Purchase a good caddy or bucket and make sure you have all your cleaning supplies before you start. Your rags, products, vacuum (like the one pictured below), mop, etc. Keep them all together in the caddy for easy to get to and move from room to room.
Where to Start: Start with your hard rooms first like your bathroom and kitchen. Usually as time goes by you get tired and fizz out before you finish by leaving the easier rooms for last you are more inclined to finish up
Work from Top to Bottom: Start with the top of your cabinets, mirrors, light fixtures, and fans and work your way down so you have an organized system of how you are going to tackle the room. Also work from left to right or right to left.
Hoover Air Coordless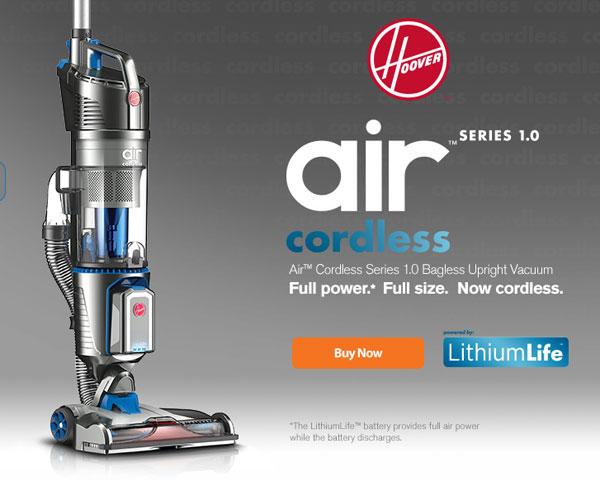 I was recently sent a Hoover Air Cordless to review. It came in handy when we were moving because I left it charging at the new house so we could clean up quick messes as we were painting and cleaning.
Air Cordless Features
Reusable Easy Rinse Filter: Rinsing the filter under running water helps maintain the power to clean.
No Loss of Suction: Cyclone Technology delivers constant, powerful suction.
Lightweight: Easy to lift and carry, even up and down stairs. Weighs less than 10 lbs.
Removable Cleaning Wand: Everything you need to clean your baseboards and furniture.Multi-Floor Cleaning: Clean from carpet to hard floor with the touch of a button.
Steerable Technology: Simply twist the handle to navigate smoothly around furniture, corners and other obstacles.
High Capacity Bottom-Release Dirt Cup: Easy to clean dirt cup holds up to 1.05 liters of dirt, dust and debris.
Battery Level Indicator: Know exactly how much charge you have left with a simple glance.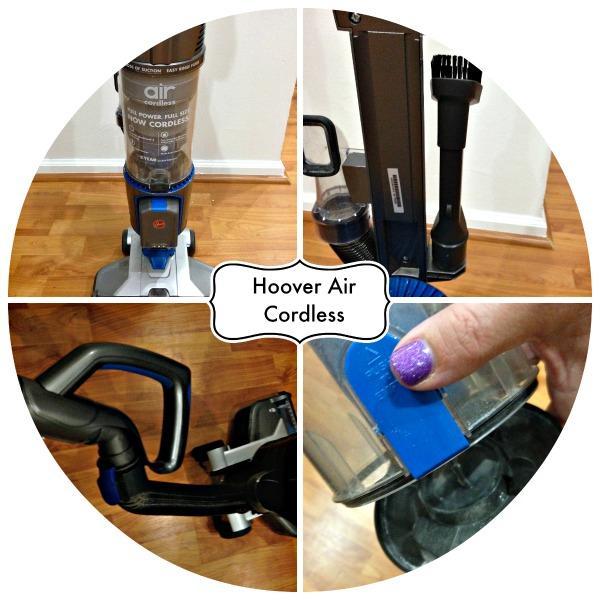 I would recommend the Hoover Air Cordless as a quick and easy way to pick up messes or spills. Since it is cordless it is easy to grab from the closet when say someone was eating chips and left a mess on the floor. Or your mother calls and is 5 minutes away and you need to quickly vacuum up the dust bunnies. Some of the features I liked were the attachment and the ability to detach the handle to get to hard to reach spaces. It is also easy to empty by simply pushing the button.
I received the Hoover Air Cordless to facilitate this post.