Back in October of 2012 my sister and her family took a Carnival cruise. When they returned they had nothing but great things to say about how much fun they had. I had never taken a cruise but always wanted too. Then in April I began hearing ads on the radio for special family rates with Carnival and decided to look into a summer vacation. After some research we decided the best cruise for us would be a small 3 day cruise to the Bahamas. This worked will with our vacation schedules at work and gave us a chance to see if we enjoyed a cruise.
We took our first cruise (accept my husband he has been on a cruise before) at the end of July compliments of Carnival Cruises. I was excited and nervous at the same time. For the most part I like to have my feet with the ground underneath it. It didn't help that the Wednesday before we left I saw that Tropical Storm Dorian had formed. The path showed the storm not even reaching the Caribbean until Tuesday and we were due back on Monday so I felt ok regarding not being in the path of the storm but was concerned about weather.
I set my worries aside on Friday when we arrived at the Port of Miami to bored the Carnival Imagination.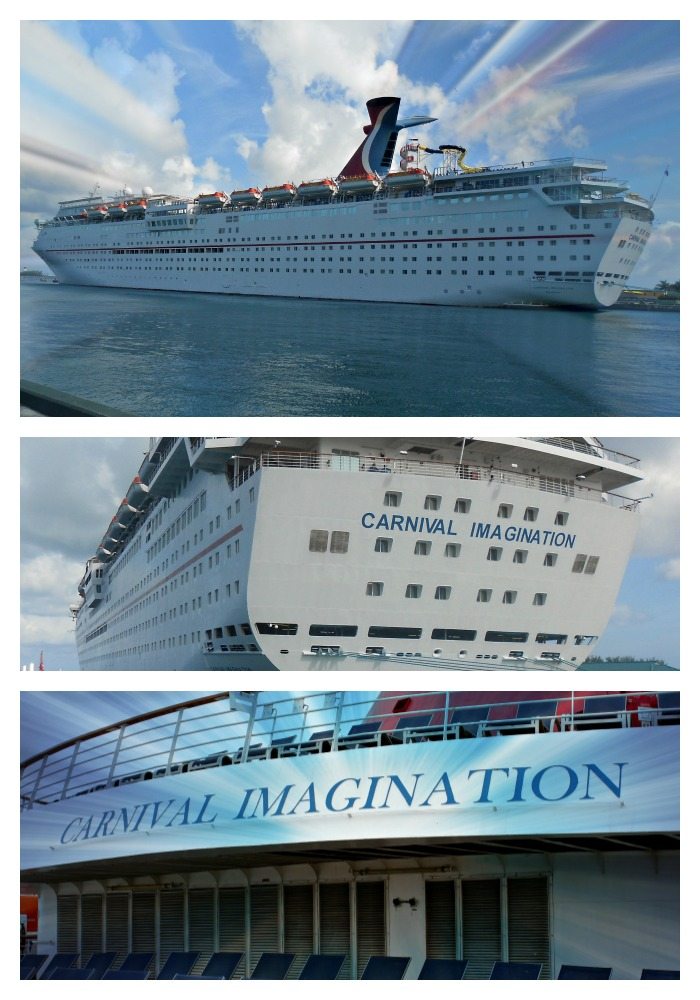 Prior to our trip I had purchased the "Faster to Fun" so we were able to board relatively early and our stateroom was reading for us as soon as we boarded. (I will have a full review of the benefits of Faster to Fun in the coming week). I was excited to find we had a stateroom with an Ocean View. I know the interior rooms are a little cheaper but I think I prefer the extra expense to be able to wake up to the morning soon and look out at the sea as we make our way across it.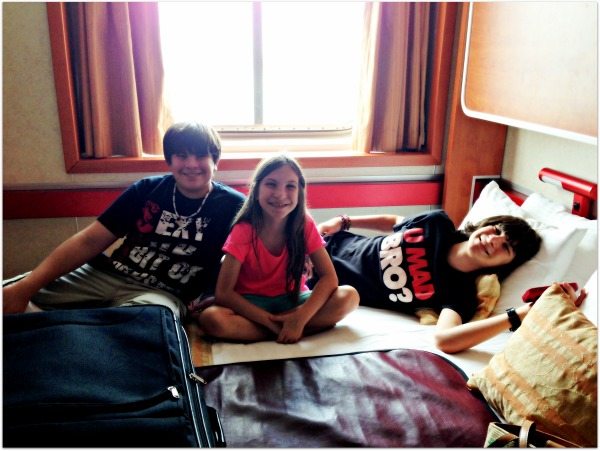 Our room was equipped with a king size bed, chair, two small tables and a small desk. In addition to the king size bed there were two upper bunks and they brought in a cot. Due to their being five of us I must admit the room was a little cramped. When the top bunks are down for sleeping you have to be very careful when getting up in the middle of the night to use the rest room. I am told by a wonderful and informative Carnival representative that the newer ships such as the Carnival Breeze have larger staterooms more equipped to hold 5 guest.
We boarded the ship at approximately 11 am. Thanks to the "Faster to Fun" experience our luggage was brought immediately to our stateroom and we were able to drop off all our carry-on luggage before we headed down to the Lido deck where there is a buffet of many different foods for our first meal. The Lido deck on the Carnival Imagination is where you will find all the buffet style foods and is open different hours each day dependent on whether you are at port or at sea. Our choices were All American foods : hamburger, hot dogs, pizza, and chicken nuggets, Southern food : fried chicken, corn, mashed potatoes, Italian, Pizza, Salad Bar, and a Deli. Some of these options were open 24 hours.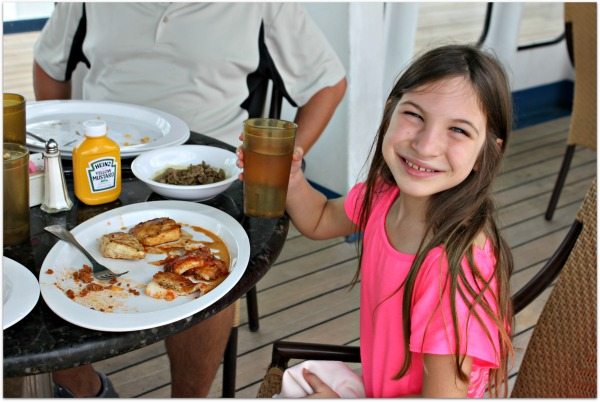 Once our belly's were full we took some time to tour the ship looking at the shopping (which was not yet open), slides, pool, lounges, the casino, and more. There definitely was not going to be a lack of entertainment during our time on board the Imagination. We decided as we waited for the ship to depart, which was scheduled for 4pm, we would play a round of mini golf which was located on the 12th and top deck of the ship.
Right after the ship left the port the grey clouds decided to release a "little" rain, but thankfully not too much, and the wind really started to kick up which is expected at the top of the ship. There were times that with the sway of the boat and the wind I was lucky to stay on my feet to hit the ball, not to mention the often mouthfuls of hair. We joked that we might want to tie Honey down before she blew away. She thought the wind was quite funny!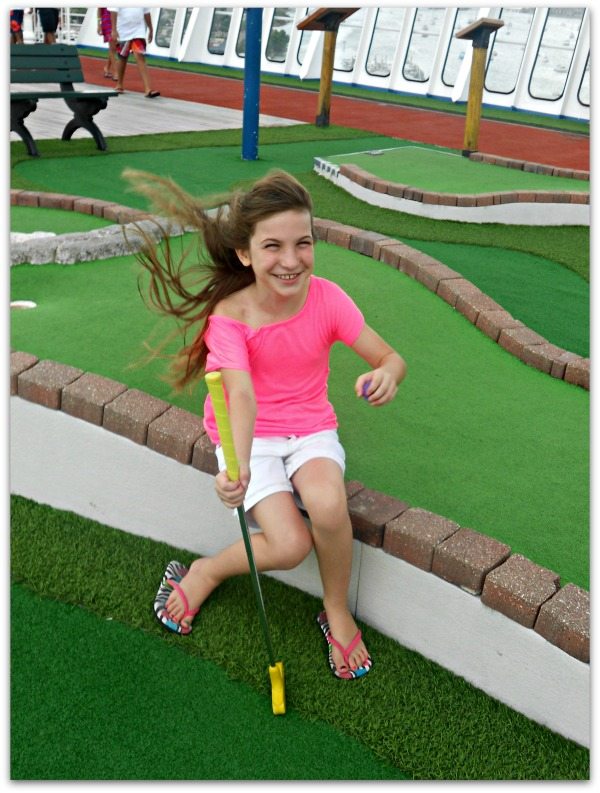 Check in throughout the week for more photos and articles on our fun trip aboard the Carnival Imagination. Also I wanted to give a big thanks for Carnival having us as a guest!