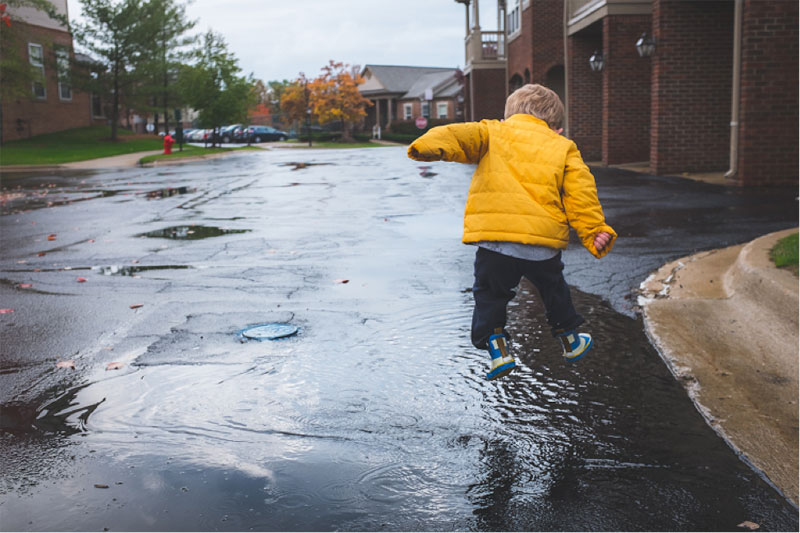 When the clouds roll in and rain falls on your weekend with the kids, it can be tempting to just turn on the TV and give up. But there are plenty of fun, easy, and affordable activities to keep them busy and engaged. Having a plan for something to do with your kids on a rainy weekend will help minimize things becoming either too lazy or, conversely, too chaotic. Here are ten ideas to get you started.
Make a photo mug together
Choose some of your favorite photos together and design personalized mugs for everyone in the family, or come up with another photo project. Create your photo mugs online and order them so you can enjoy having them as keepsakes, or give them as gifts to friends or family.
Board Game Olympics
Playing a board game can help pass an hour or two, and there are plenty of options—card games, classic games, cooperative games, and more. But if you want to fill up your whole weekend, hold a "Board Game Olympics", with time set aside for lots of games and a running record of wins. Then hold a snack-filled ceremony to award gold, silver, and bronze medals on Sunday evening.
Make a fort
Collaborate on a blueprint for a secret fort made of blankets, pillows, and other furniture in the living room or a bedroom. Include hidden nooks, tunnels, doors, and windows. Bring flashlights into the fort when it's finished for illumination and give your kids a hideaway for reading or playing.
Cook a meal together
There are lots of delicious, kid-friendly recipes available for breakfast, lunch, dinner, and snacks. Imagine that your house is a restaurant and come up with a "menu" for the weekend. Explore different kinds of cuisines and cooking styles, or hold taste-tests for the family so they can sample lots of different foods.
Have a dance party
Put together a playlist with your kids, clear the floor (and secure any breakables), and turn up the volume. Dancing is a great way for kids (and grown-ups) to get some exercise and burn off any stored-up energy. Pick songs with a good beat to really inspire some inventive new moves.

Read together
Quiet rainy weekends are the perfect time to read a book or start a new book series. For younger children, let them pick out their favorites and then read them out loud to them. For older children, read quietly together or ask them to read to you. After, make time to talk about what you read, what happened in the book, what they liked, and what they didn't like.
Improvised Orchestra
Gather various craft supplies and other things around the house that can be used to make up new musical instruments. Talk about the different families of instruments in an orchestra—string, woodwind, brass, and percussion—and think about what kinds of instruments you'd like to include in your family orchestra. After designing and making them, come up with songs together, put on a concert, or go around the house as a marching band.
Construction sets
LEGO is the most popular construction block-set toy in the world, but there are plenty of other options to choose from. Break out the paper (graph paper is best), rulers, and pencils to make design plans and then experiment with your preferred construction set to build it. Challenge your kid to modify the plan, add to it, and test out their ideas. Moving from designing to building is a great way to help your kids learn about essential STEM (science, technology, engineering, and mathematics) concepts.
Art Show
Cover your work surface with newspaper, set up an easel, and prepare to get messy. Talk to your kids about the different media in which artists work and different styles of artistic expression. Turn your living room into an art gallery and up with a plan for a family art show around a shared, common theme. Let each family member come up with their own piece for the show, make it, and create a label for it, then invite each artist to introduce their work to the rest of the family.
Put on a play
Theater is a collaborative art form, so it's a great way to bond with your kids while also making something creative together. Come up with a script together by thinking up a story or choose a story you've read together or a fairy tale you all know, then cast it, find costumes, and rehearse. Once you're ready to go, invite others in the family to be your audience.