I am excited to introduce to you a company that knows how to craft meaningful jewelry that is great for any occasion. I do not own much jewelry, I consider myself a minimalist in that department. I purchase things I need, not things I want. I am happy to share with you the beautiful piece of jewelry I was sent to review from The Vintage Pearl.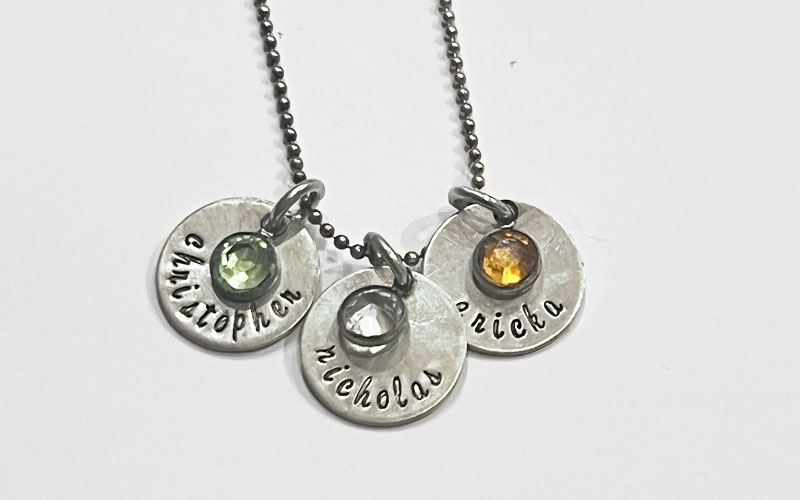 Vintage Pearl Jewelry Selection
With many choices to choose from, I narrowed down my choice of jewelry to the Dainty Drop Necklace. It was a tough choice as I also loved the Faith, Mercy, Grace Necklace. Since my jewelry included personalization I knew that the shipping time would be a little longer. I was pleasantly surprised when it arrived within a week.
The necklace was packaged in a small mesh bag and included a jewelry polish pad to keep your necklace sparkling at all times. The necklace was much lighter than I anticipated, which is perfect as I prefer to wear my necklaces and not feel like they are hanging around my neck.
Dainty Drop Personalized Necklace
The jewelry at The Vintage Pearl is made out of the finest materials. The necklace and charms are made from sterling silver and each one is engraved with a name up to 12 letters long. A beautiful Swarovski birthstone crystal hangs with each charm.
My personalized necklace included the following:
Christopher (August)
Nicholas (April)
Ericka (November)
The chain length I chose was 18″, however, you can select from 16″, 20″, and 24″. The charms are just big enough to be elegant without being overpowering. I receive several compliments when I wear the necklace.
Vintage Pearl Beginnings
My experience with The Vintage Pearl was a very positive one from beginning to end. What I love about this site and company is the personal vibe you get when speaking with them. The Vintage Pearl began in 2007 and gave a mother the chance to stay home to raise her children. Who knew it would blossom into the business it has become? You can find out more about The Vintage Pearl, its owner, and its new store opening on their blog. In addition to the Dainty Drops Necklace, a new product was just released this very week. You can now purchase a Dainty Drop Bracelet to match your Dainty Drop Necklace.