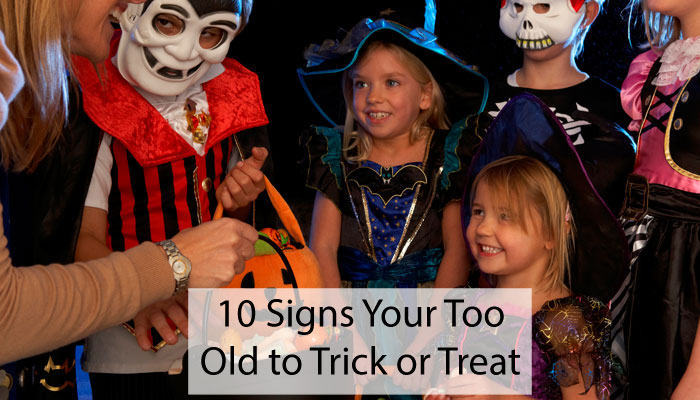 Halloween has always been one of my favorite holidays, even as a kid. Of course you are probably thinking all kids love Halloween they get tons of candy. Candy is not my reason for loving the holiday. I love the creativity of the costumes, the pumpkins, and the decorations!
Do you ever wonder when your children are too old to trick or treat? Both of my boys decided they were too old to trick or treat when they got into high school. However last year my son, who is 19, when trick or treating with his friends to maybe you are never too old to trick or treat LOL!
Signs You're Too Old to Trick or Treat
You get winded from knocking on the door.
You have to have another kid chew the candy for you.
You ask for high fiber candy only.
When someone drops a candy bar in your bag, you lose your balance and fall over.
People say, "Great Keith Richards mask!" and you're not wearing a mask.
When the door opens you yell, "Trick or…" and can't remember the rest.
By the end of the night, you have a bag full of restraining orders.
You have to carefully choose a costume that won't dislodge your hairpiece.
You're the only Power Ranger in the neighborhood with a walker.
You avoid going to houses where your ex-wives live.
What were you expecting? To find out how old is really too old to trick or treat? No article I write or anyone else writes is going to give you that answer. That answer comes from the heart. When you or your children feel it is time to hang  up the pumpkin then that is the right time. After all just because you don't trick or treat doesn't mean you can't enjoy the Halloween traditions.