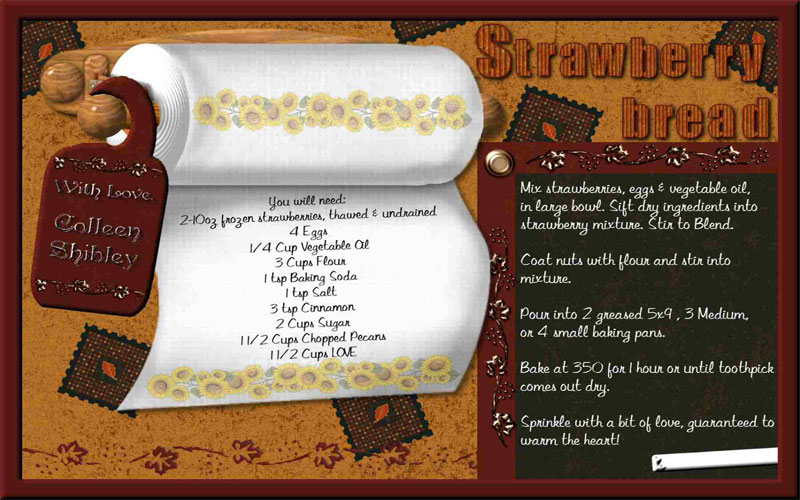 One of my all-time favorite things to back is my grandmother's Strawberry Bread. I know many people have heard of and had banana nut bread but I rarely find people that have tried strawberry bread.  There is nothing better than a warm piece of strawberry bread with a light layer of butter YUM!  I thought I would share the recipe with you today and even better. You can download the recipe on the recipe card I've created!
Strawberry Bread Recipe
Ingredients:
2 – 10 oz frozen strawberries thawed and undrained
4 Eggs
1/4 cup vegetable oil
3 cups flour
1 tsp baking soda
1 tsp salt
3 tsps cinnamon
2 cups sugar
1 1/2 cups chopped pecans
1 1/2 cops Love
Directions:
Mix strawberries, eggs, and oil in a large bowl. Sift dry ingredients into the strawberry mixture. Stir to blend.
Coat nuts with flour and stir into mixture.
Pour into two greased 5×9 pans, 3 medium or 4 small baking pans.
Bake at 350 for one hour or until the toothpick comes out dry.
Sprinkle with a bit of love, guaranteed to warm the heart!
Special gift for you, click to download a recipe card I created just for you!