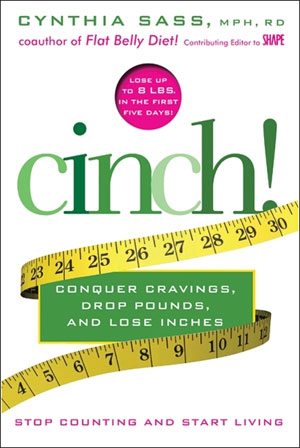 I mentioned a few days ago that I would begin the 5-Day Fast Forward Program from the book Cinch! The purpose of course has two reasons. One I really need to kick start my weight loss after the last two months of NOT maintaining like I planned, and two I really wanted to chronicle a week trial for you to see my results and feelings regarding the program.
Tomorrow I will update you on my progress from today however I wanted to go ahead and post my stats so you will get a real picture of my results. So first my weight. SIGH! Sadly my attempt to maintain around 160 did not go so well. It actually went pretty well through November it was December when I totally overloaded on EVERYTHING! Starting weight for this program is 169.0.
I also have decided to take a few measurements to compare at the end of one week.
Bust: 38.75
Waist: 35.25
Hips:  42.5
Right Thigh: 27
I also wanted to amend something I wrote in my review here on this post. I did a preliminary calorie count and breakdown of carb/protein/fat and since purchasing my food and using the label containers my amount has changed. One big reason is I purchased greek yogurt instead of regular yogurt and it seems to have a lot more protein in it.
My calorie intake and percentages each day for the 5-Day Fast Forward Program will be:
1,060 calories
Carbs: 32%
Protein: 25%
Fat: 43%