[BlogFrog_px tk="81-O-3R"]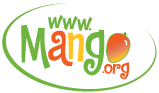 I must admit I have never purchased a Mango before. I've eaten Mango flavored items but have never actually cooked, or created a recipes with the delicious smelling fruit. That is why I was excited to receive a shipment of Mangos and an awesome cookbook with some great ideas on how to prepare and cook with Mangos: Mango Eats & Treats.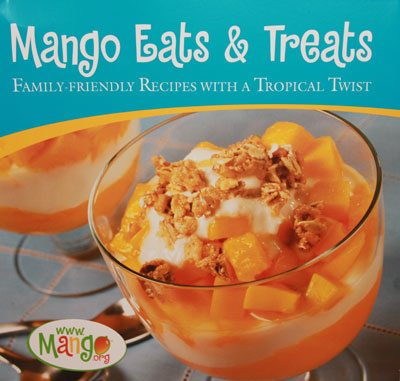 Did you know that mangos contain over 20 different vitamins and minerals and that one cup of mangos is only 100 calories? These are both great reasons for incorporating mangos into your family's eating schedule. Honey and I looked through our cookbook together and found some delicious recipes like: Mango Bread, Mango macadamia Caramel Rolls, and Little Chica Mango Chicken. In the end we decided we wanted to make something quick, cool, and tasty and decided to make a Mango Smoothie.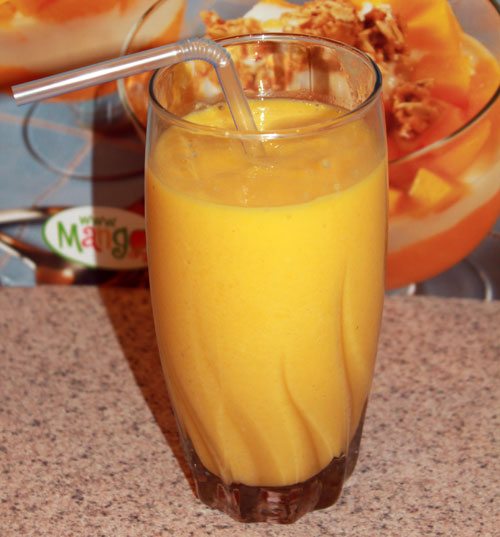 Author:
A fst, refreshing and nutritious start for busy days.
Ingredients
2 ripe mangos, peeled, pitted, and diced
1/2 cup ice cubes
1/3 cup low-fat vanilla yogurt
2 tbsps fresh squeezed orange juice
Instructions
Combine all ingredients in a blender
Blend until smooth
Serve immediately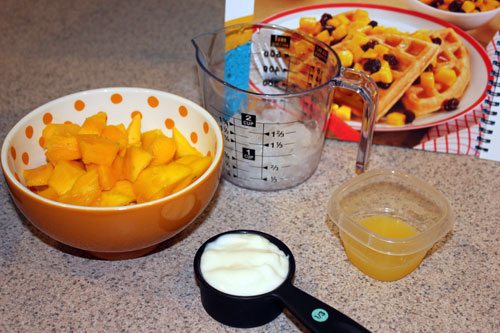 Honey had a blast helping me back our Mango Smoothie Recipe, especially since she got to to it all herself why I worked the video camera!
Honey and I thought this was a quick and easy smoothie to make on the go and great for the summer. We think it would taste better if it was refrigerated before eating and possibly with full fat yogurt and maybe even a little honey. Overall we were pleased with the healthy shake we created.
If your interested in picking up the cookbook seen here you can grab it for free National Mango Board. You can also learn how to chose a good mango, how to slice a mango, and how to find different varieties of mangos.
The National Mango Board challenged me to spend a week creating healthier eating and snacking habits for my family. Join the conversation and one of my readers will receive a cookbook and a chance to win a shipment of mangos and $200 gift card to Williams-Sonoma.
This is a sponsored conversation written by me on behalf of National Mango Board. The opinions and text are all mine. Official Sweepstakes Rules.