My two teenage boys seem to always have their ear buds in at all times. Believe it or not they are allowed to use them at school. I cringe when I can hear the music despite the fact that they are firmly in their ears. I often wonder if they are listening to the music too loud, are they damaging their ears, or are they using them as an excuse to ignore me. Typical thoughts of a mother.
My daughter, who is nine, also often uses headphones. She, however, prefers the over the head as apposed to ear buds. It has been hard to find her a good pair that last. We recently had the opportunity to review a pair of  Puro Sound Labs headphones which are more then just your average headphones. These headphones are specifically made for children with the intent to get their ears safe and healthy.
Did you know that prolonged exposure to sounds over 85 dB can contribute to hearing loss?
"As many as 16 percent of teens (ages 12 to 19) have reported some hearing loss that could have caused by loud noise."  – NIDCD (National Institute on Deafness and Other Communication Disorders)
I'm sure you don't want your children exposed to such loud levels. So what do you do? Turn the dB down on your headphones? Wait there is no such level. How do you know what the dB level is on your headphonoes? Puro Sound has taken the guess work out of wondering if your child's headphones are below the recommended level.
Puro Kids headphones are safe for a child's hearing and sound terrific. They deliver studio-grade sound and protect our children's hearing without compromising their listening experience. It's a simple formula: block out 82% of the background noise (comparable to some of the best active noise cancelling headphones on the market); limit volume to 85 dB (maximum safe listening level); and fine-tune sound quality with our patent-pending Puro Balanced Response® curve. Result? An amazing listening experience with clear, crisp vocals and full, dynamic bass. Even though the volume is limited to safe levels, these headphones don't feel limiting at all.
I switched out Honey's old pair of headphones with the new headphones from Puro Sound Labs and asked her to use them for a week to tell me what she thought. The first thing we noticed is that this pair of headphones fit her better than any previous pair. In fact, being made especially for children they did not fit my teenage son, or he just has a big head, which ever way you want to look at it.  She said they were very comfortable and they were lighter than her old pair.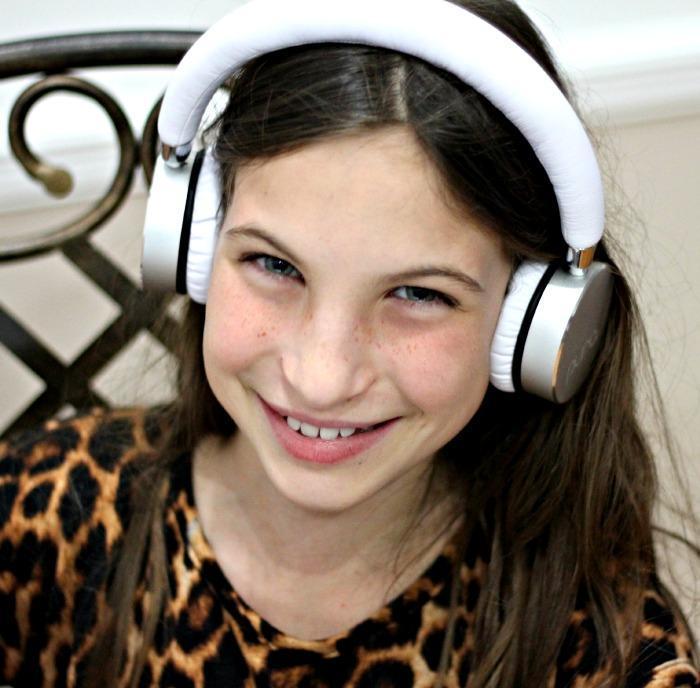 After using them for a week here were her thoughts:
They were much more comfortable
Even though she could still hear some background noise it was much less than the older pair
The sound quality was better than the older pair
She loved that they were wireless
As mentioned these headphones can be both wireless and non-wireless. Since she often uses them when she is eating and watching videos, or laying down having no wires has become an advantage. She mentioned the other day that now just like her brother she can get up and move and still hear her music with her headphones on. As you can see I find her with her headphones on often.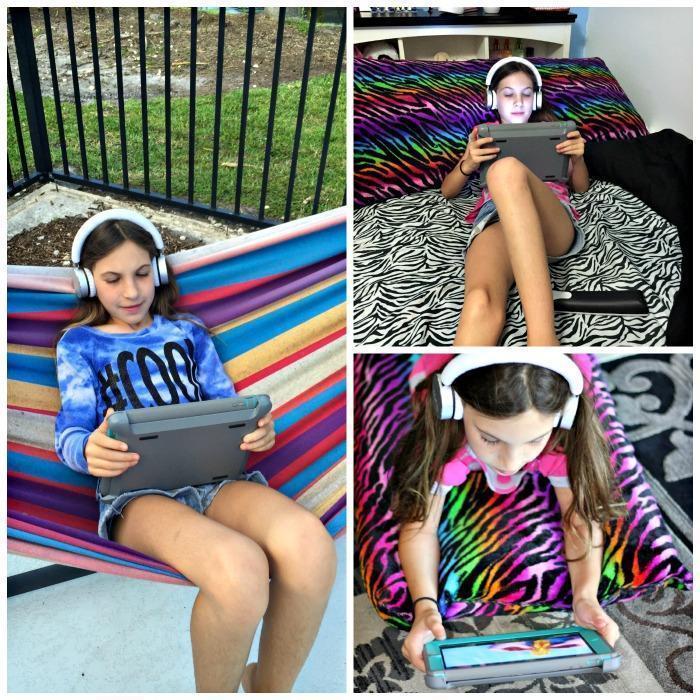 I love that Puro Sound Labs is more than just a company selling product. They take the health of your child's ear seriously. They have partnered with the Hearing Health Foundation and will be donating a portion of the sales of all products to HHF during 2015. Beyond that, we will be finding other ways to help HHF develop their Safe and Sound program.
Puro Sound Headphones Features:
Healthy Ears® Safe – Advanced DSP-based Volume Limiting Ear Protection max out at 85 dBA
Durable Aluminum Construction – The aluminum used in the ear cups and headband insure that these headphones will last far longer competing products made from cheap plastic.
Puro Balanced Response® – Crafted with 40 mm custom dynamic drivers, we recreate the best sound you have ever heard into a headphone experience.
Block Out Background Noise – Ambient noise attenuation that is comparable to some of the best active noise cancelling headphones on the market
Bluetooth Wireless and Wired Connections – Wireless freedom up to 30 feet range with Bluetooth 4.0. The included Puro Limiter® cable provides wired option when Bluetooth is not available.
18 Hours Battery Life – Listen to music for hours and hours, not worrying about having to recharge.
Hearing Health Foundation – When you buy headphones from us, you are also supporting a great cause. Puro Sound Labs is donating a portion of the revenue from the sale of each and every set of headphones in 2015 to the Hearing Health Foundation.
Puro EQ App for iOS – We have done our best to craft beautifully natural sound, perfection to our ears. Use the Puro EQ App to tailor the sound closer to your own tastes. (Android version is coming later in 2015)
 Do you have a hard time finding the right headphones for your children?