Paintball is an exhilarating, fast-paced sport that has gained popularity among people of all ages. For kids and teenagers, the idea of engaging in a real-life video game-like activity can be incredibly appealing. However, when it comes to kids and paintball, safety becomes a paramount concern. This guide will further explore the world of extreme paintball and determine whether it's a safe sport for children.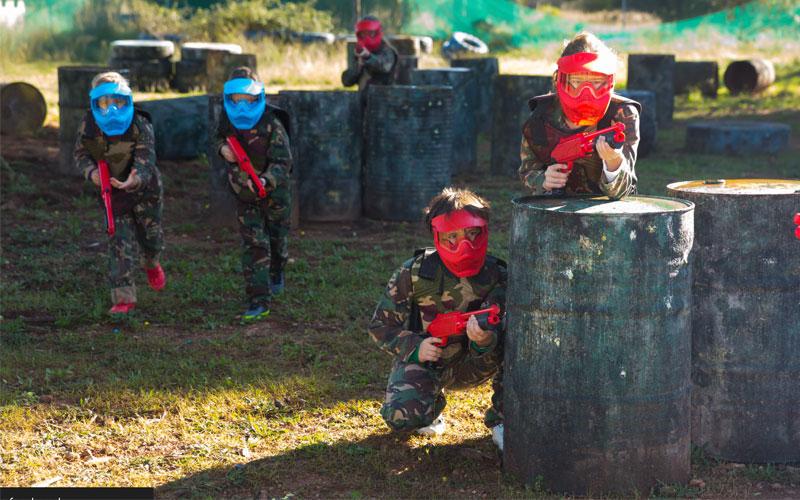 The Basics of Extreme Paintball
Before you jump into the safety aspect, it's better to first get a solid understanding of what extreme paintball entails. Extreme paintball, also known as speedball, is a high-intensity version of the sport. It typically involves two teams facing off in a closed, inflatable field, aiming to eliminate their opponents by tagging them with paintballs.
In this high-energy game, players use air-powered markers (commonly known as paintball guns) to shoot biodegradable paintballs at each other. The objective or goal is to tag the opposing team members without getting hit yourself. The team that successfully eliminates all the opposing players or accomplishes specific objectives wins the game.
Safety Gear and Appropriate Playing Location: A Priority
When it comes to kids' involvement in outdoor paintball, the first and foremost consideration is safety gear. Ensuring that children are adequately protected is essential to make this sport as safe as possible. Here are the key safety gear components to keep in mind:
Paintball Mask
The paintball mask is arguably the most critical piece of equipment. It provides full-face protection, including the eyes, ears, and mouth. Ensure your child's mask is ASTM-certified to meet safety standards.
Protective Clothing
Players should wear padded clothing to minimize the impact of paintballs. Long sleeves, gloves, and thick pants can help protect their sensitive skin.
Paintball Marker
Ensure your child's paintball marker is set at a safe velocity. Most fields have regulations in place to restrict the velocity of paintballs, reducing the risk of injury.
Neck Protection
A neck protector can safeguard the throat from paintball hits. While it's not mandatory, it's a good precautionary measure, especially for kids.
Besides having the complete safety gear, selecting the right location for kids to play paintball is also paramount. Thus, ensure to only opt for well-established paintball fields with a track record of safety and professionalism. These venues are likelier to have experienced staff and adhere to strict safety guidelines. You may check out this video to learn more about the amenities and facilities provided by established paintball fields as well as their advantages.  
Additionally, your chosen paintball field must comply with industry regulations and safety standards. Paintball fields that comply with regulations mean that they're also following the standard safety protocols, provide certified equipment, and employ trained referees.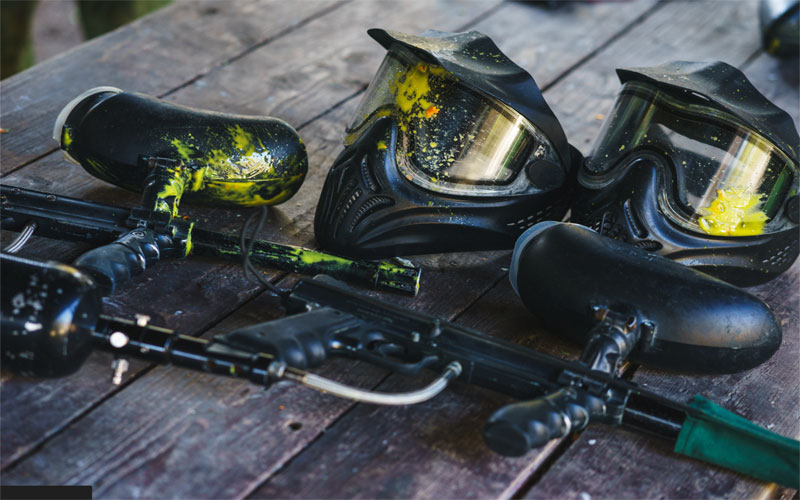 Age and Maturity Restrictions
While paintball can be an exciting sport for children, it is crucial to consider age appropriateness. The minimum age requirement varies from field to field, but most fields recommend a minimum age of 10 or 12 for kids to participate. Younger children may find it challenging to handle the equipment and understand the rules effectively, increasing the risk of accidents or injuries. Adhering to age guidelines helps ensure that children have the physical and mental readiness to engage in paintball safely.
Additionally, parents should gauge their child's maturity and ability to handle the intensity of paintball. Some children may be more emotionally or physically prepared for the sport than others. Before allowing your child to participate, have an open conversation about the game's potential risks and ensure they fully understand the safety rules.
Adult Supervision
Having responsible adult supervision during paintball games involving kids is of utmost importance. An experienced adult can guide and monitor the children closely, ensuring they follow the rules, use appropriate strategies, and understand the potential risks involved. By being actively present, parents and guardians can play an essential role in mitigating any hazardous situations and ensuring the overall safety of the young players.
Communication
Establishing clear lines of communication between players, parents, and field operators is essential for a safe paintball experience. Encourage children to report any concerns or uncomfortable situations they encounter during the game. By fostering an environment of open dialogue, parents and field operators can promptly address any issues that may arise, allowing for a safer and more enjoyable paintball experience for all participants. More importantly, maintaining open communication can be an effective way to help and support your child get into their sport.
Physical Fitness and Health
Extreme paintball can be physically demanding. Kids should be in good health and reasonably fit to participate safely. It's essential to assess your child's physical condition and any preexisting medical conditions. Asthma, for example, might be a concern, as the physical exertion and excitement of the game can trigger symptoms. Before engaging in paintball, consult with a healthcare professional to ensure your child's health is suitable for the sport.
Psychological Considerations
Apart from physical safety, it's crucial to address the psychological aspects of paintball for kids. The game involves competition, strategy, and teamwork. It can be a great opportunity for personal growth and development. However, children may experience varying degrees of stress, excitement, and adrenaline during gameplay.
Ensure that your child is emotionally prepared for the ups and downs of the game. Discuss sportsmanship, fair play, and how to handle both wins and losses gracefully. Encourage open communication with your child about their experiences and feelings in the paintball field.
Wrap Up
Overall, extreme paintball, at its core, can be a thrilling and safe sport for kids as long as proper precautions are in place. By staying actively involved, parents can help their children embark on their paintball journey safely and with a sense of excitement. When safety remains a top priority, the world of extreme paintball becomes a place where young adventurers can create lasting memories and develop valuable life skills.