If you've ever been a part of a CrossFit session, you would know how grueling it could be. The activity is supposed to be grueling by nature, and it is supposed to push you to your limits. For a majority of participants, the main way to alleviate the grueling aspect of the activity is to have as many people join in. In that case, why don't you host a CrossFit party? A Crossfit party is an event where you could gather as many people as possible, and have them perform Crossfit routines with you. Here are some tips on how to host a CrossFit party.
Have People Pledge Their Financial Support
Before you start the CrossFit part, it is important that you have the budget to do it properly. Remember that running any kind of event costs money, and if you go into the process without the right funds, there is a chance you will struggle financially throughout the whole process. Even worse, there is a chance that you will have to use your own money. This is unfair because you are already doing most of the work. If you want to have the budget to run this venture, you should reach out to fitness companies. They usually view these events as great marketing opportunities and will donate money.
Look For A Great Venue for your CrossFit party
When it comes to running a CrossFit party, the venue is extremely important. Remember that when the events take place, the contestants should be given ample room to move. As a rule, the venue should be large enough to accommodate all the contestants and the spectators.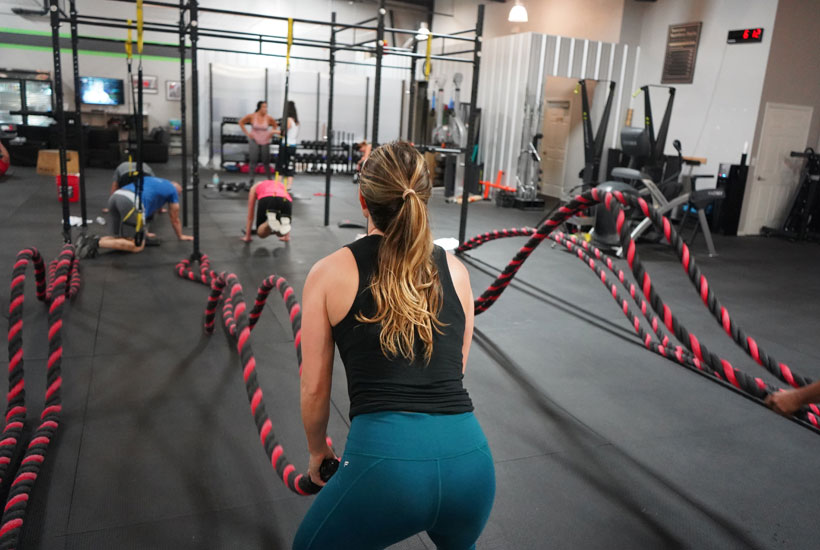 Come Up With Great Crossfit Events
If you want to make your CrossFit party as fun and exciting as possible, it is very important that you and your team come up with great events. The events are the highlight of the entire party, and they should be as eye-catching as possible.
When you plan out your events, they should abide by the Crossfit methods, and allow your contestants to use each part of their bodies. The events should be up to Crossfit regulations, and not pose any danger to the athletes' overall health. If you are unsure about which events to use, you could always consult other CrossFit gyms. When it comes to setting up a CrossFit party, it is best to consult as many specialists as possible.
Market The Event As Effectively As Possible
While CrossFit games are fun, and they could draw many people in, it is still not as mainstream as other sports. As a rule, it is important that you take your marketing as seriously as possible. Months before the event, it is important that you market it through various social media sites. 
It is also important that you create a website for the event. The website will act as your main marketing platform. Through the website,  potential contestants will be able to get information about the event, time, and details of the CrossFit events. When it comes to making your website, it is important that you make it as attractive and easy to use as possible. The worst thing you could do is to create a website that is difficult to use. This will most likely annoy interested parties, and turn them away from the event.
Invest In Crossfit Equipment
When you conduct your CrossFit games, it is important that you invest in the best CrossFit equipment possible. Remember that this is a big event, where respected Crossfit athletes could join in. If your CrossFit equipment is subpar, this will most likely annoy the athletes and their supporters as well.
As a rule, it is best that you purchase new equipment. The bars should not have rust on them, the barbells should have firm grips, and the mats should be firm and offer much-needed padding for the athletes. If you do not have enough money because the new equipment is expensive, you can always find a good offer from proven dealers for used gym equipment for sale.
Safety Is Key to any CrossFit party
When it comes to planning a truly successful CrossFit party, it is very important that you have the right tools and strategy should an accident occur. 
Remember that the athletes are going to be pushing themselves as hard as possible. This increases the likelihood of them suffering injuries. These injuries could be as small as a scratch to as severe as a torn rotator cuff. In these cases, it is very important that you provide the athletes with the best medical help possible. 
Make it a priority to have booths at the event. These booths should have medical professionals who could offer emergency medical aid as soon as possible. The booths must also have medical kits for any medical emergency. This includes bandages, splints, hand sanitizers, and even a blood pressure monitor just in case a contestant suffers from cardiovascular disease.
If you are going to invest money in booths, you should try out Aplus. It is a booth manufacturer that customizes trade show booth rental Las Vegas. Aplus is known for creating booths and displays for various events, and you could buy or rent booths from them at the best prices possible.
Invite Crossfit Champions
If you want your event to be well-respected, and draw in as many people as possible, it is important that you invite the best of the best. While you should provide events for beginner Crossfit athletes, it is also important that you invite the best Crossfit athletes as well. This will not only give your event a sense of legitimacy but will also draw more people to your event. 
Elite Crossfit athletes are usually very approachable, and they would usually participate wholeheartedly if you invited them to the event. Just make sure that you make the prize money worth their while.
Conclusion
If you are going to host a CrossFit party, you should be as prepared as possible. Remember that organizing a mass exercise event is a difficult undertaking for anyone. With these tips, you'll be able to run a great CrossFit party.