Summer is people's favorite season because it is the perfect time to let loose, spend more time outside, and try some fun summer activities, like surfing, beach volleyball, and snorkeling. Also, it is the best season to attend beach themed parties, dress cool, and hang out with friends. So, if you plan on attending a lot of parties, you have to prepare various fashionable outfits.
There are many clothes choices, and it all depends if there is a theme at the party you are attending that day. Dresses, a matching set of shorts with crop tops, floral jumpsuits, or bikini sets, the choice is vast. So, organize your schedule, check if the parties you are going to have a theme and plan accordingly. But if you are not sure what to wear, read on to find five suggestions perfect for different beach-themed parties.
Bikini
If you are attending a beach barbeque party, wearing a bikini is a great choice. Carefully choose what type of bikini you want to wear, it can be a monokini, 3 piece bikini set, microkini, or tankini with fashionable cover-ups. You have a lot of choices, so pick something that will make you comfortable the most.
For instance, if you opt for a three-piece bikini set, you can combine it with a third piece, such as a shirt, pants, kimono, or a hat made of the same design and fabric. Choose a set with easy-to-wear fabric, like polyamide or spandex. The three-piece bikini set is an excellent choice because you can easily create a complete outfit for your event.
Cold shoulder jumpsuit
Recently, jumpsuits have become one of the most popular clothing items ideal for any occasion, and their popularity will only continue to rise. In fact, it is projected that the jumpsuit market will reach a value of $3.2 billion by 2030. They are versatile clothing choices with different designs, which makes them a clear choice for either an elegant or more casual party. For instance, if you have been invited to an engagement party that will take place at the beach, opt for a cold shoulder baggy jumpsuit.
The baggy hemline gives you comfort because it has a lot of flow, and it is easy to pair it with any footwear type. Pick a red or dark green linen baggy jumpsuit, combine it with a D'Orsay flat with ankle straps, and a lightweight boater hat in a camel color. With this outfit, you will create a modern look and make a true fashion statement.
White dress
If you are invited to a white-out beach party, wearing a white cotton dress is the perfect choice. It will keep you comfortable and cool throughout the entire day. A strapless white dress, with its striking simplicity, is the ideal clothing piece to create a fashionable look for your event. You can easily wear it with anything. For instance, try combining it with a Panama hat and slim flip-flops. This way, you can create an elegant, but above all, perfect outfit for a long day of partying.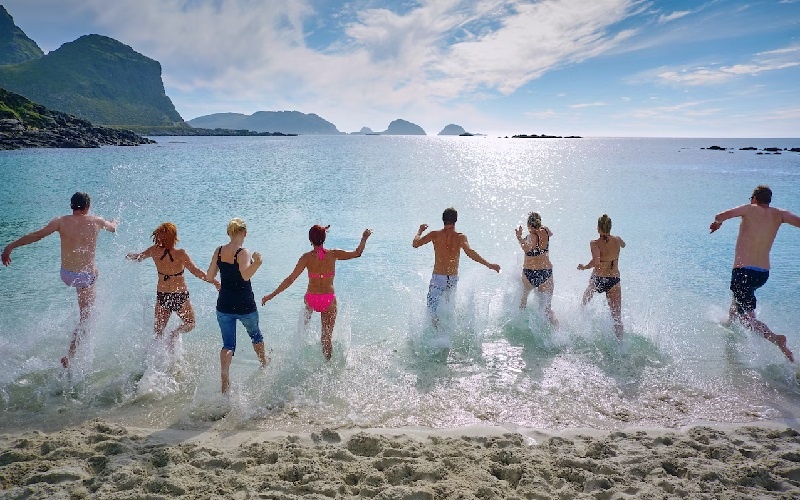 A matching set
With a matching set, you can create an effortless, pulled-together beach themed outfit ideal for a beach bonfire party. Linen high-waisted shorts and a crop top with a boho floral print is a great matching set for a beach night out with your friends. Complete the look with a shell necklace and a modern pair of shell earrings, and to finish off the outfit, wear T-strap Havaianas. This way, you will create a stylish outfit that will make you comfortable dancing the entire night. 
Sheer dress
A sheer dress is an excellent choice because it allows you to create a casual yet stunning outfit that will make you feel both cozy and stylish. Underneath the sheer dress, you can wear your bikini, a bodysuit, or a linen lingerie set to give the outfit a necessary touch of elegance. Feel free to experiment with your style. To complete the look, wear some elegant jewelry pieces like a set of pearl earrings and a pearl bracelet. This is the perfect outfit for a fun summer party at the beach.
Final thoughts
Getting ready for a beach party, regardless of the theme, doesn't have to be stressful. You can choose to experiment with your style or simply go for something comfortable to wear. There are many choices, an interesting three-piece bikini set, an elegant white dress, or perhaps you can opt for a colorful cold shoulder shoulder-baggy jumpsuit. Be bold and combine your outfits with elegant hats and stylish footwear. Whatever you choose, make sure it is comfortable to wear and helps you create a modern and sophisticated look.