According to recent Gallup polls, concern for the quality of the environment has reached a two-decade high, with 44% of Americans worrying "a great deal" about it. As a result, many more of us are embracing sustainable practices and making eco-friendly choices that seek to benefit the planet rather than harm it.
If you are wondering what you can do to reduce your impact on the environment, then you need to look no further than your own backyard. In this article, we've outlined some helpful ways in which you can create an eco-friendly outdoor living space.
Choose Water Wise Plants
Water wise plants require less water than most residential plants helping you to reduce your water usage and conserve this natural resource. As these plants come from regions with low annual rainfall they are naturally drought-resistant and do not need energy-intensive irrigation systems, saving you money on your water bill as well as reducing your energy costs and any associated greenhouse gas emissions. Consider the following water-wise plants and flowers to create a flourishing landscape:
Aster
Blanket flower
Amethyst sea holly
Bugleweed
Moss rose
Lantana
Red creeping thyme
Rosemary
Hens-and-chicks
Color guard Adam's needle
Opt for Energy-Efficient Lighting
Enjoy your backyard day or night by switching to energy-efficient lights such as LED lights. This type of lighting is 80% more efficient than a halogen bulb in terms of energy consumption while emitting the same amount of light.
As they use a fraction of the energy of traditional incandescent or halogen bulbs and also have a much longer lifespan, LED lights can illuminate your backyard while keeping your energy costs and consumption low. Whether you opt for LED outdoor wall lights, floodlights, or fairy lights,  this choice of outdoor lighting will brighten up your backyard while benefiting the environment.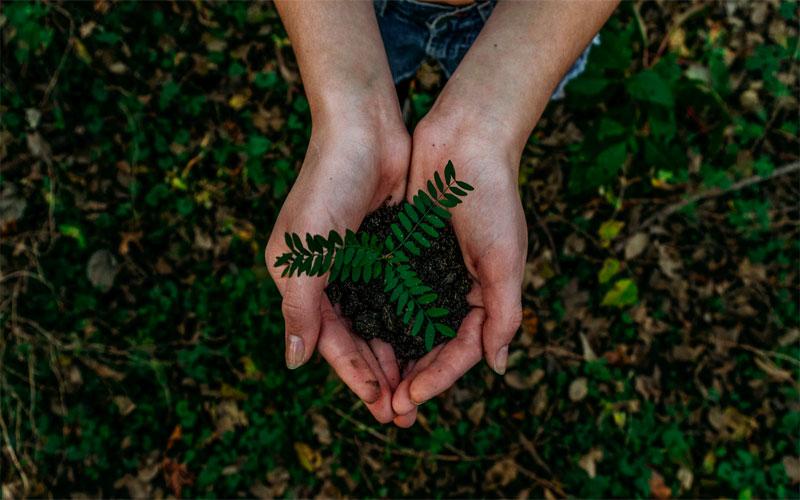 Create Your Own Compost
Compost has numerous benefits for your soil, including helping it retain nutrients and moisture, reducing the risk of soil erosion as well as the need for pesticides and fertilizers. In addition, compost is essential for plant health as it provides them with a number of micronutrients such as nitrogen, potassium, and phosphorus.
Rather than letting your food waste end up on landfill sites, create your own compost by recycling inorganic matter in an outdoor container to produce a nutrient-rich fertilizer that can enrich your soil and allow your plants to thrive.
Recycle and Repurpose
Instead of replacing outdated furniture with new items, consider second-hand options that you can find online or at markets and thrift stores. If you decide to purchase brand-new outdoor furniture, choose items that have been made from sustainable materials such as recycled plastic, reclaimed wood, and bamboo.
If you would like to add a personal touch to your backyard, repurposing outdoor furniture is a creative way to give new life to old pieces, reduce waste, and update your outdoor living space without the need to buy new items. For example, transform an old ladder into a trellis for your climbing roses or an old cabinet into outdoor storage for your gardening tools.
By putting these eco-friendly ideas into practice you'll not only make a positive environmental impact, but also reap the rewards of revitalizing and enhancing your outdoor living space.