What does your dream outdoor space look like? When it comes to outdoor living areas, deck design plays an important role in creating the most luxurious spaces. Here are some of the best ways to design an outdoor space that is even better than you can imagine.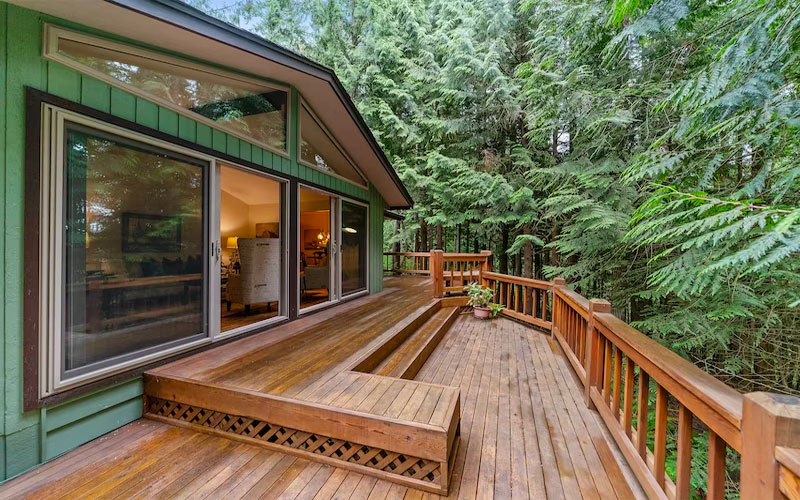 Choose the Right Space for Your Deck
One of the most important steps you will take in creating your dream outdoor space is choosing the right space for your deck. The functionality and usability of your deck will be determined by where it is placed and how easy it is to access.
Consider the following questions when choosing the best spot for your deck:
What will your deck be used for?
How big will it be? Most decks should be about 20% of the size of your home.
How will your deck be accessed?
What will the view be like from your deck?
How will it transition to other parts of your yard?
Will my deck have sun, shade, heat, or wind?
Once you decide where to put your deck, you can address these questions further by discussing them with your contractor.
Hire Professional Deck Builders
Many homeowners enjoy do-it-yourself home improvement projects, but decks are a major undertaking, and there are many reasons to use professional deck services for every stage of the process, from planning your deck to adding the finishing touches.
Expertise
Professional deck builders have the experience to understand how to build the best deck for your space. They know local building codes, permitting issues, and other regulations. Because they know what they are doing, they can walk you through your options and help you design your dream deck.
Stay on track
When you hire professional deck builders, your project has a better chance of staying on track and on budget. A reputable contractor has to make a profit to stay in business, and with their experience, they know what a deck project entails.
Satisfaction
Another reason to hire professional deck builders is that you'll be able to take advantage of material and installation warranties. A reputable contractor will also warranty their work to ensure your satisfaction.
Permitting and regulations
Professional deck builders are familiar with the permitting process and local regulations. If you try to do this alone, you can get stuck in a quagmire of paperwork.
Safety
Safety is the biggest reason to have a deck installed by a professional. Decks are a bigger safety concern than many people realize, with thousands of injuries resulting from collapsing decks each year.
Select the Best Decking Materials
Selecting the best decking materials for your dream outdoor space requires a thorough assessment of many different factors. Then, you have to weigh the pros and cons of each to find a balance in choosing the best deck materials that fit your budget and design.
Cost
The cost of decking materials varies widely, from pressure-treated wood on the low end to expensive hardwoods. While you get what you pay for, you must balance the cost with your available budget.
Durability
Some materials last longer in different regions. Select materials well-suited to your climate, but be aware that more durable materials also come with a bigger price tag.
Maintenance
Deck materials that cost more, like composite decking, are often low-maintenance and have lower replacement costs, so while they could cost you more upfront, you will save money in the long run.
Installation
Installation is a significant cost factor that must be considered, as replacement costs also include re-installation. Some hardwoods are more difficult to install, leading to higher installation costs.
Slip resistance
In humid climates, moisture, algae, mold, and mildew can make your deck slippery, and you may need to choose a slip-resistant deck material over traditional lumber.
Fire ratings
Hardwoods like ipe and batu have high fire ratings without additional chemical treatment. Since decks are susceptible to fires, choosing fire-resistant materials or fireproofing your deck is important.
Features to Include in Your Deck Design
There are an infinite number of possibilities when it comes to deck design, and choosing the best features for your deck can be one of the biggest challenges you'll face when creating your dream outdoor space.
Here are some of the most popular types of deck features. After deciding which features to include in your deck, choose a style that works for you.
Railings– required for decks higher than 30" off the ground
Stairs– necessary for most decks
Built-in planters– perfect for saving space and creating cohesive aesthetics
Built-in seating– can be made to include built-in storage for additional functionality
Lighting– recessed deck lighting will enhance the appearance and safety of your deck
Multiple levels– useful for capturing viewpoints or creating different zones in your deck
Modern decks are more than just a place for putting up a lounge chair or a barbecue. They can be luxurious additions to your home, including fireplaces, outdoor televisions, high-tech outdoor kitchens, and water features.
Finishing Touches
It's an exciting time when your deck is ready for the finishing touches, and these final steps to your deck design will make your dream outdoor space come true. Choosing the paint or stain, furniture, and decor will complete the look of your beautiful deck. Add some well–placed flowers, trees, and shrubs, and your new deck will be the envy of the neighborhood.