Cooking shows encourage you to improve your culinary skills and be an elite chef. But for this to turn into a reality, it is important that you have a kitchen with adequate space to accommodate many different types of appliances and a big worktop where you can prepare the meals with your partner and children.
But with the average size of homes shrinking in some countries, most homeowners only have a cramped small place to live their dream of being a top chef. Don't let the kitchen limit your dreams as there are a few intelligent ways to make your kitchen more functional and stylish at the same time.
Think of Downsizing
The main function of your kitchen is preparing meals. Small kitchens should focus on this function and ensure that there is adequate work areas and appliances that you'll need. Look for scaled-down appliances like freezer drawer, small microwaves, single sinks, and stoves. Wherever possible, go for under top models like the under-top oven, cooking range, etc. This will enable you to keep your kitchen functional without losing a lot of space. Worktops with integrated sinks can also be a great choice. Not only do they add to the space, but they look beautiful too.
Try to Open Things Up
Small kitchens feel claustrophobic, especially when there are cabinets towering overhead in closed spaces. If possible, replace top cupboards with open storage. Prefer pot racks, shelving, spice holders, or magnetic knife instead. This will not only make the kitchen look spacious but is also an excellent way to display your favorite pots, dishes, and pans.
Use the Corners Religiously
Most small kitchens underutilized the corner spaces. But when you want to make every inch count, corner shelving can help give purpose to these corners. There are so many different types of corner shelving options like 90-degree shelves, pegboard shelves, skinny shelves, and staircase storage options. These can help you use the dead corner spaces.
Use Fold-able Tables
While small kitchens often struggle when it comes to placing a table on the floor, a fold-able table can be a great idea. The table can be used to not only prepare but also enjoy your meals without wasting any valuable space. Once done, the table can be folded back into the wall to create more space in the kitchen.
Use Multipurpose Backsplashes
Backsplashes can now be made from many different types of solid surfaces like Dekton, Quartz, Neolith, and more. These surfaces not only help you protect the kitchen wall from splatters and spills but also hold commonly used kitchen tools handy with the help of temporary or permanent hooks. Apart from a popular solid surface material, there are also pegboards made from stainless steel which can be used for creating such multipurpose backsplashes.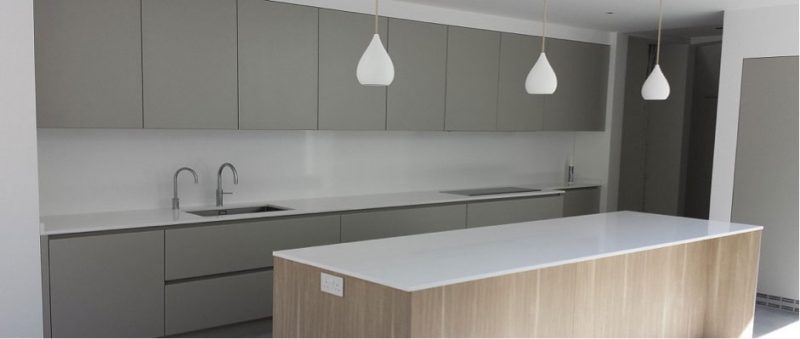 There are many ways to add more functionality and beauty to your small kitchen. While these are just a few examples, you can use your creativity to create something unique, functional and beautiful.