Your current season is always a major factor when you're deciding what to wear. The scorching heat and sunny skies of summertime may have made it easy to look great while wearing a minimal amount of clothing. But as fall approaches, you'll need to change tack. If you're expecting cooler and windier days, you should be ready to pull out thicker pieces that can be layered on top of each other, all so that you can keep the cold out. Fortunately, this is the perfect excuse to maximize the items in your wardrobe and find the best ways to mix and match your current clothes.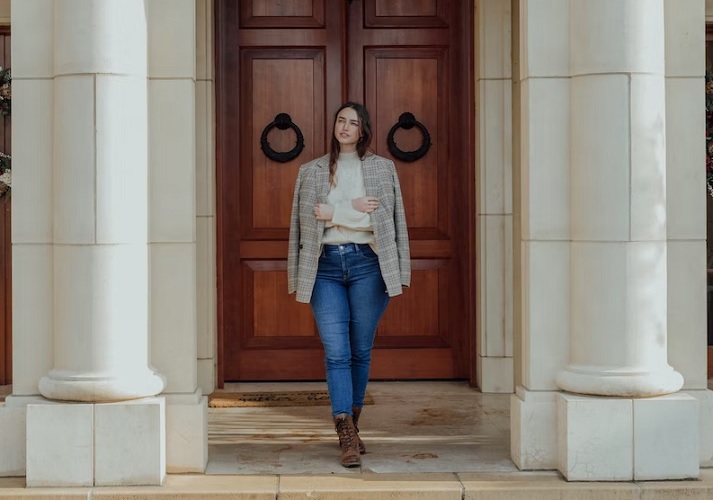 There's no better time to debut your style for the fall season than the upcoming fall holidays. Wearing your best fall ensembles while meeting with friends and family members will give you, even more, to look forward to this coming holiday season. If you're not sure where to start, here's a list of fall outfits that you can consider putting together using the pieces that you already have at home. Try these out for your upcoming Thanksgiving Day and pre- Christmas celebrations. 
Pair Colourful Dresses with Classic Boots
Look and feel pretty while protecting yourself from the colder weather by pairing colorful dresses with boots. Thigh-high boots are a hot commodity these days, and they look great with a lot of outfits that aim to make a statement. But it's perfectly fine to pair your dresses with your trusty leather walking boots as well. Combining a delicate mini, midi, or maxi dress with leather boots of any height gives your look an edgy feel, which you may want to rock over the holidays.  
Go Casual with a Sweater and Leggings
If the temperature requires a little more coverage than usual, put on a loose sweater and a pair of leggings for women. Casual as this look might be, it will protect you from the cold without restricting your movement. The sweater and leggings combination is a practical option for events and get-togethers held indoors, but it can also stand on its own if you add a jacket to it as an outer layer. 
Wear a Turtleneck and a Jumpsuit
Another casual look that embodies the season is the turtleneck and jumpsuit combo. This outfit can be paired with casual sandals if you feel like going out with friends on a sunny day, but it also works well with boots. The latter will keep your toes dry and toasty. Put on a neutral-colored turtleneck and jumpsuit to give off a more professional vibe, or wear fall colors to really get into the mood for the season's holidays. 
Make a Statement with Your Outerwear
Fall is an excellent time to look through the outerwear in your closet and see if it needs some patching up or replacing. As the season gets colder, you'll need to incorporate outerwear like jackets, coats, and cardigans into your outfits to stay warm outdoors. If you've got a particularly impressive coat in your outerwear wardrobe—perhaps one with a catchy color or embellishments that make a statement—
wear this to upcoming events and wow everyone as soon as you show up. If all your events for the season are outdoors, however, you'll likely get away with wearing practical and warm clothes underneath your outerwear since you won't have to take the latter off. 
Be Bold with Prints and Textured Textiles
Perhaps you have a capsule wardrobe for fall and the colors of your clothes are not too different from each other. This is perfectly fine, as it makes mixing and matching clothes much easier. But that doesn't mean you can't add variety to your style. You can keep your general aesthetic during the fall season, but add a little spice to your look by wearing a variety of prints and textures in the season's most popular hues. Instead of wearing a neutral-colored pair of overalls over a white shirt, for example, you can opt for an orange corduroy jumpsuit and an inner shirt with animal prints. It's a combination that will get everyone's attention when you go visit your friends and family members. 
Don a Long T-shirt Dress and a Jacket
If you want a flowy outfit that doesn't necessarily hug your figure, look for T-shirt dresses and stock up on them for indoor or outdoor use. These versatile pieces of clothing can be used in most casual settings. They're also often paired with denim jackets, one of which you can wear while rubbing elbows with friends and family members who've just arrived on the scene. The casual nature of this get-up makes it a perfect match for sneakers and sandals, and on the whole, it's great for laid-back parties where the only thing on the agenda is leisurely bonding with each other.
Ease Into the Season with a Summer Skirt
In case you're not completely over the summer season, it's still possible to remember those sweltering days and nights using your outfit. For example, you can keep wearing your favorite summer skirt and simply pair it with a warmer top. If the skirt is too thin, add a pair of leggings to the ensemble to keep you warm. Just because you're attending a fall social event doesn't mean you can't take your memories of summer with you wherever you go.
Which of these fall fashion tips are you willing to try? If you have a lot of events and activities scheduled during the season, check out the combinations listed above and determine which ones fit you and the event you're attending the best.