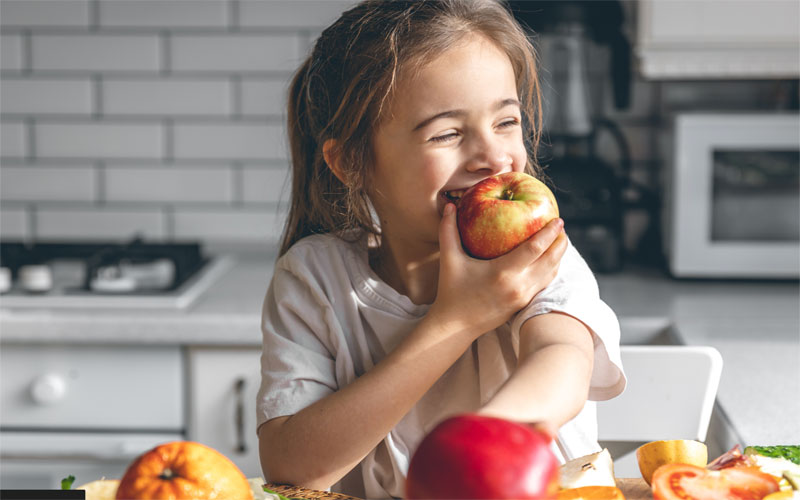 As a parent, you know feeding your kids healthy food is essential. Proper nutrition ensures good overall health, including dental health. You can help reduce the risk of certain illnesses by guiding your child to follow a healthy diet and practice proper dental care. But overcoming this hurdle can be challenging, especially when they're picky eaters.  
Despite that, remember that you're not alone. Many parents experience the same troubles and succeed by consulting dentists and actively searching for relevant resources. This article shares healthy snack ideas that not only tantalize the taste buds but also promote strong teeth in children.
Dairy
Milk
When it comes to supporting strong teeth, it's hard to beat milk. It contains calcium, which can help strengthen teeth and protect them from harmful mouth acids. This is a point a kids dentist would emphasize. Additionally, they often highlight that drinking milk helps neutralize harmful mouth acids, thus further protecting your child's teeth. So, a glass of it could be your go-to choice for a simple yet nutritious snack when your child needs something between meals.
Yogurt
Like milk, yogurt is rich in calcium, aiding in strengthening teeth. Plus, its probiotics balance the bacteria in your child's mouth, reducing the risk of cavities.
Consider serving a bowl of unsweetened, low-fat yogurt sprinkled with cinnamon for your kids' delightful and healthy snack. You could also add fresh fruits like raspberries and blueberries for additional nutrition.
Cheese Sticks
Here's another dairy delight for your child: cheese sticks. High in calcium and protein, they help in growing strong teeth. What's more, chewing on cheese sticks stimulates saliva production, which helps wash away harmful bacteria. You can easily pack these snacks for school lunches or serve them as quick bites at home.
Cottage Cheese
A less conventional but still powerful tooth-friendly snack is cottage cheese. An excellent source of calcium and protein, it aids in maintaining healthy gums and teeth. Serve it with a drizzle of honey or add some fresh fruits for a tasty and tooth-friendly treat.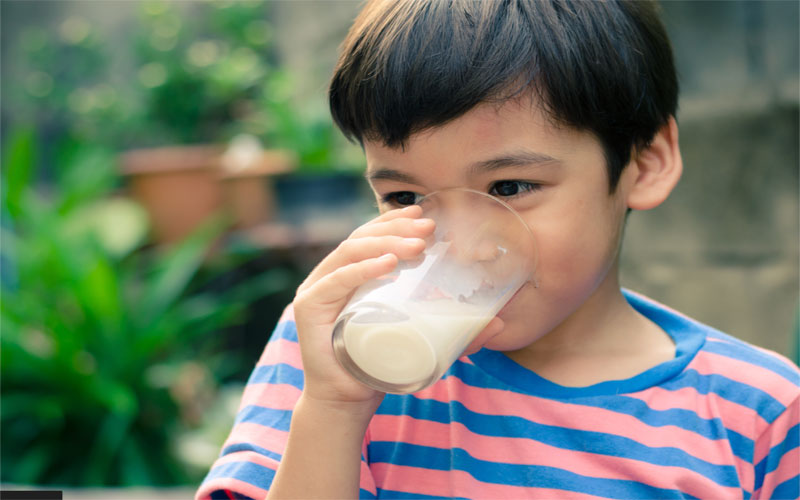 Fruits And Veggies
Apple Slices
Apples, often called nature's toothbrushes, help clean your child's teeth as they chew. Biting and chewing apples stimulates saliva production, while the fruit's fiber content helps scrub teeth clean. Kids will likely grab a few pieces without hesitation since apples are naturally sweet and crunchy.
Apple slices paired with a low-fat dip make a quick, healthy snack. Consider partnering them with equally healthy honey yogurt or peanut butter dipping sauces.
Frozen Berries
Loaded with antioxidants and vitamin C, frozen berries are a sweet treat and beneficial for children's dental health. They help keep gums healthy, which is crucial for strong teeth. Frozen berries also make for easy, kid-friendly summer snacks that many children will gladly prepare by themselves. Just remember, moderation is key. Eating too many berries can lead to too much sugar even if they're natural. 
Raw Celery And Carrot Sticks
Raw celery and carrot sticks are fantastic foods for oral health. Their high fiber content scrubs teeth and stimulates the gums. Like with cheese sticks and apple slices, chewing these crunchy veggies generates saliva, which naturally cleans the teeth. These veggies can be a handy snack for your children, especially with a nutritious hummus dip.
Spinach, Kale, And Broccoli
Leafy greens such as spinach, kale, and broccoli, loaded with nutrients like calcium, contribute to healthy teeth. Try incorporating these into your child's snack regimen through creative recipes like kale chips or broccoli tots. If you have trouble introducing these veggies to picky eaters, serve them with a cheese dip to mask the natural bitterness most kids can taste.
Nuts And Seeds
Dry-Roasted Almonds
Nuts, particularly almonds, are rich in calcium and protein without the extra sugar. Dry-roasted almonds sprinkled with sea salt make for a crunchy, nutritious snack that supports overall health and is excellent for the teeth. The sea salt adds extra flavor to every bite and aids in improving your child's digestion and skin health.
Chia Seed Pudding
Chia seeds are a powerhouse of calcium, making chia seed pudding an ideal choice for healthy snacks for children. Just soak chia seeds in milk—preferably a dairy alternative like unsweetened almond milk—overnight and top it off with a sprinkle of your child's favorite fruits for a delightful snack.
Sugar-Free Trail Mix With Dried Fruits
A homemade trail mix consisting of nuts, seeds, and sugar-free dried fruits is a perfect tooth-friendly snack. The nuts and seeds provide the essential nutrients for healthy teeth, while the dried fruit adds a hint of sweetness kids will love. Add in some honeycomb bites. The antimicrobial properties of honey can offer extra dental health benefits like preventing gum disease, in addition to providing a touch of natural sweetness that kids will love.
Proteins
Boiled Eggs
Boiled eggs, a versatile snack, are loaded with vitamin D, essential for calcium absorption, promoting stronger teeth. Their high protein content also helps build and repair tissues, which is necessary for maintaining gum health. Beyond being tooth-friendly, boiled eggs are a power-packed snack that energizes children throughout the day.
Roasted Chicken Strips
Lean meats like chicken are a protein-rich, tooth-friendly snack that most kids love. The phosphorus present in roasted chicken strips helps to strengthen their enamel, providing a robust shield against cavities. Additionally, chewing chicken pieces stimulates saliva production to defend against tooth decay.
Sugar-Free Beef Jerky
This popular, compact snack packs a double punch for oral health. Firstly, sugar-free beef jerky is high in protein, an essential nutrient for repairing and strengthening tissues, including gums. Secondly, the chewy nature of jerky encourages saliva production, helping clean the mouth. It's also quite savory, making it a popular snack your child will enjoy.
Delicious Treats Safe For Young Teeth
Building good dental health in children starts with mindful decisions about their food. With these healthy snack ideas, you can help ensure your child's teeth remain strong. 
So, try these suggestions out, and discover tooth-friendly delights that'll have your kid smiling in more ways than one. Your choices today could help ensure a lifetime of strong, healthy smiles for your child. Enjoy creating these nutritious snacks for children and let them relish the taste of good health!