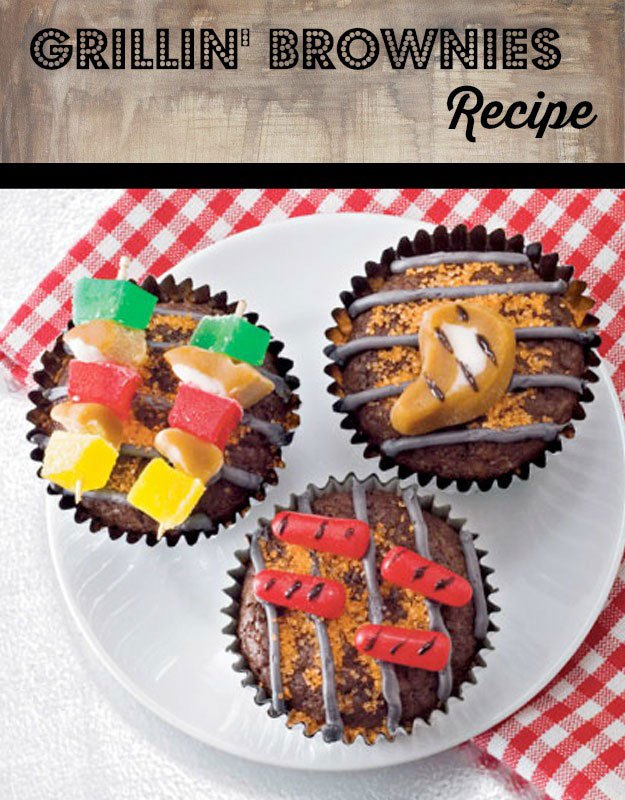 Today I got up early to begin some baking and cooking for our 4th of July Bar-B-Que at mom's. Here is a little background regarding my "cooking" skills, I've often been told I'm lucky if I can boil water. Now in my defense I personally don't think it is my cooking that is terrible but my lack of ambition to do so. I absolutely HATE cooking!! So for this fourth of July, Bar-B-Que Honey and I will be baking a dessert and hubby will be "cooking" some baked beans. So honey and I perused the magazines yesterday (of which I have two left because my darling husband being oh so helpful cleaning the house one weekend tossed ALL of the magazines I had in my rack that were awaiting my needed attention.) and found one that we thought looked fun. We found our recipe here in Family Fun and decided to ditch the normal 4th of July theme and go with a Bar-B-Que theme, brownies made to look like little grills with hot dogs, steak, and kabobs.
Father's Day Grillin' Brownie Recipe
Cute brownie recipe themed for that special man in your life. Perfect to honor him on Father's Day!
Ingredients
1

box

Brownie mix

1

each

Black food coloring

1

each

White frosting

1

bottle

Orange sugar

1

bag

Caramel creams

1

package

Red, yellow, and green candy fruit slices

1

package

Hot Tamales candies
Instructions
Instructions
To make a batch of 12, place liners in a muffin pan, oil them, and fill them two thirds full of your favorite brownie batter, then bake according to the recipe directions. Let the brownies cool.

In a small bowl, mix one or two drops of black food coloring with 1/4 cup white frosting. Transfer the frosting to a ziplock bag and snip a small section from the corner. 

Pipe grate lines onto each brownie and let them set for 20 minutes. Add embers with a sprinkle of orange sugar.

Prepare the grill food as instructed below and press it in place atop each brownie.
Decorations
Kebabs: A caramel cream and red, yellow, and green candy fruit slices, cut into small pieces + toothpick skewers

Pork chop: two thirds of a caramel cream, molded with fingers + black food coloring, applied with a toothpick

Hot dogs:Hot Tamales candies + black food coloring, applied with a toothpick
This dessert recipe is great for many holidays including Father's Day, Memorial Day, Labor Day, or a family get-together. Check out many of our other collections of recipes.