Summer is coming to an end and I can't help but reminisce about our wonderful time filled with some great family moments, especially our first cruise.  If you are a loyal reader then you read my previous post about our cruise aboard the Carnival Imagination. One of the things people think of when they think of a cruise is "the food". So this article is centered around the food during our cruise and an amusing story I love to tell others when they ask what the kids thought.
Embarking Carnival Imagination
When we first boarded the Carnival Imagination it was lunch time. What we found was buffet after buffet of all kinds of good. My oldest son's favorite and most frequented buffet was the All American. Each day you could find the same thing, chicken nuggets, fries, hamburgers, and hot dogs. Every kids dream buffet, well not every kid but the majority of these days. There was a Chinese type buffet that Honey gave a try but found the food was just not her normal flavors. Another buffet was changed daily and on our first day contained Italian food, definitely right up Honey's alley. In addition, each day you could find a salad buffet, pizza buffet, dessert buffet, and deli sandwich center. With all these choices there was no lack of finding something good to eat.
Our first night we made our way down to our assigned dining room, Spirit Dining Room, to have our first dinner. We were seated an eight top and were next to a family of three that was cruising together and also happen to only live about 45 minutes from us. We were given our menus, and here is were the amusing story comes in. The boys were on the opposite side of the table from my husband, Honey, and I. I was looking over the menu with Honey and loving how excited she was about the spinach artichoke dip and vegetable lasagna. She was super excited about what she was going to order. I looked up and you could see the crestfallen faces of my almost 16 year old and 13 year old sons. The menu consisted of elegant dining and not one thing appealed to them. Trying to figure out the best choice I noticed they had fried chicken and french fries. I told them this was as close as they were going to get to chicken nuggets. Then our waiter appeared with a children's activity book and crayons and on the back side was a kids menu that included chicken nuggets and pizza. I looked over to two huge smiles. So while my daughter ordered her fancy schmancy dinner the boys ordered, you guessed it, chicken nuggets and fries.
Dining Aboard Carnival Imagination
My daughters taste in food never ceases to amaze me. For a seven year old she has very grown up tastes. The next night it turned out the "All American" buffet was staying open until 6pm, and 6pm was our assigned dinner time. I told the boys if they wanted too they could leave a little early and go to the buffet and skip the dining room if they wanted. They decided to take us up on the offer and the three of us headed to our table. That night it was just the three of us, until Nicholas' decided to join us while his brother went back to the room. Our dinner turned out to be rather entertaining. Each night the dining staff would pump up the music and do a little dance. That night the song was "That's Amore!" While dancing our waiter was also making shapes out of napkins and made my son a bow.
Entertainment on the Carnival Imagination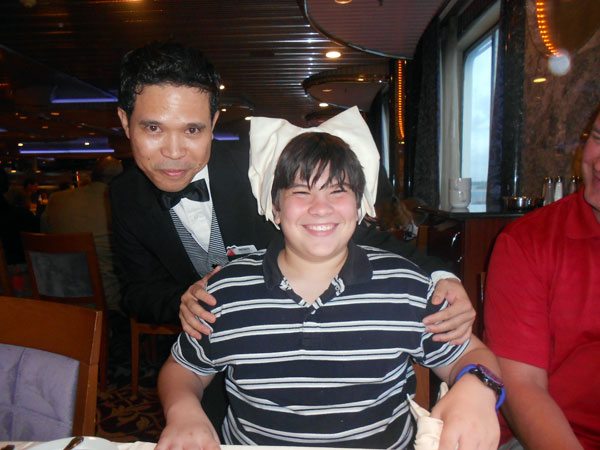 Thankfully my son is a good sport and actually enjoys the attention. Our waiter tried his hardest to get Honey to get up and dance. I told him I would pay him $100 if he actually made that happen. I knew I was not in any danger of forking out any money soon. Where Nicholas' enjoys the spot light the other two shy away from it, or better yet run! This night Honey had spinach stuffed mushrooms in tomato basil sauce, spare ribs, and corn on the cob. Another great dinner she said!
My husband loved his dinner which was lobster tail and shrimp. The waiter, featuring my husband was going to enjoy the dinner, actually ordered two on his behalf. When he took his plate and asked if he enjoyed it, in which my husband replied YES! He handed him another plate and told him he featured he would. My husband was very impressed, and this is just one of the AMAZING staff members we encountered on the cruise.
The last night the buffet closed early and the boys were ate with us in the dining area. Nicholas' was thankful for the turn of events because he had already conspired with our waiter to have the staff sing happy birthday to Christopher. Christopher was one week from turning 16 when we were on the ship. I would like to say it was out of love, but I think it was more because he knows his brother hates attention. I guess you can call that brotherly love LOL! We enjoyed our last dinner, the boys dined on french fries and Honey enjoyed French onion soup, and some time of pasta.
If you ask Honey what her favorite part of our Carnival Imagination cruise she would say hands down "THE FOOD"!
Carnival Imagination at Nassau, Bahamas