I've often been told I'm lucky. I will admit that for some reason I am very lucky, and I'm grateful I don't take it for granted at all. I won many contest as a child (usually artistic contest I entered). I won a trip to LA to see The Biggest Loser Finale. I surprised even myself when I won an XBox by entering the code on my Dr. Pepper bottle on-line. So it wasn't a total surprise when "Luck" followed us on our first Carnival Cruise.
I mentioned in my last Carnival Cruise vacation post how my husband loved the Invicta store. How we visited it often a couple times a day. During our visits we were given raffle tickets. The jewelry store was raffling off several different items on different nights. We had no idea what they were raffling off but since it appeared to do with watches my husband insisted that we attend. You had to be present to win so when the time came we took our 5 raffle tickets and headed down to the store. After a 20 minute presentation about the watches and sales they started calling out the winning number. My husband told me to hold on to the tickets. As they called out each number you were suppose to yell "Oh yeah" if you had the number or "Oh Ship" if you did not. Guess who had the winning raffle ticket?
You guessed it, it was us! The prize was a watch/pen set, not quite what my husband was hoping for (he was hoping for maybe a discount on the Invicta's) but he shook his head and looked at me not all surprised that I had won. We were hoping to bring that luck with us to the casino. I've never been to a casino a day in my life so I had no idea what to do LOL. Thankfully there was a friendly staff member that explained how to use our room cards to put money in the machines and cash out. I'm not much of a gambler or risk taker so I put $10 in the machine. After and hour and half of playing (the slots) I left with $20 on my room key. I was excited! It may have only been a $10 win but it was fun. Hubby was not so lucky. The next night I was up to $30 but cashed out at $25. Again my husband just shook his head. On the last night I wish I could say I won big but I ended up losing the rest of the $25. However if you look at it I spent $10 for three nights of fun!
Fun at the Arcade on Vacation
I haven't even gotten to the best part yet. It turned it that it was not I that was the luckiest on this trip. That title goes to "hubby". We spent some time in the arcade with the kids. Honey spent her money on the racing games and other true games. The boys they spent most of theirs trying to win prizes.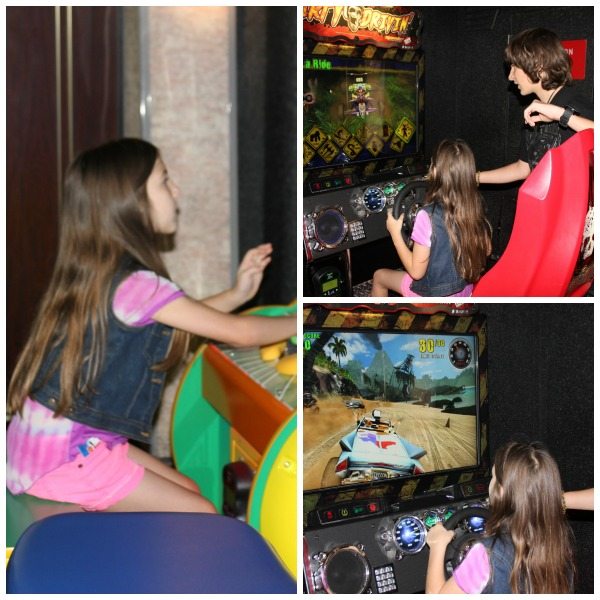 One of the machines they were trying to master was a "key" game. There were nine prizes and each prize had a hole in front of it. The object of the game was to position the key in the correct position left to right. Then hit the button as the key began to rise. You had to let go of the button when you wanted the key to move forward and hopefully if you lined it up correctly the key would go through the hole and unlock the prize. Now you know these games are never as easy as they seem, if they were everyone would win. The prize the boys were trying to win were Beats headphones ($299). They also had a mini iPad as one of the prizes.
My husband tried a couple times the first day and was so close but not close enough. The next morning we came down to the arcade again. Honey went to play her game and the boys went to one machine and hubby to another (they had two of them in the arcade).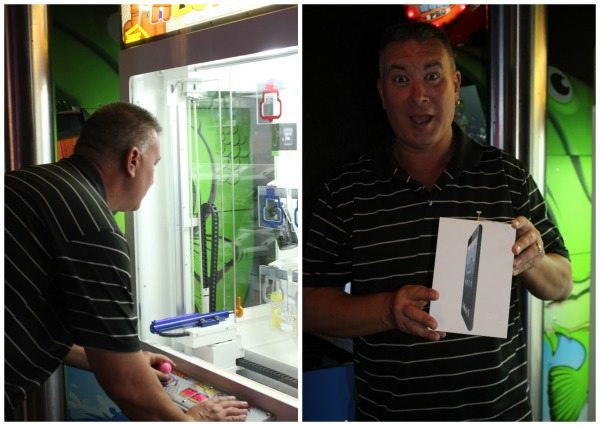 I'm sure by now you knew where this story was going. Sure enough on that very first try that morning he won the mini iPad. We had to take the prize to the casino and fill out some paperwork and he left with his prize. They had another machine in the casino with prizes like a full size iPad with $500 and $1000. He was hooked and tried several times on this machine. Unfortunately he didn't win again but someone one the $1000.
Our lucky escapes on our Carnival Cruise definitely enhanced our experience and I have a feeling when we take our next cruise we will be hitting the casino, arcade, and stores again! Never say never when it comes to winning things you think are impossible to win. Someone does actually win.