Tights should be a staple in every woman's wardrobe. They are versatile pieces that let you easily adjust your look to suit different occasions and weather patterns. So, get a leg up on your everyday style by stocking your closet with a pair of tights or two. If you're new to the world of tights and have yet to get your first pair, here are a few reasons why you should consider getting one sooner rather than later.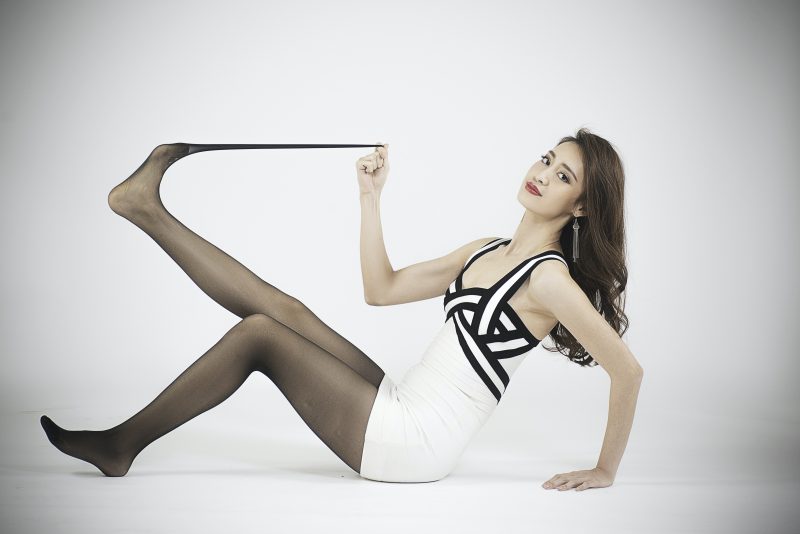 Tights are timeless and stylish.
In particular, black tights are effortlessly chic because they can be worn with a variety of outfits for different occasions and seasons. Whatever your personal style may be, we're sure that there's a place for black tights in your wardrobe. They make your legs look sleeker, longer, and slimmer. Black tights also look great when paired with skirts and dresses, so they can be worn to work, a date, a casual day out, and so much more. You can expand your outfit possibilities simply by getting a variety of tights in this quintessential color.
Tights make any simple outfit pop
Have your outfits gotten a bit stale or boring to you? Give them an extra oomph by adding a pair of tights to your usual ensembles! One way to do so is to wear plain tights in a bright color under a neutral-colored printed dress or skirt. It's a great way to freshen up a classic look without doing too much.
Sparkly tights are another great way to spice up your outfit, especially if you're attending a semi-formal party during the fall or winter. Pairing these tights with an LBD and closed pumps will make you stand out! If you love wearing black leather shorts but want a more feminine look, wearing lace tights under these shorts with ankle boots can soften this edgy outfit.
Show off your personality with printed tights
Printed tights let you show off the zanier side of your style effortlessly. Whether you love loud and dramatic designs or prefer more subtle but interesting patterns, a pair of printed tights will always add some spunk to your outfits. They're far from casual staples as well. With the right styling and print, you can wear printed tights for work, too!
Tights can make any outfit more appropriate for the cold
Do you love wearing dresses and short skirts during the summer but also hate the cold? Simply put on a pair of tights so you can continue wearing them all year long! Flowy summer frocks and mini-skirts look quite nice during the fall and winter when you pair them with opaque tights, a thick winter coat, and a nice pair of shoes. You'll feel comfortable and look chic at the same time!
 Tights can increase your outfit's sex appeal
If you're planning an outfit for a party, a date, or just want to look hot for a certain event, fishnet tights are a great way to make your ensemble sizzle. Go for fishnet tights with a finer mesh if you still want your outfit to look sophisticated but alluring. This look is appropriate for work parties or family reunions where you want to look your best without looking tawdry. Save the bigger fishnet tights for your friends' birthday parties, clubbing, and rock concerts where you can keep things more casual and edgy.  
Tights can double as shapewear
Give your legs a sleek and svelte silhouette with shaping tights. These special tights are designed to make your legs look more toned and often have a high waist to help you flatten any unwanted bulge around your tummy area. They are the perfect thing to wear with tight dresses or short skirts so these types of clothing look more flattering on your body.
Tights can work with jeans, too
During the colder months, wearing tights under jeans is a great alternative to wearing long underwear. Indeed, tights can sometimes be more comfortable than thermal underwear and can help keep your legs warm, even if your jeans are made of thinner fabric. You can even get away with wearing ripped jeans in autumn by wearing printed tights underneath them for a cooler and more comfortable look. 
Tights are versatile and comfortable closet staples that defy sartorial rules and are transcendent of all seasons. Whether your style is preppy or alternative, they are certainly a must-have for any wardrobe. It might feel strange wearing them at first, but with some time and creativity, you'll find yourself confidently wearing tights with any outfit you can think of!