I'll admit you won't find us too often trying new restaurants. Maybe it is because the boys or so picky or that hubby and I don't really eat out that often. So when I was asked if I wanted to sample some of the House of Blues new menu I figured why not. Then I saw that there wasn't one in my area. However than I saw there was one in Orlando and we just happen to be traveling to Orlando.
So I set up a dinner night for the family and on Saturday night after we had relaxed a little in our hotel, the Caribe Royale, we headed over to downtown Disney to get our eat on!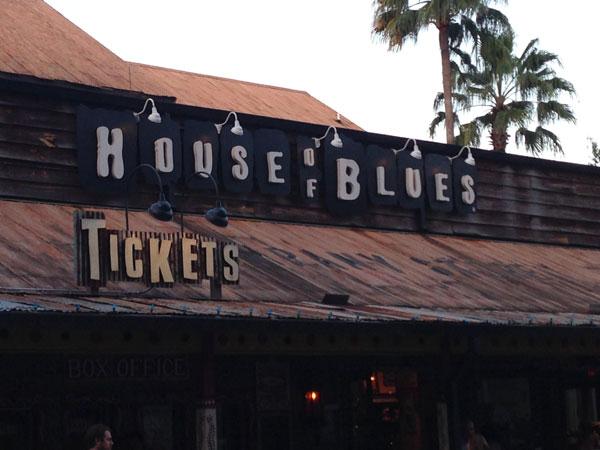 Thankfully we had a reservation because I could see it was starting to get a little busy. The atmosphere was fun and very family friendly which is important. We love to joke and laugh so a fun filled atmosphere is just want we love.
Crossroads at House of Blues is truly the place where food, music and art intersect. Relax and enjoy great tunes while sampling new Hand-Stretched Flatbread Pizzas, or settle down with something more sumptuous, like Lobster Mac & Cheese or Jambalaya! Sanchez gives veggie lovers reason to rejoice too – you won't find sad salads under his watch! Sample cheesy Street Tacos or Portobello sliders – just two of the delicious vegetarian options on the new menu
We were greeted quickly by our waitress who was just AWESOME! She was full of personality and very attentive to refills or seeing if we needed anything else. She went over the menu with us which had a lot of spicy foods, not something my husband was not so sure about. He was interested in the cornbread but wasn't sure when he found out it had jalapenos but she assured us it was sweet and not at all hot. Turns out she knew what she was talking about it was really good, and came with maple butter which just made it even better.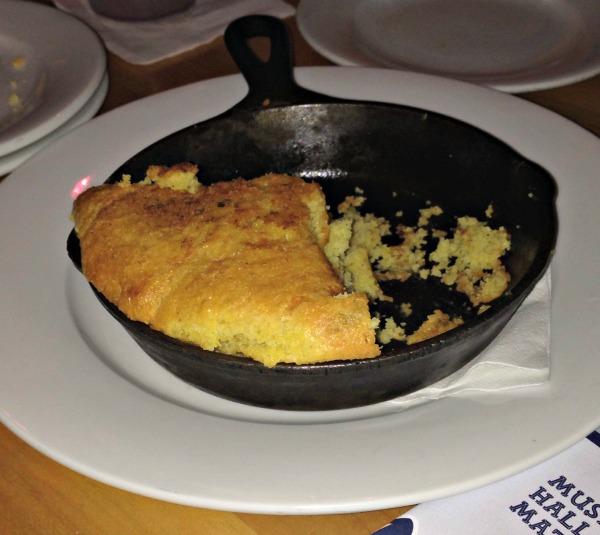 There was no question what the boys would have, they don't often step out of their comfort zone and they ordered chicken fingers. My daughter however is the opposite. She often orders off of the adult menu because she prefers the unique and fun foods. She decided she wanted a salad but didn't want JUST a salad. She opted for the pulled port sliders on the appetizers menu and a side salad.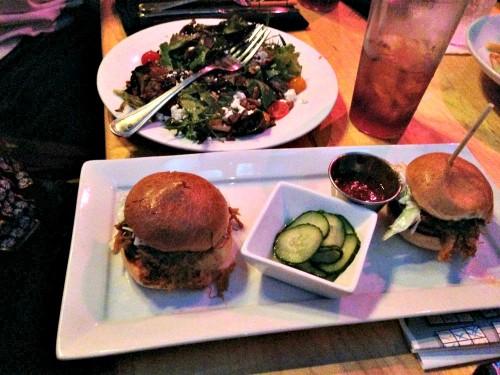 My husband shied away from the spicy items, those are more my cup of tea than his. He decided on something safe and ordered a French Dip: Roast beef, sautéed bourbon onions, Provolone cheese, au jus, creamy horseradish served on a french roll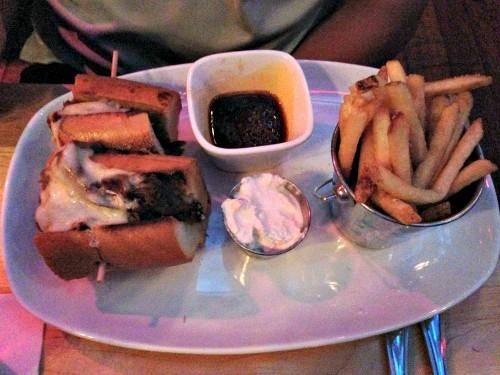 I ordered Southwestern Chicken Sandwich: Grilled citrus marinated chicken breast topped with Pepper Jack cheese, roasted tomatoes, diced green chiles, avocado slices and chipotle mayo on a brioche bun
As we waited for our items and enjoyed our cornbread I looked up to find not a wall of fame but a ceiling of fame so I snapped a photo.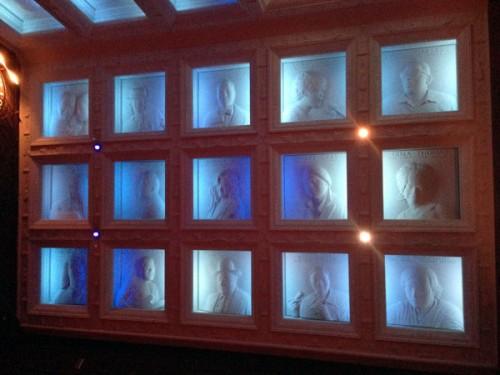 Though we didn't stay for any musical talent we did enjoy our dinner. The boys ate all their chicken fingers and fries and Honey ate a little of everything. She never really finishes her meals, she is the leftover Queen. She did steal a few of my French fries. My chicken sandwich was really good and the avocado really made it for me. My husband enjoyed his French Dip but was full from a late lunch and he too took home some leftovers.
Since we were all full we didn't indulge in dessert. Had we been heading back to the hotel I would have gotten something to go. We had a great time and really enjoyed the food. I would love to go back and check out some of the other items on the new menu by Aaron Sanchez.
House of Blues debuts a delicious new menu created by celebrity chef Aaron Sanchez of Food Network fame! Like the diverse music that graces the House of Blues stage each night, Sanchez has used his imaginative take on classic American dishes to create something for everyone, with over 10 choices for seafood lovers, a dozen different entrees, 4 signature burgers, vegetarian options and of course classic southern favorites to make your taste buds sing!
---
We received a complimentary dinner for the family.
---