A couple weekends ago the family and I were invited to a special blogging event to celebrate the opening of Empire of the Penguins at SeaWorld. Being a family of five trying to find affordable sleeping accommodations is not always easy. When it was five of us and my daughter was a baby and the kids were 5 and 7 it was a lot easier. However, with a 15 (almost 16-year-old), 13-year-old, 7-year-old, and two adults we can no longer fit into a one-room hotel room. Thankfully as part of the Residences Inn Moms program, we had the opportunity to stay in one of the suites at Residence Inn Orlando at SeaWorld.
Residence Inn Orlando at SeaWorld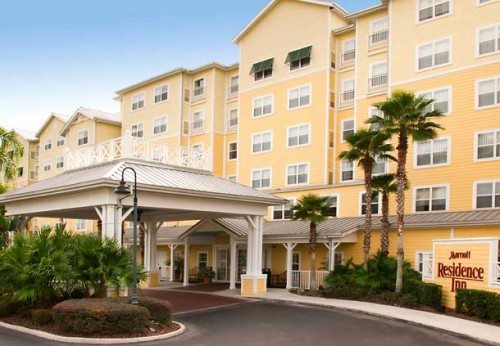 We arrived at our destination are 9:30 on a Friday night. I had called ahead to let them know we would be checking in late and I was told not to worry our room was saved. Once we arrived the check-in went smoothly.
Our room was just the right size for us consisting of two queen size beds and a pull-out sofa bed. The price of a suite at Residence Inn is cheaper than purchasing two hotel rooms at other hotel chains.  We have already booked another night at a Residence Inn in Miami for some rest and relaxation before our Carnival Cruise.
Residence Inn Suites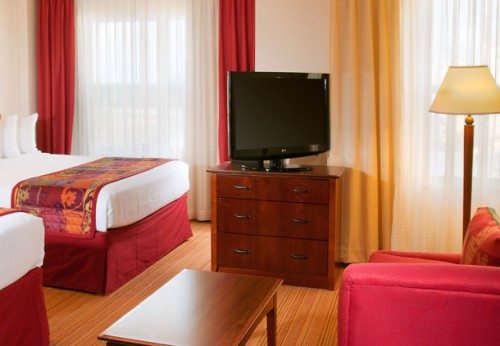 In addition to the extra sleeping room, we loved the little kitchenette which included a dishwasher, refrigerator, and microwave and was stocked with plates and silverware. This is perfect because we prefer to purchase our own drinks and keep them in the room to have on hand when we eat or snack.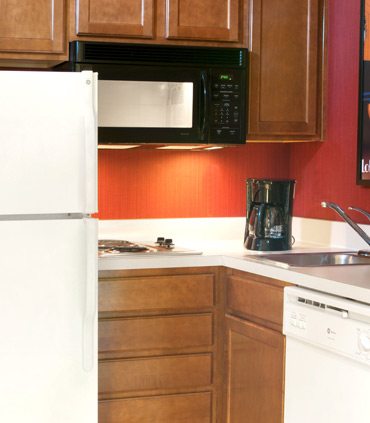 A great amenity included with our stay was the free breakfast bar. I remember years ago when breakfast used to be donuts and muffins. We had a choice of all kinds of food including cereals, eggs, waffles, pancakes, sausage, muffins, toast, and more. With some picky eaters, this was definitely an A+ in my book. We took advantage of this great perk on Saturday and Sunday morning. My oldest son, who is not a morning person, stayed in the room on Sunday and we grabbed him a bagel and jelly on our way back.
Residence Inn Free Breakfast Buffet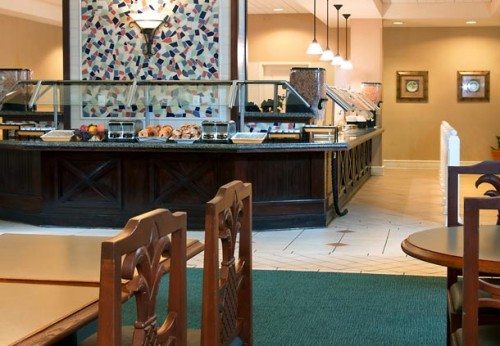 Due to our packed schedule and short stay, we didn't really have the time to enjoy some of the other great amenities at the hotel. Amenities such as a large pool, fitness center, game room, business center, and basketball courts. My boys really wanted to hit the courts but since we arrived late on Friday and were away all day Saturday we didn't really have time to check them out. We got up Sunday morning and did a little shopping and headed back home to get in a little R&R before having to go back to work on Monday.
Residence Inn Amenities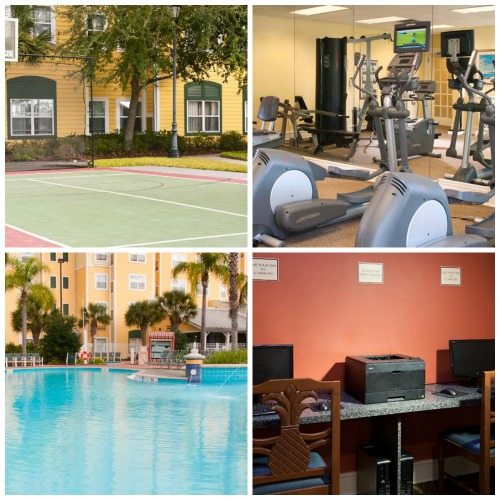 Another small perk that the boys found awesome was because the hotel is an official hotel of SeaWorld we were able to grab some quick queue passes to skip the lines at SeaWorld and get some VIP treatment. Each quick queue was good for one time on the main attractions. I have to say we are hooked on Residence Inn/Marriott suites. With a family our size having something a little larger than your average hotel room is a MUST! Thank your Residence Inn for a wonderful stay in Orlando.