As a parent, top priority has always been the safety of my children. Whether watching them take their first step, jumping on a trampoline, diving from the high board or riding a bicycle without training wheels – it's my job to keep them from harm. As they got older, it also became my job to teach them how to protect themselves. This is especially important when they reach that magical age that allows them to slide into the driver's seat. Being a new driver and feeling that newfound sense of independence can certainly be exciting, but it also comes with a lot of responsibility. My son got a new car just after graduation and he has been driving it everywhere! I think a part of me will always worry, but I do know I've taught him to take car safety seriously.
Some important car and safe driving tips that I've drilled into my children so I can tell them "Your safe journey starts here":
10 Tips for Teen Drivers
Important documents. Always make sure you have your permit or license every time you're behind the wheel. Keep your registration and proof of insurance at hand as well.
Ban the cell phone. Under no circumstances should a new – or any – driver text while driving. Texting while driving can be equivalent to driving under the influence of alcohol. Experienced drivers may be able to use the hands-free option, but teen drivers should place the phone out of reach and pull over to the side of the road or wait until they get out of the car to make calls.
Adjust the car for you. First and foremost, buckle up! Make sure the seat and mirrors are adjusted to your height.
Stay focused. It's easy to want to pack the car with people, turn the music up, and hit the drive thru when you first get your license. New drivers should drive alone as often as possible, keep the music low or off, and never eat while driving. These all cause you to lose focus on proper driving techniques.
Obey the speed limit. It's there for a reason and following it ensures your own safety, especially on unfamiliar streets or those with heavy traffic, but it also prevents costly tickets.
Daytime driving. Until a new driver is more experienced, it's often best they drive during the day. This allows them to learn how to gauge gaps in traffic and learn how to drive in various weather conditions with plenty of light.
Maintain all fluids. Teach your child how to check the oil, refill washer fluids, and pump gas. Though those might seem to be easy tasks, they are important to keeping the car in good repair.
First aid and safety items. These days you never know what situation you might be thrown into. Keep first aid and other safety items in your car including road flares, pain relief, and even a map. I also recommend having a protein or energy bar, just in case. Depending on climate or season, you might want to include a blanket, ice scraper, or sand and kitty litter for traction.
How to change a tire. It surprises me to this day how many people have no idea how to change their own tire! This should be practiced at least a couple times so your child has a good grasp of how it's done. Make sure the car has an available spare and a tire iron at all times.
Check your tire pressure. Speaking of tires, it's also important to know how to check your tire pressure. I recommend watching and sharing this tire pressure instructional video with the new drivers in your life. You can also visit Discount Tire for a free tire inspection as part of National Tire Safety Week. Professional tire technicians at nationwide retail Discount Tire locations will conduct the free inspection including pressure, alignment, rotation, and tread. Each is important to proper tire maintenance.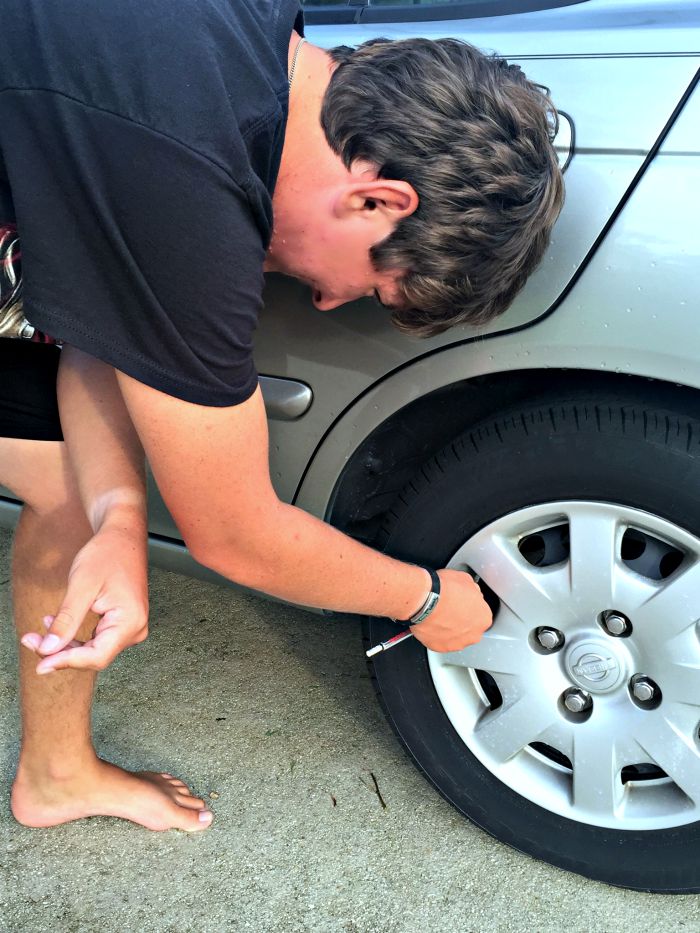 What tips do you have for new drivers? Tell me using hashtags: #MyTeenDriver #SafeDriver #MyDiscountTire.