It is coming, there is no missing it, the stores are stocked with holiday decor! 'Tis the season and Sprite is here to make your holiday season berry and bright with a newly anticipated flavor of Sprite. Just hitting the shelves in the prior weeks Sprite has introduced a limited edition flavor Sprite Cranberry and Sprite Cranberry Zero. Both products take the refreshing taste of traditional Sprite and combines it with a splash of sweet and tart cranberry. It is the first flavor innovation from Sprite since Sprite Remix in 2005. These two flavors will only be available through New Years so hurry and pick up one or both to try today!
Sprite Cranberry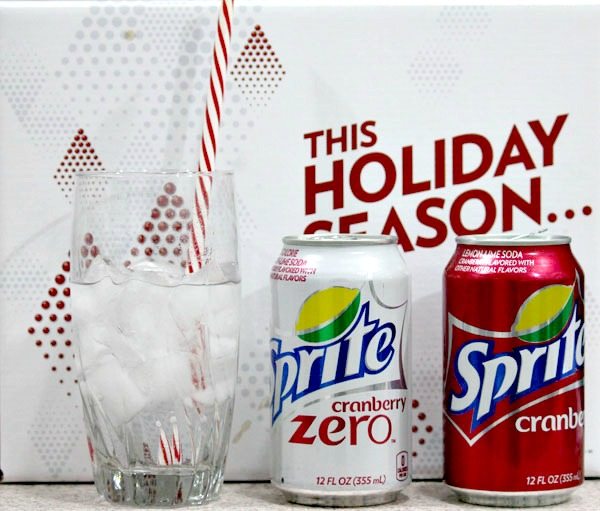 We received a cute "Holiday Season" gift pack of the new flavor to give a try ourselves. My youngest son, who prefers Sprite over most other sodas, couldn't wait to crack it open and give it a try. I wasn't sure what to expect but the sound of Sprite and cranberry was very intriguing to me. I took the first sip and wasn't sure if there was much of a difference. However after a few more sips I could definitely tell a slight difference from Sprite only. The cranberry is very subtle and not at all over powering. I found the flavor refreshing. Next up were the kids. I wasn't sure they were going to have positive thoughts. I don't know if either of them have had cranberries or cranberry juice. My son was first up and took a sip and said, "That is pretty good". He said he could definitely taste the difference and liked that it was different. In fact, he finished at least half of the can. My daughter saw that we had cracked open the new flavor and wanted to try as well. Always the mature one (even at the age of 7) she took a small sip and said, "This doesn't taste bad at all, in fact, it taste pretty good" Yes those were her exact words! I asked if she could taste a difference and she said yes, it had more of a…a…a cranberry taste. That made me laugh, she knew it was Sprite with cranberry and I doubt she knows what cranberry taste like but I loved how she explained it.
I bit you can create all kinds of fun recipes with the new flavor. Here is a quick and easy way to spruce up the drink for your next holiday get together.
Sprite Cranberry Sparkle
Combine four cups of Sprite Cranberry with three cups of orange juice, one cup of pomegranate juice, 1⁄4 cup of lemon juice, one teaspoon of nutmeg, one teaspoon of cinnamon and fresh or dried cranberries as a garnish. (makes two liters)
Sprite Cranberry and Sprite Cranberry Zero will be available in 2-liter bottles, Fridge Pack packages (12- ounce cans) and 20-ounce bottles (Sprite Cranberry only). You can follow Sprite on their Facebook page or check them out at www.Sprite.com.
---
Promotional consideration for this content was provided by The Coca-Cola Company. All opinions expressed in this content are my own and not those of The Coca-Cola Company. You may read more of my disclosure here.
---