We are so excited to be partnering with Simply Earth once again. You may remember 2 years ago we subscribed to a yearly membership of monthly essential oils and recipes delivered to our door. We just received our November Simply Earth recipe box and it is by far my favorite box!
November Simply Earth Recipe Box Review
The November box contains everything you need to enjoy a relaxing and heavenly bath and/or shower. Since my daughter and I take a bath almost every night we were very excited when the box arrived.
Included in the box:
Cinnamon Essential Oil
Lime Essential Oil
Eucalyptus Essential Oil
Tranquility Essential Oil
Powdered Whole Milk
Lavender Buds
Tea Bag
Recipe and Stickers
Recipes included this box:
Tranquility and Lime Diffuser Blend
Lime and Eucalyptus Roll On
Chai Tea Bath Salts
Lavender Buds & Tranquility Milk Bath
Oatmeal & Milk Bath
Eucalyptus Shower Steamers
Chai Tea Bath Salts
The Chai Tea Bath Salts are by far my favorite recipe to date. The smell from blending the spices and special oils together is heavenly. I love the smell so much I am going to make something similar to use in my car and at my desk. I haven't gotten a chance to use it yet as it has been a hectic weekend but I'm sure my next bath is going to be relaxing and amazing!
Eucalyptus Shower Steamers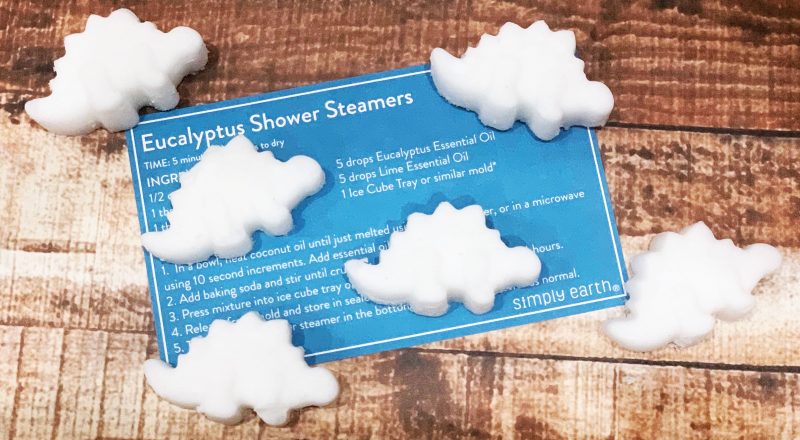 These little beauties came in a close second to the Chai Tea Bath Salts. We had a lot of fun making these because a couple of weekends ago my daughter and I were at Michael's and she saw these cute dinosaur silicone molds and she talked me into getting them. I told her she better make something with them since she just HAD to have them. Then we received our Simply Earth box and the perfect opportunity arose. I am going to pop one of these dinosaurs in my shower tomorrow morning. I really loved the smell when my daughter was making them. We loved all the recipes and will be using them all month!
Since we enjoyed Simply Earth for a year I thought I would comment on a few differences since our previous membership. I noticed the packaging inside the box was a little different and I nice change. Instead of each bottle in a box they are packaged nicely in a slot inside the box itself. The recipe cards are an upgrade and look a little more professional and each side of the card is utilized. On one side is a recipe and on the other is something informational such as a mention of their Facebook group, how to get a free box, a sneak peak in next month's box and more!
Simply Earth Giving Back
Also each month Simply Earth partners with a different organization to end modern day slavery. Any time you purchase from Simply Earth, 13% of profits go to #endit. This month they are partnering with The Daughter Project.
I like a new edition to the box but also have a comment. I love the stickers that are included for your bottles and recipes. Most of my essential oil bottles have stickers applied to the top so I can easily identify them in my essential oil collection box. However, the stickers are not pre-cut and that is the only thing I don't like about them. It is hard to cut straight lines and even harder to cut around a circle. Also have you tried to take the backing off of a small circle sticker? I tried for 5 minutes after I cut out one of the circles to separate the backing from the sticker and finally gave up. I decided I would just use one of my stickers I purchased on Amazon for other bottles I have.