There has long been a comparison drawn between baking and science. Taking ingredients and changing them into something completely new and different. Chemical reactions and scientific principles are at the heart of baking.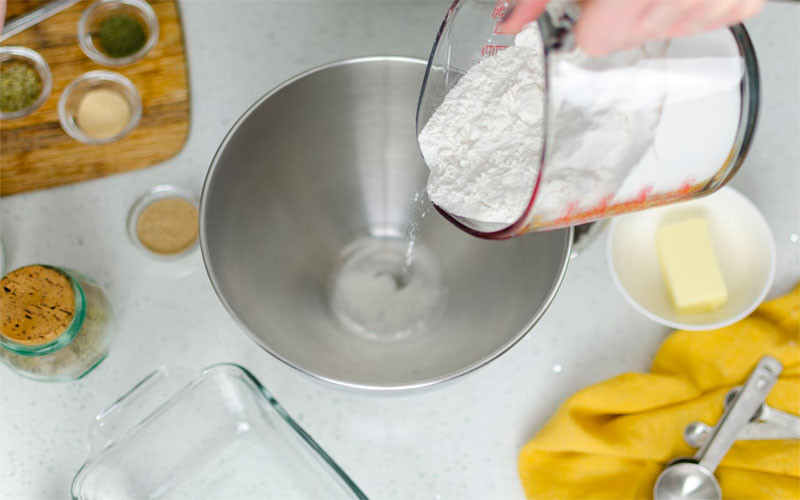 Understanding these concepts can help you be an even better baker and can help you create stunning baked creations for family and friends to enjoy. While most people know the basics, there are some things that can make the process of baking easier, more effective, and all the tastier!
Here's how you can turn from a baking beginner to baking pro.
First, What is Baking?
Baking is the process of combining various ingredients in order to make something new and edible. This is done by cooking food using dry heat, most commonly in an oven of some kind. People have been baking for as long as organized civilizations have existed. Bread has been a staple food for empires for centuries and is still among the most consumed food items in the world. The history of baking is fascinating and is still echoed in many of the practices used today.
Baking typically uses dough or batter as the medium, to which other ingredients are added depending on what is being made. This mixture is then put in a heated oven where the heat circulates and cooks the food from all sides.
Baking is associated with a wide range of common treats and a wide variety of food stuffs, with bread, cakes, cookies, pastries, and pies being among the most popular.
How to be a Baking Pro
Developing baking skills can be a profoundly rewarding experience. Not only do you get to make a plethora of delicious treats, but the process itself can be immensely enjoyable — from measuring out ingredients to watching as they transform in the oven. Your newfound craftsmanship may even make you a much sought-after party host or hostess. You will also gain essential foundations for exploring other culinary opportunities and potentially jumpstarting a career in the food industry. All in all, acquiring baking proficiency is an extremely fulfilling and worthwhile endeavor that celebrates creativity, brings joy, and provides a sense of accomplishment.
Whether you are interested in baking as a hobby or you want to improve your skills to be better in the kitchen, you can be successful. Many basic baking tips can help you become a whizz in the kitchen. Whether you want to bake the best cakes, cookies, pies, and desserts around, these tips will help you get started:
Preparation
Invest in quality tools and equipment, including knives, measuring cups and spoons, baking sheets, and other appliances.
Start at the basics and learn how to measure, sift, stir, and decorate your baking creations.
Read the recipe from start to finish before you begin to ensure you understand every step that is involved.
Gather all the ingredients ahead of time to make sure you have everything and have enough of everything you need.
Get familiar with and comfortable with your oven, know the settings, temperature ranges, and how to tell when food is cooked.
Once you're familiar with the recipes, tools, and oven, you can move on to applying what you learned in the kitchen.
Pre-baking steps
Remember to preheat the oven as it will save you time and keep your batter or dough from sitting too long before you start cooking it.
Learn how to master your time and energy in the kitchen, stay organized, and clean as you go.
Mix ingredients well to incorporate them fully but don't overmix either as it can make the dough tough and batter watery.
Intermediate lessons
Once you've baked a few dishes to your satisfaction, you can start experimenting and building upon the recipes.
Experiment with different additives and flavors and find what combinations you like and what works best together.
Develop your sense of taste and master the art of tweaking volumes and amounts to season accordingly.
Learn balancing tips by incorporating your favorite sweet, salty, sour, savory, and spicy ingredients.
Take advantage of seasonal produce as much as possible and use it to create tasty desserts all year long.
Learn how to tweak recipes and make them your own with a unique twist or a special flare.
Expand your repertoire by trying different recipes for tasty desserts and build upon them to increase your repertoire.
Experiment with stunning new ways to present food and techniques to visually elevate simple dishes. After all, when it comes to baking presentation can be just as important as the taste!
Share your creations with others and take their reactions and feedback to heart to improve your cooking skills.
Keep up with culinary trends and stay informed about the things that interest you in the world of cooking.
Experiment with CDB-infused edibles and know how to use CBD products if that is something that interests you.
Don't rush the process, learn to be patient, and learn from your mistakes to get better every time you bake.
Challenge yourself regularly and try something out of your comfort zone regularly to keep on learning more skills and baking tricks.
From Beginner to Pro- Baking is a Journey You Can Start Today
Remember, baking is an art as much as it is a science and needs practice and devotion. Therefore, don't get disheartened by early obstacles; consider them learning experiences instead. With patience, dedication, and enthusiasm for creating delicious treats, even beginners can improve their baking skills and discover the joys of a life-long journey through baking.
So roll up your sleeves, warm up that oven, pull out that new recipe, and let the sweet smell of your baked goods fill your kitchen. Bon appétit!