Whether one owns a playful puppy, a cozy cat, or an enthusiastic parakeet, creating a pet friendly environment ensures their health, safety, and overall happiness. However, making a pet friendly home goes beyond just providing food and a place to sleep; it involves addressing various elements of the domestic environment to cater to their instinctual needs and behaviors.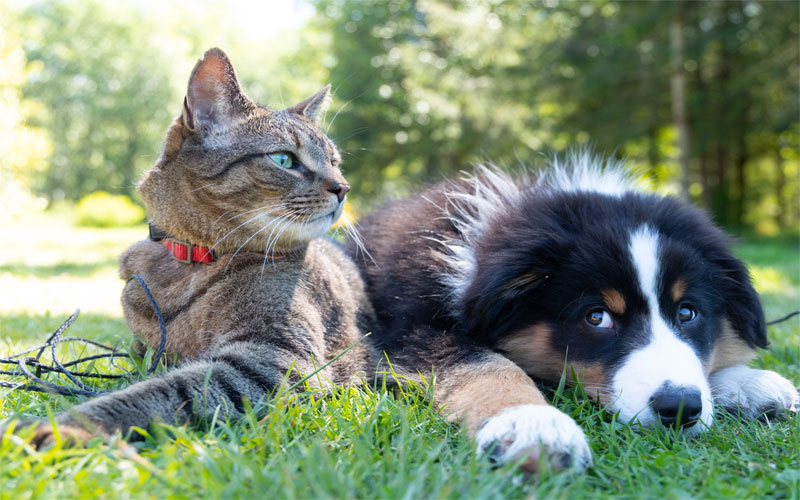 Adapting a home to suit pets contributes to their well-being and alleviates potential problems for the pet owner. From minimizing the risk of accidents to preventing damage to furnishings, a pet friendly home ensures hassle-free human-animal cohabitation.   
This article highlights seven crucial aspects contributing to a pet-friendly environment, aiming to help pet owners optimize their homes for their furry, feathery, or scaly companions.
Air Quality 
Indoor air quality is one of the most overlooked yet critical aspects of a pet-friendly home. Animals, especially those with fur, can shed dander, a common allergen that can trigger respiratory problems in pets and owners. Moreover, pets can introduce outdoor pollutants into the home, such as pollen, dust, or ticks and fleas.  
Investing in the best air purifier for pets can significantly reduce these issues. These specialized purifiers are designed to capture and neutralize pet allergens, significantly improving indoor air quality. Specifically, look for air purifiers with high-efficiency particulate air (HEPA) filters, which can trap 99.97% of airborne particles, including pet dander, dust, and pollen, ensuring your home's air is clean and healthy. 
Safe Spaces 
Pets, like humans, need a space to call their own—a sanctuary where they can relax and feel secure. For dogs and cats, this could be a comfy bed or crate placed in a quiet corner. For birds or other caged pets, providing a spacious cage enriched with toys can serve as a haven.  
Position these spaces away from high-traffic areas in the home to minimize disturbances. You can also incorporate visual barriers, such as room dividers or pet gates, to enhance their security. Additionally, ensure these areas are easily accessible to your pets, considering their age and physical capabilities. 
Pet-Proofing 
Pet-proofing is essential in preventing pets from encountering harmful substances or getting into dangerous situations. This includes securing loose wires, storing cleaning supplies and medications out of reach, and removing toxic plants.  
The pet-proofing process should also extend to windows and doors, which should be secured to prevent escape attempts. Child-proof locks and gates can effectively control pet access to certain areas. Additionally, use furniture and decor that can withstand wear and tear, as pets may scratch, chew, or even mark their territory.
Nutrition And Hydration Stations 
A dedicated area for food and water ensures pets have consistent access to their nutritional needs. For an optimal setup, place their bowls on a mat to prevent slipping and make cleaning up easier. Also, be sure to select bowls that are both easy to clean and durable enough to withstand wear and tear.
In addition to food, it's crucial to provide fresh water at all times. A great option is a pet fountain, as the continuously flowing water can encourage hydration. When selecting the location, make sure it is convenient for your pet and far away from their bathroom area to prevent contamination.
Enrichment 
Stimulation and enrichment are key to a pet's mental health. For cats, this can involve providing toys, scratching posts, and climbing trees, while dogs can benefit from a variety of chew toys. Birds, on the other hand, can enjoy different perches of various widths and materials, swings, and puzzle toys. And for aquarium dwellers, incorporating plants and decor into their environment provides opportunities for exploration and stimulation.
Regular playtime is also a crucial part of this enrichment. Interaction keeps pets engaged and active and strengthens the bond between pets and their owners. As such, keep a rotation of toys to maintain their interest, and remember that each pet is unique in what they find stimulating and fun.  
Outdoor Access 
If space and circumstances allow, providing pets access to an outdoor area can greatly contribute to their quality of life. A securely fenced yard can give dogs a safe place to play and expend energy, while a cat enclosure or 'catio' can allow cats to enjoy the fresh air and observe their surroundings without the risk of getting lost or injured.  
If outdoor access isn't possible, indoor alternatives can still provide benefits. For instance, window perches offer a view of the outdoors and a place to sunbathe, which cats especially appreciate. Bird cages can be positioned near windows for a similar effect, provided there is also a shaded area to prevent overheating.  
Bathroom Areas 
Lastly, the bathroom area for pets should be considered to ensure hygiene and overall comfort. Cats, for instance, require litter boxes that are spacious enough for them to move around and turn comfortably. It's also recommended to have one more litter box than the number of cats in the household to ensure accessibility. 
For dogs, it's best to train them to do their business outdoors. However, puppy pads can be a practical option for young or elderly dogs with limited control. As for caring for our smaller pets like rodents and birds, regular cage cleaning is essential for maintaining a clean and healthy living environment. This not only prevents unpleasant odors but also reduces the spread of germs or bacteria that can lead to illnesses or infections.
Conclusion 
Creating a pet-friendly home is a multifaceted task that involves considering the pet's physical, emotional, and health needs.   
Improving indoor air quality with a specialized pet air purifier, establishing safe and comfortable spaces, pet-proofing the environment, setting up suitable feeding and bathroom areas, providing enrichment, and allowing access to outdoor views or spaces are all key components.   
By addressing these seven essentials, pet owners can foster a home environment that accommodates and celebrates their beloved animal companions.