I'm sure you recall I took the Nutrisystem Program 10-Day Challenge and lost a total of 3.4 lbs. I'm excited to say that I'm going to be continuing on my journey with Nutrisystem for a few more months. I can't tell you how excited I am and just know this is going to be the key to losing my final 30-35 lbs.  I can taste victory already.
I received my first Nutrisystem box for the month yesterday and I will be starting this very morning.  However I will be weighing in each Tuesday, so you will have to see my starting continuing weight then.  I left off at 165.4 lbs so I'm  hoping Tuesday will show at least a little loss to begin with.
Here is 18 days worth of food.  I will be receiving an additional 10 days of the frozen entrees. I'm excited to be trying these new foods and will have the extra variety, but I'm also glad I will be able to continue with the frozen options as well. I hate to give up the ice cream.
In addition to my 18 days worth of banana nut muffins, chocolate crunch bars, and bbq chips I was sent a Nutrisystem water bottle.  The nice thing about the bottle is it is 32 ounces.  Which means it is very easy to keep track of your water intake. All you  have to do is drink two full bottles of water using your Nutrisystem water bottle and you have met your daily water consumption.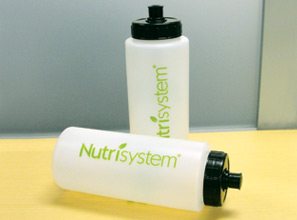 I hope you will stop by each Tuesday and follow my progress and cheer me on!
Please take a second to hop on over and cheer these ladies on as well:This Mama Loves Her Bargains, Living on Love and Cents, Our Kids Mom, Dealicious Mom, Thanks, Mail Carrier, Sippy Cup Mom, Shining 2 Save,  Closer to Lucy.
Want to lose weight and get healthy on Nutrisystem? Join today by calling 1-888-853-4689 or by visiting http://www.nutrisystem.com/nsblog
---
Disclaimer: Nutrisystem has provided me this program free of charge to participate in Nutrisystem Nation. Opinions are my own and NOT influenced by monetary compensation. You may read more of my disclosure here
---